This is an easy roast pork (ອົບໝູ) recipe that yields a Chinese style roast pork. It features five spice, ginger and soy. I developed this recipe after so many disappointments with the seasoning packets. Usually, those seasoning packets are convenient for creating the restaurant flavors at home. However, I found that was lacking for roast pork. Fresh is best for this dish.
Roast pork can be a celebratory dish. You can use this marinade on a whole suckling pig if you like. I like the red roast pork or moo deng (ໝູແດງ) with rice and side of stir-fried baby bok choy. This is also the roast pork that I use in my roast pork steamed buns.
Here are a few of my notes:
The Chinese Five Spice – the spices can be strong, if you are sensitive to this spice blend, you can reduce the amount used to 2 teaspoons without much impact to the flavor.
If you're pressed for time and can't marinate for at least two hours, but you can marinate at least 30 minutes, reserve some of the marinade before adding in the pork and brush the marinade onto the pork after the higher temperature roasting and before you reduce the heat to 350F. This works to add the extra flavor into the pork, although it may not be as crispy on the outside. If you're using the pork for steam buns, the crispy skin doesn't really matter anyway.
Ginger – grated fresh or ground ginger works! I've been experimenting with this recipe on and off for years. I've used both grated fresh ginger and ground ginger that you can get from the spice aisle. If substituting the ground ginger for the fresh ginger, use 1 teaspoon of ground ginger.
Suckling pig – if you a roasting a whole suckling pig, you can brush the marinade on the skin of the pig and let it dry out for two hours before roasting.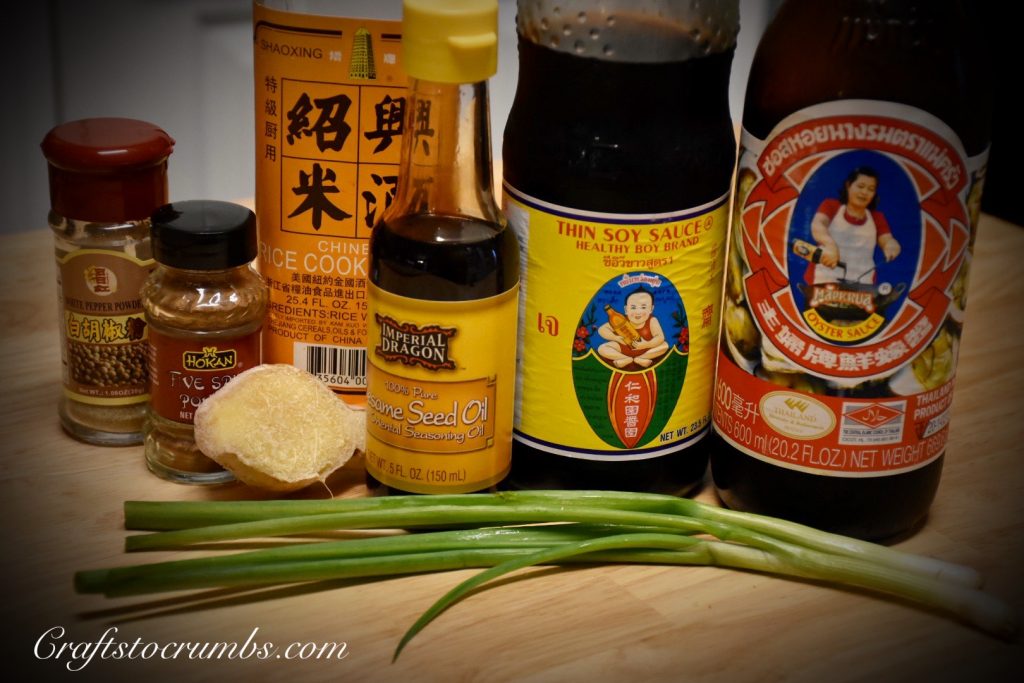 Roast Pork (ອົບໝູ)
2 lbs pork loins or boneless country style ribs (ໝູ ປະມານ 1 ກິໂລ)
1 Tablespoon five spice (ເຄື່ອງເທດຈີນ 1 ບ່ວງ)
1 ½ teaspoon ground white/black pepper (ຜົງພິກໄທ 1 ½ ບ່ວງນ້ອຍ)
1/3 cup thin soy sauce (ຊື່ອິ່ວຂາວ 1/3 ຈອກ)
2 Tablespoons oyster sauce (ຊອດນາງລົມ 2 ບ່ວງ)
2 Tablespoons rice wine/ dry sherry (ຂາວຈີນ 2 ບ່ວງ)
¼ cup sugar (ນໍ້າຕານ ¼ ຈອກ)
1 teaspoon salt (ເກືອ 1 ບ່ວງນ້ອຍ)
1 Tablespoon sesame oil (ນ້ຳມັນງາ 1 ບ່ວງ)
1 Tablespoon grated ginger (ຂີງ ຂູດ 1 ບ່ວງ)
2 scallions (finely chopped) (ຜັກບົ່ວ 2 ຫົວ)
1-2 teaspoons red food coloring (ນ້ໍາສີແດງ 1 ບ່ວງກາເຟ) (optional – if you want to make moo deng (ໝູແດງ or red roast pork))
• Mix all ingredients except for pork.
• Add pork. Toss and marinate for two hours. If you are marinating for longer than that, cover the bowl with plastic cling wrap and stick it in the refrigerator. Recommended 4 hours or overnight, but not much longer than that.
• Remove pork from marinade and place on wire rack on baking sheet or roasting rack in a roasting pan. Pat the pork dry on all sides with paper towels.
• Preheat oven to 425F.
• Roast pork for 10-15 minutes. Then reduce oven temperature to 350F and cook for another 20-25 minutes or until internal temperature reaches 155-160F (medium well to well done) on an instant read thermometer inserted at the thickest part.
• Remove from oven and let rest for 10 minutes before cutting and serving.
• Enjoy!