Glutinous Rice Dumplings with Mung Bean Filling (Kanom Thua Paep) – This dessert is a sticky glutinous rice dough filled with the classic mung bean filling, coated with coconut flakes and topped with a salty sweet and sesame nutty topping.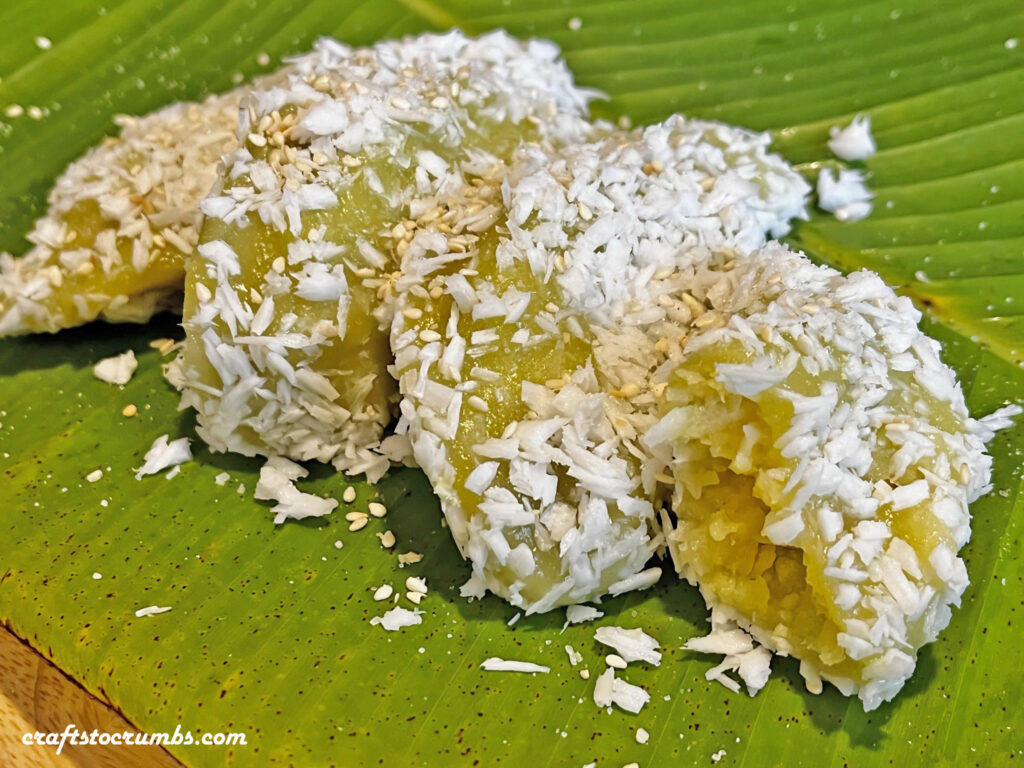 The best part about this dessert is that every component can be customize to suit you taste. Filling can be anything from mung bean to taro. The glutinous rice dough can be made with pandan or rose water or even with a few drops of jasmine essence. The dumplings can be coated with the steamed mung beans, fresh grated coconuts. I chose to coat mine with coconut flakes for the shelf life. Fresh coconut spoils a lot quicker than coconut flakes.
I know, I gave examples of customization for all components except for the topping. To be honest with you, that part doesn't need to change. That topping makes the dessert. The dough is not sweetened and filling is not very sweet either. The topping bring the sweetness and saltiness. The toasted sesame brings a nice nuttiness. That's the formula for cravings.  When I think about this dessert, I think of those big Asian Markets in Northern California, which sells the desserts in neat little packages and inside each package is a little sauce container, not filled with sauce, but this topping. And you can choose whether you can sprinkle on as little or as much as you want.  I have to come up with some other dessert that uses this topping. Just saying. 🙂
I hope you all enjoy this recipe.
Glutinous Rice Dumplings with Mung Bean Filling (Kanom Thua Paep)
Yields: 15 dumplings
Time: 30 minutes
For the mung bean filling:
½ cup dry mung beans (soaked for at least 2 hours)
¼ cup sugar
¼ teaspoon of salt
¼ cup grated coconut or coconut flakes
Make sure the mung beans have been soaked for at least 2-3 hours. You can also soak over night. Steam the mung beans for 25-30 minutes until soft. While the beans are still warm, mash the mung beans and mix with sugar and salt. The warmth will help dissolve the sugar. Toss in the coconut flakes. Set aside.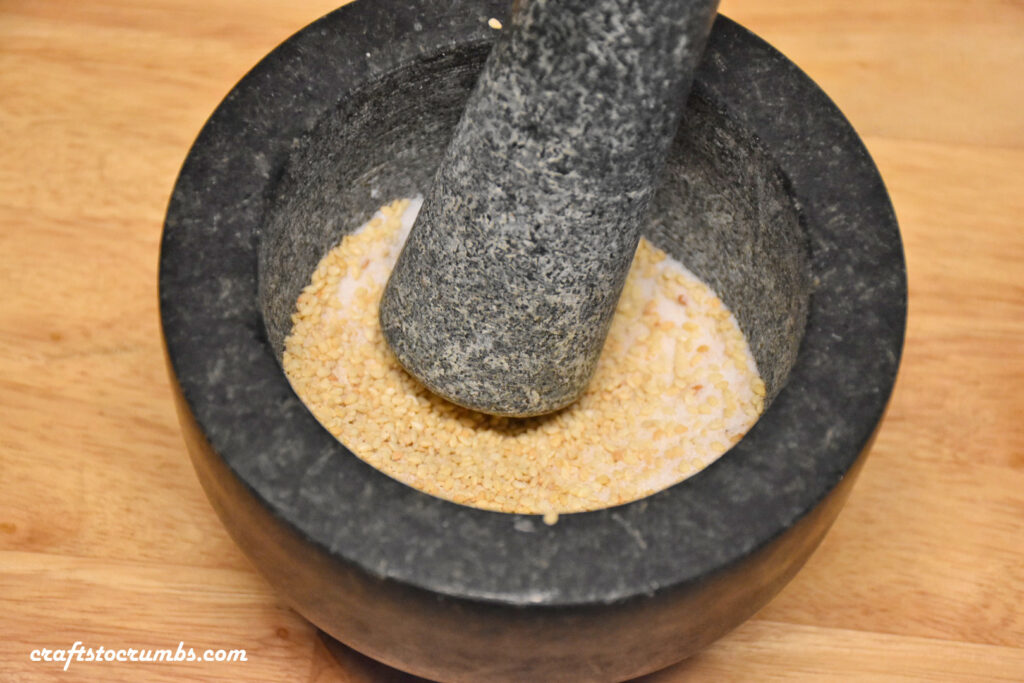 For Topping:
¼ cup sesame seeds
¼ cup sugar
½ teaspoon salt
For coating:
1 cup grated coconut / coconut flakes
Toast sesame seeds for 3-4 minutes or until golden brown. Pound the sesame seeds to release the oils and flavor.
Mix toasted sesame seeds with sugar and salt. Set aside. Do not mix with coconut flakes, which will be used for coating.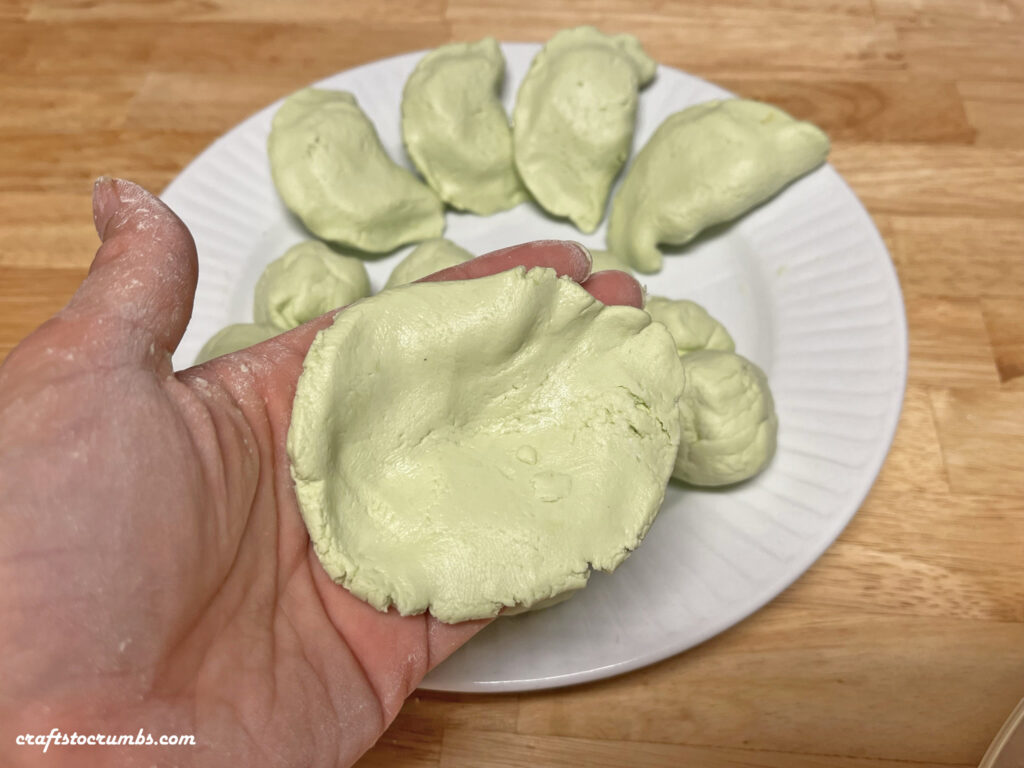 For the dough:
2 cups glutinous rice flour
3 pandan leaves
2/3 cup water
Blend 3 pandan leaves with 2/3 cup of water. Strain through a fine sieve and heat until warm. Mix warm pandan juice with the 2 cups of glutinous rice flour and knead until the dough comes together and is smooth.
Pinch one inch balls from the dough and flattened to about 1/8-1/4 inch thick. Spoon about a tablespoon of filling in the middle of dough, fold and pinch shut. Once filled, you can also squeeze the dough really tight to form the crescent shape.
Drop several dumplings into a large pot of boiling water. Cook for 3-4 minutes. They are done when they float to the top. Remove with a slotted spoon.
Toss with the coconut flakes. Sprinkle with the topping.