Grilling season continues with this Southeast Asian chicken skewer that features warm spices and coconut undertones. Paired with a nutty sauce, it makes a great appetizer or side dish.
Just like the pieng gai, you can make this dish ahead of time. Marinate and freeze the chicken up to a month ahead. It's another easy dish to add to your grilling rotation.
Notes:
Chicken– Use whatever cut you like. I used chicken breast, which I always have in the freezer. You use cut chicken pieces, so you don't have to choose the most expensive cuts. Dark meat works great for this grilled dish.
Peanut butter – if you do not have access to peanut butter or do not want to use peanut butter, use about ¾ cup dry roasted peanuts and ground it using a food processor or mortar and pestle.
Sugar and salt** – Different peanut butters have different salt content. I typically use natural peanut butters. I would recommend adding the salt ½ a teaspoon at a time until you get to your desired saltiness which may differ depending on the peanut butter. This is the same with the sugar. Start with tablespoon at a time. I found that the measurements used for my recipe is just right for the peanut butter that I'm using.
Making the satay ahead – To make ahead. Make the marinade and toss with the check. Thread the skewers place the skewers and any remaining marinade into the freezer bag. Freeze up to a month. Thaw in the fridge overnight.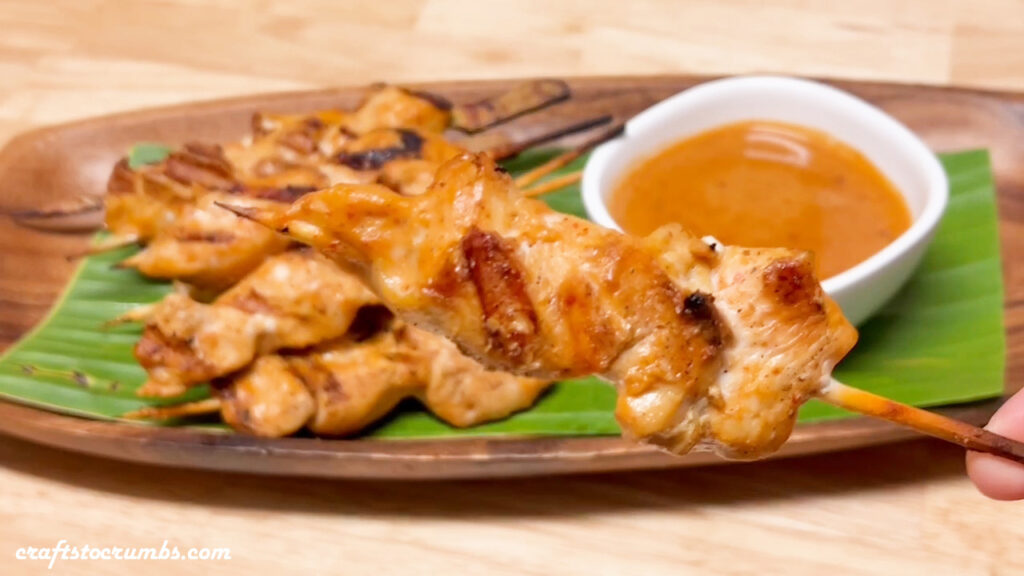 Chicken Satay
Yields: approximately 24 skewers
3 lbs chicken, cut into 1-inch pieces
2 tablespoons red curry paste
½ cup (118 ml) coconut milk (use 400 ml can of coconut milk – reserve the rest for peanut sauce)
1 ½ tablespoon brown sugar
1 teaspoon salt
½ teaspoon ground turmeric
2 tablespoon canola/veg oil + additional to grease the grill
2 dozen 6-inch bamboo skewers
• In a large bowl, whisk together curry paste, coconut milk, brown sugar, salt, turmeric, 2 tablespoons canola oil.
• Toss in the chicken. Cover and marinate in the fridge for at least 4 hours. Overnight is preferred.
• Soak bamboo skewers in water at least 30 minutes prior to threading the skewers.
• Thread 2-3 pieces of chicken on each skewer.
• Grease the grates of the grill with oil.
• Grill over medium-high heat, 375F, for 3-4 minutes on each side.
• Serve with peanut sauce.
Peanut sauce
~1 1/3 cup (or the remaining) coconut milk
½ cup smooth peanut butter
1 ½ tablespoons red curry paste
1 ¾ teaspoon salt**
1/3 cup brown sugar**
½ cup water
• In a medium sauce pan, add coconut milk and red curry paste. Let it cook for a couple of minutes to bloom the curry paste's flavor. Careful not to let the coconut milk boil and scold.
• Then add peanut butter, salt, sugar and finally add water. You may need to add the salt and sugar a little bit at a time, taste to adjust to different brands of peanut butter.
• Let cook over medium heat for a couple of minutes. Let cool. The sauce will become thicker as it cools.