It's that season again! It's grilling season! Although, in our house, we grill all the time, even in winter because we have a very particular eater in the house.
Pieng gai, which translate to grilled chicken has a notable lemongrass and garlicky flavor. It has just a hint sweetness and little bite from the peppercorn and optional Thai chilies. Pieng gai is the ultimate side to the papaya salad. Or is the papaya salad its ultimate sidekick?

Even on its own, it is one of the most popular street foods in Laos, Thailand and other Southeast Asian countries where slight variations of the grilled chickened can be found on bamboo skewers and sold at market place. You may also find it sold with sticky rice and a sauce like jeow som.
For me, it's comfort food. Served with a little sticky rice and papaya salad and I'm set.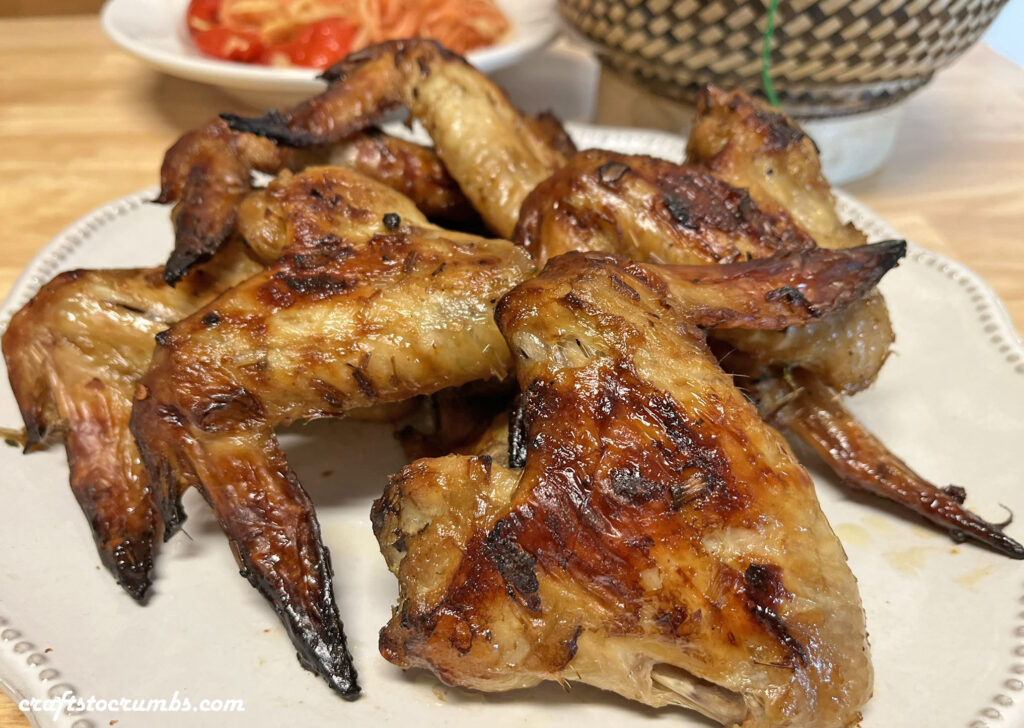 Notes:

• Chicken – Use whatever cut you like and is within your budget. Leg quarters and drumsticks cost a third of the price of chicken wings right now. They may take a little bit longer, but you get more meat and save money! No matter what cut, make sure to cook until the internal temperature reaches 165F as recommended by the USDA for chicken.
• Baking it – if you do not want to grill, you can bake it too! If you ask me, I kind of prefer the baked chicken because it's more even cooking. Bake at 400F for 30-35 minutes wings and 50-55 minutes for the leg quarters. Don't forget to flip at least once during the baking process. When baking, I like to split the baking time into thirds or quarters. Start with skin side down, then flip it two to three more time during the baking process. Of course, cooking time will vary depending on different ovens, baking sheets, and chicken piece sizes. As previously mentioned, cook until your internal temperature reaches 165F.
• Making it ahead – marinate the chicken and instead of cooking right away, place the uncooked marinated chicken into freezer bags and freeze them. Thaw in the fridge overnight. They are good for about a month in the freezer. This is how we prepare for barbeques and parties. Make ahead of time and it's one less thing to worry about.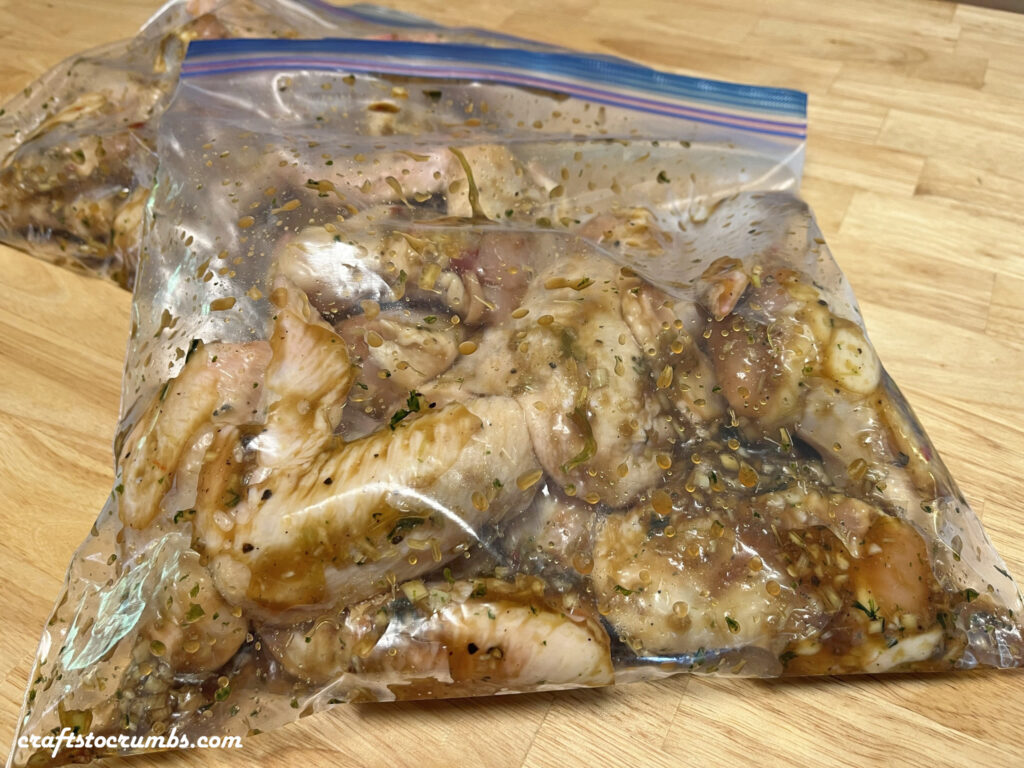 Pieng Gai – Grilled (or baked) Chicken
Time: 5 hours (including inactive time)
Yields: 1 dozen whole wings or 6 leg quarters

3 stalks lemongrass, chopped
1 small handful, cilantro 3-4 whole plants (stems and all), hand-torn
1 tablespoon whole peppercorns
1-2 Thai chilis (to taste)
6-8 cloves of garlic – or more
2 tablespoons fish sauce
3 tablespoons oyster sauce
2 tablespoons brown sugar
2 tablespoons dark soy sauce
1 teaspoon salt (divided)
2 tablespoons vegetable oil + more for greasing the grill grates
5 lbs chicken wings or leg quarters (quarter ends)
• Using a mortar and pestle or a small food processor, add the lemongrass, cilantro, peppercorn, garlic, Thai chilis and ½ a teaspoon of salt. Pound or pulse until you get almost a paste consistency.
• Scoop the paste into a bowl, add oyster sauce, fish sauce, dark soy sauce, brown sugar, ½ teaspoon salt and vegetable oil. Mix well.
• If using the leg quarters, clean and poke holes in the chicken with a fork to allow the marinade to seep in. Toss the chicken in the marinade, and let it marinate in the fridge for at least 4 hours.
• Remove from the fridge about 30 minutes before you're ready to cook it.
• Preheat grill to a medium heat, about 375F. Grease the grates well with oil. Place the chicken skin side down. Flip after the first 10 minutes (5 minutes for wings) and every 5 minutes after. Cook for a total of 25-30 minutes for wings and 45-50 minutes for leg quarters. Or until internal temperature reaches 165F with an instant read thermometer.
• Serve warm.