This is my version of a Hawaiian style pineapple fried rice. It features the dynamic duo of spam/ham and pineapple. It's easy to make and would be great to add to a weekday rotation. The hardest part about making the fried is cutting the fresh pineapple. And if you don't have time for that, use canned pineapple or pre-cut pineapples from the store. Using canned pineapple and spam, would make this a great pantry weeknight dish.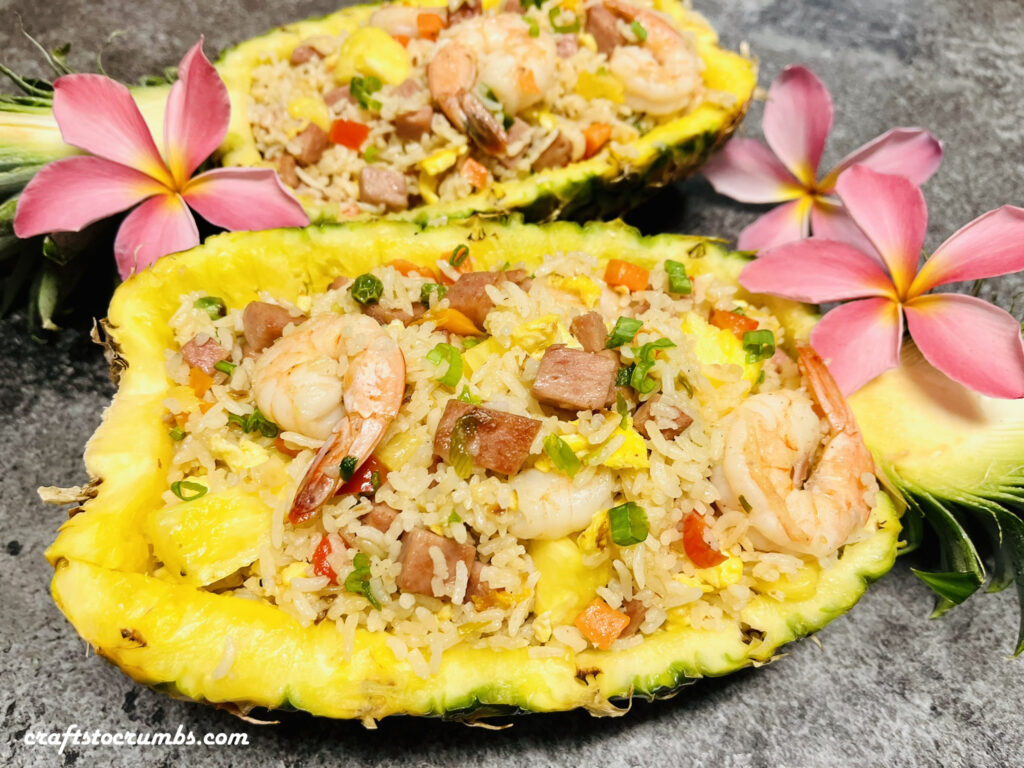 Notes:
Picking the pineapple – to choose one with an even brownish skin with a sweet smell. You can also tap the base. A dull sound means it's ripe, but I typically follow my nose in this case. Again, you don't have to worry about picking the pineapple at all, if you us canned pineapples.
Cutting the pineapple to keep the shell. I found it was easier to score out around the edges. They cut a wedge of the core out before working on each quarter of the pineapple. The first half was trial and error and it gets easier with the second half. I wonder if SpongeBob could help with this.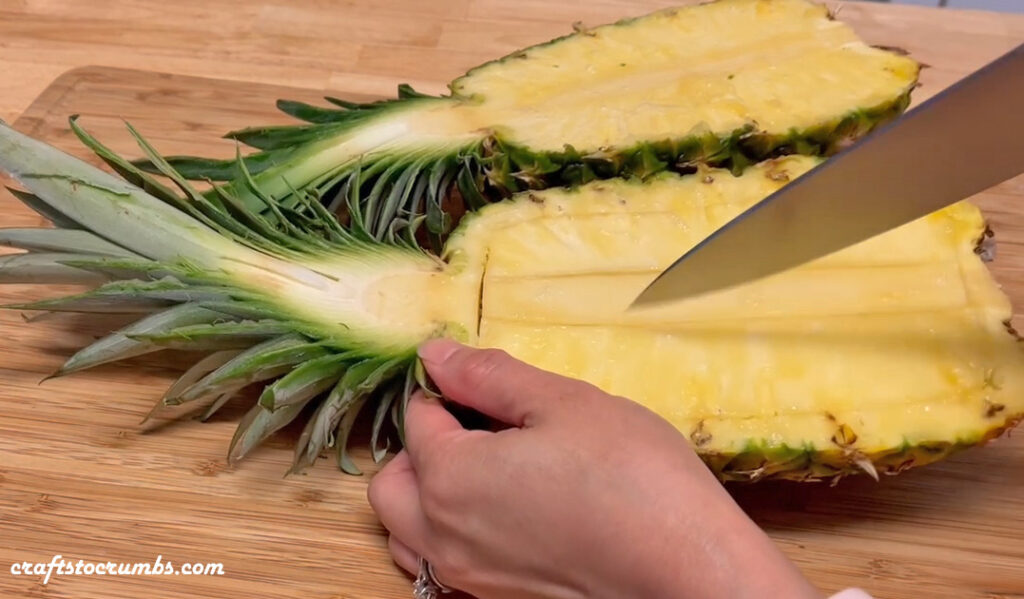 Rice – use cooked and cooled rice or use leftover rice. This will yield better fried rice. I used jasmine rice because that is what I have readily available at home, but you can use whatever type of rice you have.
Soy sauce and sugar** – Hawaii has the Aloha Shoyu (soy sauce) which is slightly sweeter since it is made with sugar. I used a regular soy sauce and just added a little bit of sugar to the sauce. If you don't have access to the Hawaiian soy sauce, you can use regular soy with sugar added like I did in the recipe below. Another substitute would be to use a tablespoon sweet soy sauce and a tablespoon of regular soy sauce. As a rule of thumb, when making sauces and especially when using substitutes, give it a taste and adjust it (if needed) before you add it to your dish.
Protein – alternative to the shrimp, you can use chicken, or pork. You can even use lap cheong sausages, which would add another layer of salty-sweet flavor to the dish. I would like to note that I prefer the less sodium version of Spam when using Spam.
Hawaiian Pineapple Fried Rice

Time: 30 minutes
Serves: 4-6
4 cups cooked rice, cooled
1 (12 oz) can Spam or about 2 cups ham, cubed (less sodium versions preferred)
8 oz. shrimp, cleaned and deveined
½ medium onion, diced
1 pineapple or 1 ½ – 2 cups pineapple chunks
3 cloves garlic, minced
2 tablespoons soy sauce**
½ teaspoon sugar **
3 tablespoons oyster sauce
½ bell pepper, diced
1 cup frozen peas and carrots
2 large eggs, beaten
2 scallions, thinly sliced, separated whites and green parts
3 tablespoons vegetable oil
• Cut the pineapple in half and carefully carve out the inside. If you're not saving the pineapple shell as bowls, proceed to cut the pineapple the way you normally would. Set aside about 1 1/2 – 2 cups of pineapple chunks. Save the rest for snacking or desserts.
• In a small bowl, mix together the soy sauce, oyster sauce and sugar. Set aside.
• In a wok or saute pan, over medium heat, add 1 tablespoon of oil. Let it come to temperature for a minute. Add the shrimp, let it cook for a minute, making sure to turn once. It may not take as long depending on the size of the shrimp. Cook until they are no longer gray and try not to overcook them. Remove from the wok.
• Clean the wok wit a paper towel. Increase the heat to about medium high heat and add the rest the other 2 tablespoons of vegetable oil. Let it heat up for a minute or two.
• Once the oil has gotten hot enough to where a drop of water will sizzle, add the onion. Cook the onion for a minute or two until translucent.
• Then add the spam or ham. Allow the spam to cook until it has some color on it, which normally takes only about a minute or two.
• Next add the white parts of the scallions and garlic. Cook until fragrant. About 30 seconds.
• Add the bell pepper, peas and carrots, and pineapple chunks. Let cook for a couple of minutes, stirring occasionally.
• Push all the ingredients to one side and pour the beaten egg to the empty side. Scramble the eggs while it cooks.
• Add the rice. Followed by the sauce mixture. Stir and make sure to break up the rice.
• Sprinkle in the black or white pepper.
• Finally, the cooked shrimp back in and finish off with the green parts of the scallion.
• Toss well. Serve warm.