This is mom's Lao style red curry, gaeng phet. It still features the spices, the aromatics, coconut, but with mom's special addition. Unlike the Thai version, mom's curry is not sweet. She uses a small amount of sugar and only for balance.

At a glance, you may say yeah, same ingredients as the Thai version. But even my husband gave an eyebrow raise at the flavors when he tasted this. I've made the Thai version many times, but it never satisfies that craving for mom's curry.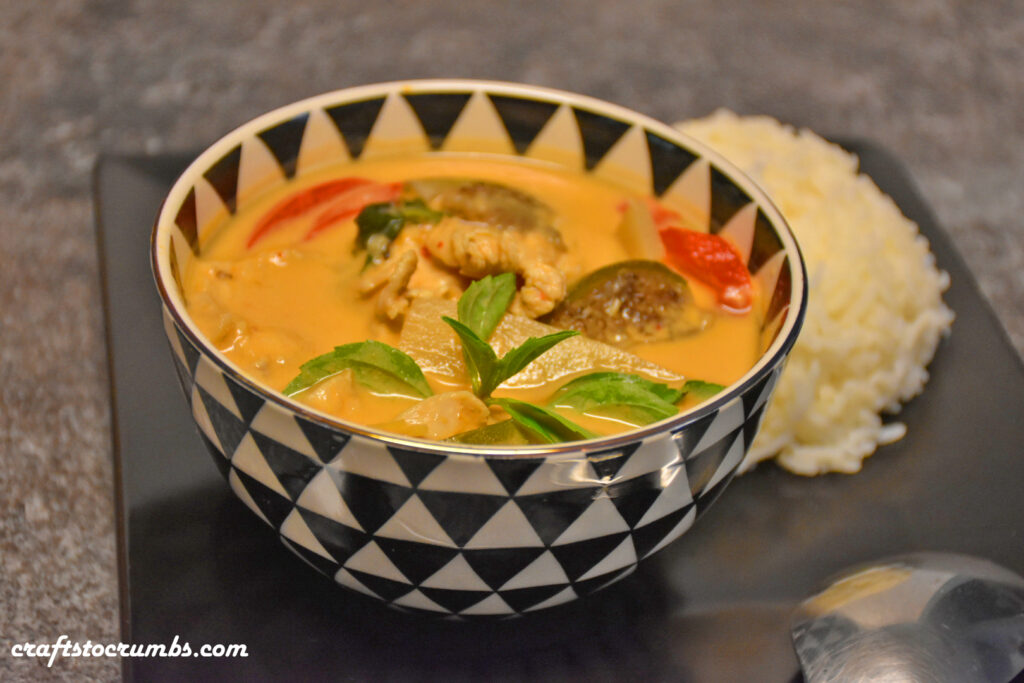 Gaeng phet was one of my favorite dishes growing up. Not sure why, I didn't have a curry session with mom sooner. But so thankful that mom is such an advocate of us cooking. Now, I finally figured out why no one else's curry tastes like mom's curry.
Notes:

• Curry paste – There's only one brand that we use at home and that's the Maesri brand. That 4 oz can only cost about $1.29 even with inflation at the Asian Market. If you were to buy any other brand at your local grocer, you wouldn't get as much for quadruple the price and it wouldn't taste the same.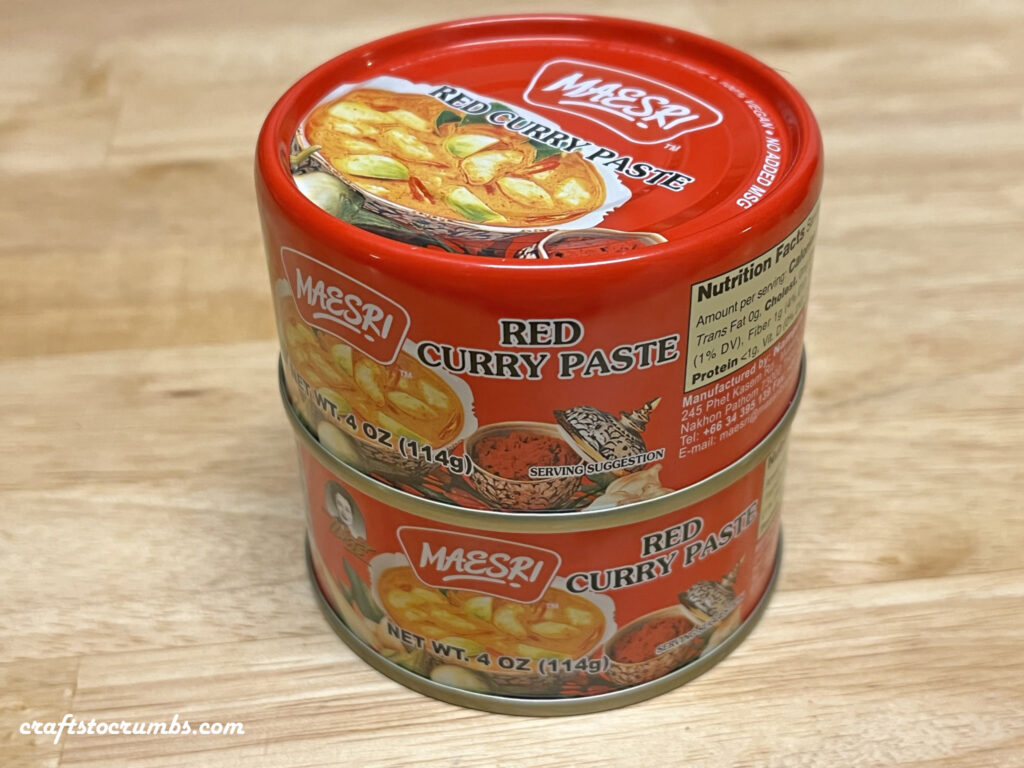 • Vegetables** – we all have our preferences; use whatever vegetables that you like. I like using the stir-fry vegetables because it has a good ratio of the bamboo and straw mushrooms. The baby corn and water chestnuts doesn't add much more other than texture. If using potatoes, add that before adding the eggplants as it will take longer to cook. Mom loves eggplants in this dish. I put 6-8 on this recipe. She would say 10 is better.
Mom's Preferred Vegetables
Eggplants
Bitter berries
Long beans
Bamboo shoots
Straw mushrooms
Mom OK'd Vegetables
Red bell peppers
potatoes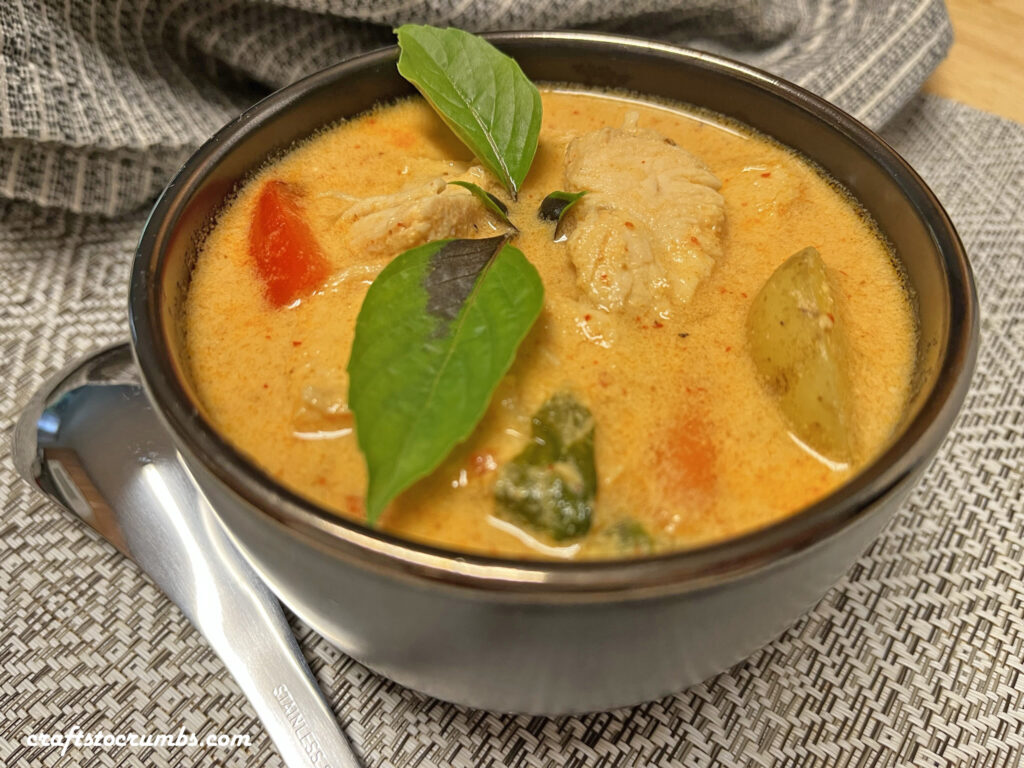 • Sugar, sugar – sugar is used for balance only. Unlike some versions of the Thai curry where sweetness is prominent. For mom's Lao style curry, sugar is added at the very last-minute right before you turn of the heat and only a small amount. She didn't have proper measuring spoons at her house and I eye-balled about a heaping teaspoon. I tried the recipe again at home and would say that heaping teaspoon or about 1 ¼ teaspoon is about right. She also made a point to say that that amount may have been too much. But ended up just right. Just a small amount for balance.
• Funky town – Mom said in the olden days, the Lao curries were seasoned with fermented fish sauce, padaek instead of nam paa, fish sauce. Old-fashion Thai red curries got their funk from krapi, shrimp paste. Nowadays, they've both settled with good ole' fish sauce.
• Thai Basil – Don't skimp on the basil. When I made this dish with mom, she used the whole bunch that I bought. She was not shy about it at all and said it was made better by it. I bought a bunch of basil over the weekend and did not cook this until mid-week, by that time the basil had already wilted so I salvaged as much as I could. Don't be shy about the basil.
• Mom's addition – lemongrass mixture/paste. Mom said not everyone makes this paste, but this is the way she makes it. If you don't have fresh lemongrass, you can use store bought lemongrass paste, and add the garlic and chilies. Another note on this paste, mom used 3-4 small cloves of garlic. When I tried the recipe again, I used 4 larger cloves (as seen in video) and I was able to pick up on the garlic in the dish more, which is not so in mom's version. I would say, use 3-4 if the cloves are about the size of the tip of a woman's pinky or about 2 if they are closer to the size of her thumb.
Gaeng Phet / Red Curry

Time: 45 minutes (including prep time)
Serves: 6
1 lb chicken breast, thinly sliced (I used chicken breasts)
1 can (15 oz.) stir fry vegetables**
1 can (13.5 oz) unsweetened coconut milk
6-8 Thai eggplants, stems removed and cut into quarters or sixths, depending on size
1 bunch Thai basil, stems removed
3 heaping tablespoons red curry paste (2 oz)
½ red bell pepper, julienned or cut into 1-inch pieces
1 medium onion, cut into eighths,
½ teaspoon salt
2 tablespoons fish sauce
3 cups water
1 ¼ teaspoon sugar
Mom's special addition
1 stalk lemongrass, cut into small pieces 3 cloves of garlic (2-3 large cloves or 3-4 smaller cloves)*
2-3 Thai chilies (adjust to taste)
½ teaspoon salt
½ teaspoon MSG (optional)
• Drain the stir fry vegetables or bamboo (if using), add to a small pot with water and bring to a boil. Let it boil for a few minutes. You can do this while you're prepping the other vegetables. Turn off the heat. Strain and set aside.
• Using a mortar and pestle or a small food processor, pound together the lemongrass, garlic, ½ tsp salt and ½ tsp MSG (if using). You want to get to a paste consistency.
• In a large pot or Dutch oven over medium heat, add coconut milk, curry paste and lemongrass mixture. Cook for a minute until fragrant.
• Add ½ teaspoon salt and the fish sauce. Then add the chicken and onion. Stir frequently. Let the chicken cook for a couple of minutes.
• Next, slowly add in the water. Bring to a boil. Add the eggplants and stir fry vegetables/bamboo. Reduce the heat slightly to a medium-low. Let the eggplants cook for a few minutes (5-7 minutes) or until it has cooked and softened slightly before adding the red bell pepper. Cook for another minute or two. Add the Thai basil.
• Make sure to stir occasionally during the whole cooking process.
• Finally, add the sugar. Give it another stir, and turn of the heat.
• Serve over jasmine rice.