Chocolate Swirl Milk Bread
This recipe makes a soft and buttery milk bread like those from the Asian bakeries. A tangzhong / tanzhong or roux made with flour, milk and water is used as a starter and gives the bread structure and softness at the same time. This method can be used even in cakes like the Vanilla Sponge Cake, Kanom kai recipe that I shared a while back. Many people have asked for an eggless version of this milk bread and this recipe is just that, no eggs!
I made a chocolate marbled version of the milk bread, but in my opinion the dough itself is a great base for buns, rolls, or even cinnamon rolls. The marbled bread would make a great French toast or bread pudding. When utilizing a stand mixer, making super soft and delicious bread is easier than you'd think. This is now my go-to bread recipe and I can't wait to share this with my friends and family.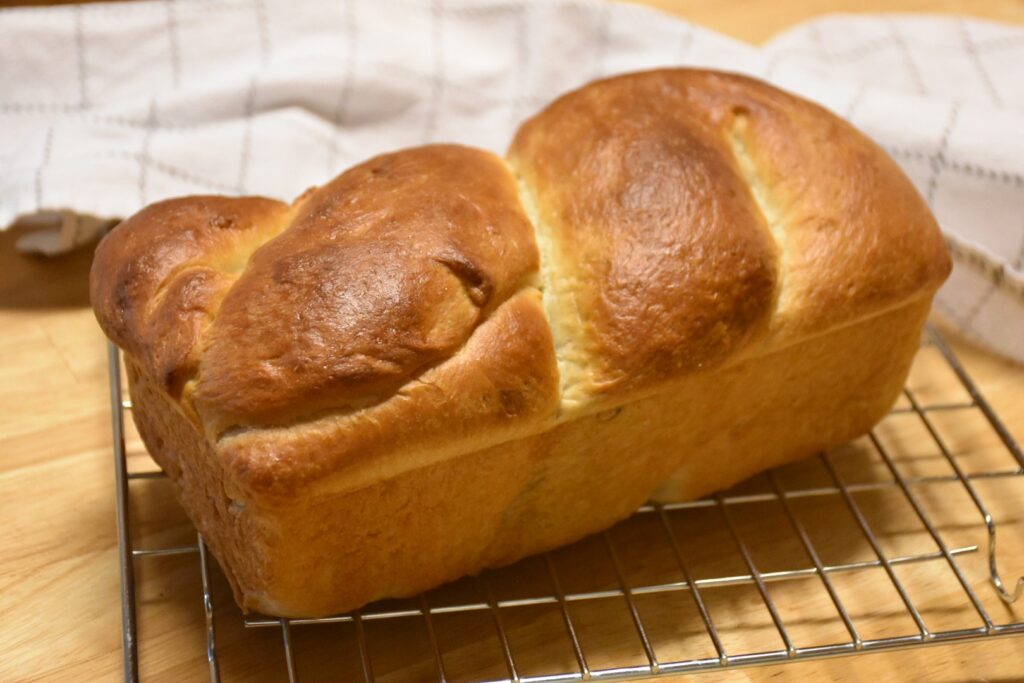 Notes:
Flour – I have seen everything from cake flour to bread flour used in milk bread recipes but find that regular all-purpose flour works just fine. If you're not using a food scale, I would recommend scooping the flour into the measuring cup and leveling the measuring cup out for this recipe.
Knead – in the initial kneading phase before the addition of butter to the dough, the dough should not stick to the side of the bowl but will stick to the bottom. If you find that the dough sticks to the side, add a tablespoon of flour, and let it incorporate completely before adding anymore…if needed. I find this dough to be slightly wetter than you would expect a bread dough to be. If you are kneading by hand, you will need to knead for an additional 5 to 10 minutes to get the same results.
Working the Dough – As mentioned in the last note, I find this dough to be a slightly wetter dough. When you work out the air after it has risen, do not flour your work surface and do not flour your rolling pin. I find working this dough to be like making cinnamon rolls and having a greased work surface and greased hands work so much better. If you couldn't tell by that video, I didn't hold back on the butter. 😊
Chocolate – I find using the chocolate bars yields better texture for the filling. If you don't have chocolate bars available and want to use chocolate chips, add an additional tablespoon of butter to the filling. That will with texture. You can use semi-sweet, dark, or milk chocolate, but may have to adjust the sugar to taste.
Chocolate Swirl Milk Bread
Yields: 1 loaf
Time: 3 hours including inactive time
Starter Roux (Tanzhong)
¼ cup (31 g) all-purpose flour
¼ cup (59 ml) whole milk
¼ cup (59 ml) water
Dough
2 1/3 cup (280 g) all-purpose flour
¼ cup (50 g) granulated sugar
1 teaspoon salt
1 (7g) package instant dry yeast
½ cup (118 ml) milk + 1 tablespoon to brush the top
4 tablespoons (57g) unsalted butter, softened
Chocolate Filling
2 oz (57 g) semi-sweet or dark chocolate
2 tablespoons (28g) unsalted butter
2 tablespoons (10g) cocoa powder
¼ cup (28g) confectioner's sugar (may adjust depending on chocolate used)
Pinch of salt
• Prepare the starter. Combine flour, milk, and water in a small saucepan over medium heat. Whisk constantly. Cook until it has thickened. Turn off the heat before it boils and let it cook over the residual heat for a minute. It should look like a paste. Remove from the saucepan. Let cool completely, 15-20 minutes.
• Prepare the dough. In the bowl of stand mixer fitted with a dough hook, add the flour, sugar, yeast, salt, starter roux, and ½ cup of milk. Turn on the mixer on low or stir and knead for 5 minutes. If the dough is too sticky and sticks to the side of the bowl, add 1 tablespoon of flour at a time and make sure it is completely incorporated before adding any additional, if needed. The dough should stick to the bottom of the bowl, but not to the side of the bowl.
• After 5 minutes, add the butter. Knead the dough for 10 more minutes. Scrape the sides of the bowl to ensure butter gets incorporated. If you are kneading by hand, this process will take an additional 5 to 10 minutes.
• Form the dough into a ball and place in a greased/buttered bowl. Cover with a clean kitchen/tea towel. Place the bowl in a warm place and let the dough rise for 1 hour-1 ½ hour or until the dough has doubled in size.
• A few minutes before you are ready to work your dough, prepare the chocolate filling. In a small saucepan over medium-low heat, melt chocolate and butter. Remove from the heat. Add cocoa powder, confectioner's sugar, and salt. Mix well. Set it aside. Alternatively, you can melt the chocolate and butter in microwave-safe bowl and microwave for 30 seconds intervals on high until melted. Then mix in the other ingredients and set aside.
• After the dough has risen, turn onto a greased (not floured) surface. Knead and punch out the air. Use a rolling pin and roll the dough out into one long 18 by 5 dough sheet.
• Spread the filling in the center of the dough sheet, leaving about an inch on the edges. Roll the dough into a log like you would when you make cinnamon rolls. Fold the log in half and then twist the two sides into a braid.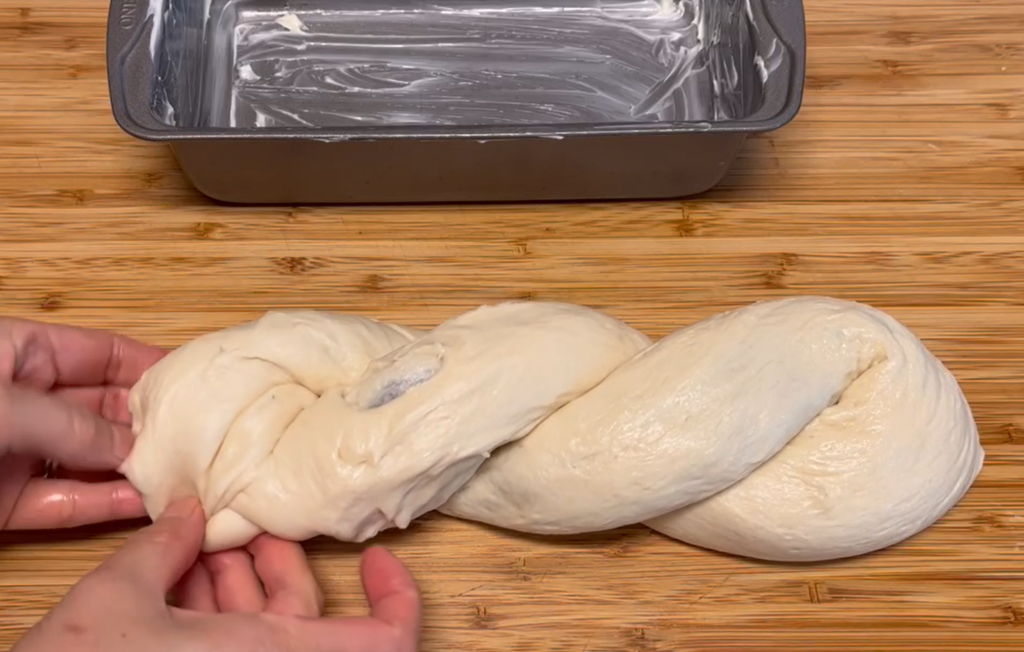 • Place the twisted dough into a buttered (8×4) loaf pan. Cover with a clean tea towel. Let rise for another hour or so.
• Preheat the oven to 350F.
• Brush the top of the dough with milk. Bake for 30-35 minutes and the bread is golden brown.
• Let the bread cool in the pan for 10 minutes before removing and allowing it to cool completely on a wire rack before serving.
• Enjoy!