Hot Pot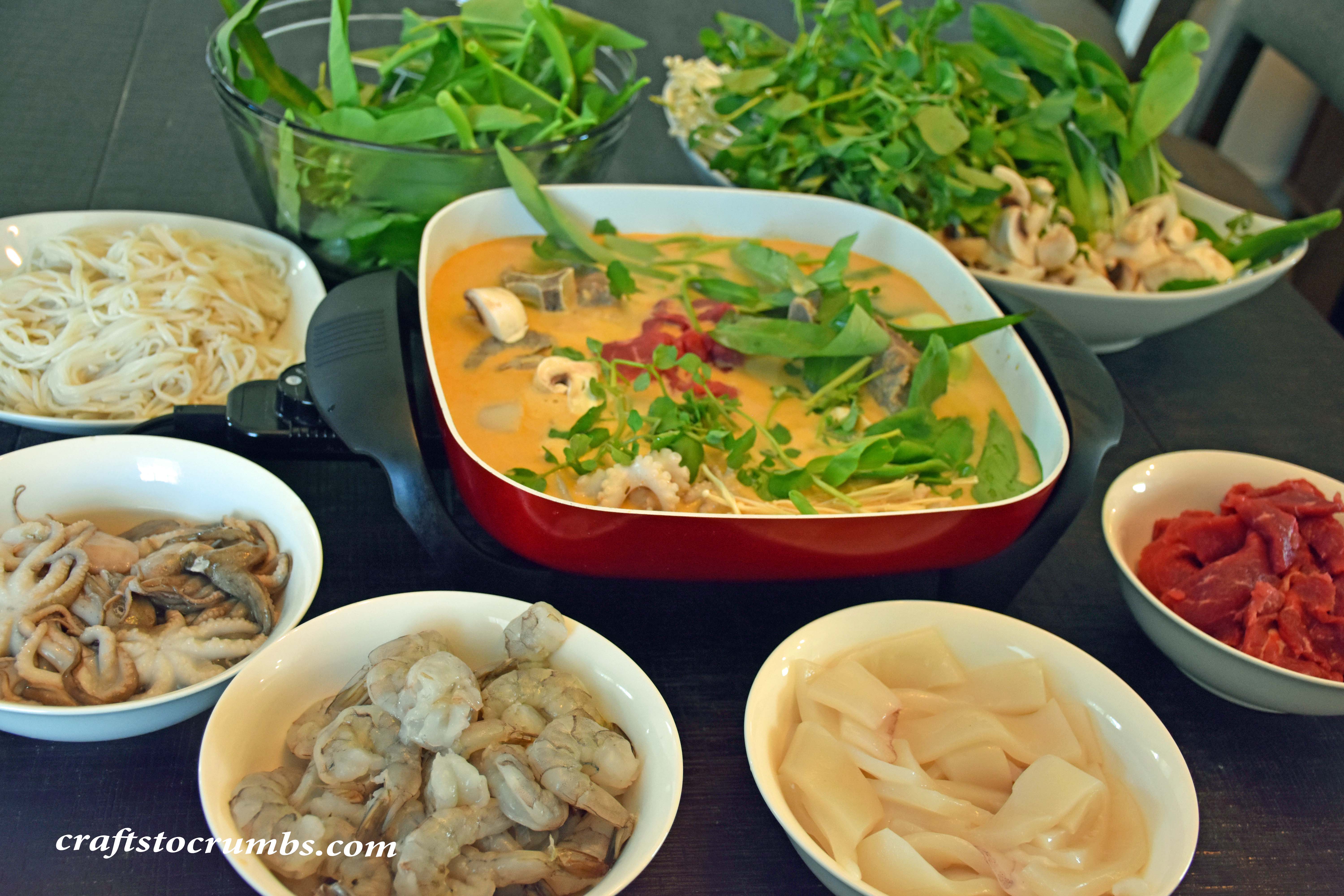 Posted in :
Recipes
on
by :
Meng
Tags:
curry based
,
hot pot
This is a salty, sweet, savory curry based hot pot. If you like hot pot, but want something a little extra, you'll like this curry based version. This is one of my sister, Mimi's specialty and it is about as extra as her. Don't tell her I said that. Wait! She's probably reading this now. Love you and thanks for sharing this recipe. 🙂
I recently worked on a research paper on Lao culture and one thing that was brought up in several different sources is how food and eating is a social event for Lao people. We often believe that eating alone is not as good as sharing with friends and family. We sure do love making food that we can share. This hot pot is definitely one of those foods. If you know my sister, Mimi, you know she loves to cook and share.  I hope you all enjoy cooking with this recipe as much as I've enjoyed eating it over the years. Ma der. Ma der. Come join us.
Notes:
Hot pot is truly customizable. Pick your protein of choice and vegetable of choice and go to town. There's no limit to what you can do. Just remember that the proteins used at the table after the broth is made should be quick cooking proteins like seafood or beef, but you can even use tofu if you prefer.
For the noodles, we used rice vermicelli. Cook the noodles and serve the broth, protein and vegetables over the noodles. Alternatively, you could use the cellophane or bean thread noodles and cook them at the table in your hot pot.
For a more upfront curry flavor, you can add a little bit more curry paste. Make sure to cook the curry paste in the oil until it's fragrant and separated from the oil.
Hot Pot
Time: 1 hr
Broth:
1.5 lbs beef neck bones
2 (13.5 oz) cans coconut milk
2 Tablespoons extra crunchy peanut butter
3 Tablespoons red curry paste
1-inch ginger (cut into two pieces)
1 stalk of lemongrass
6 kaffir lime leaves
1 large onion
2 Tablespoons salt
3 Tablespoons fish sauce
1 teaspoon MSG (optional)
½ cup sugar
10 cups water
2 Tablespoons canola oil
Favorite Vegetables:
Baby Bok Choy
Mushrooms – sliced
Water Spinach
Watercress
Proteins (use quick cooking protein):
1 lb beef chuck tender
1 lb shrimp – peeled and deveined
1 lb baby octopus
1 lb squid
1 (14.1 oz) package rice vermicelli noodles
In large pot, filled with 10 cups of water, add beef bones, ginger slices, kaffir lime leaves, lemongrass, onion, salt and MSG (if using). Bring to boil and allow it to boil for about 30-45 minutes.
During this time, wash and prep vegetables by slicing mushrooms and cutting bok choy and other larger vegetables to more manageable sizes.
Also prepare your proteins. Slice the beef. Devein shrimp and clean along with any other seafoods.
This is also the time to cook your rice vermicelli noodles.
Add peanut butter and fish sauce to the broth. Then add one can of coconut milk. Reduce the heat and let the broth simmer.
In a separate pan, heat canola oil. Add curry paste and stir for a couple minutes. Add half a can of the other coconut milk. Pour the rest of the coconut milk into the broth. Let the curry paste mixture cook for another couple minutes until it is fragrant and the oil starts to separate. Add the curry paste mixture to the broth.
Finally, add the sugar to the broth and let it cook for another couple minutes. The broth is ready to be transferred into a hot pot.
Cook vegetables and protein in hot pot. Serve over the cooked noodles.
Please follow and like us: