It's that time of year when it's too hot to have the oven on. This is bright, tangy, summery no bake dessert. Reminiscent of a key lime pie, except with a tropical mango twist. It features a graham cracker crust with a custardy filling.
I made this pie five times in the past month to try a few variations and combinations of ingredients. I enjoyed them all. This is such a great flavor combination; I was getting rave reviews even when I had too much liquid and it didn't have time to set up properly.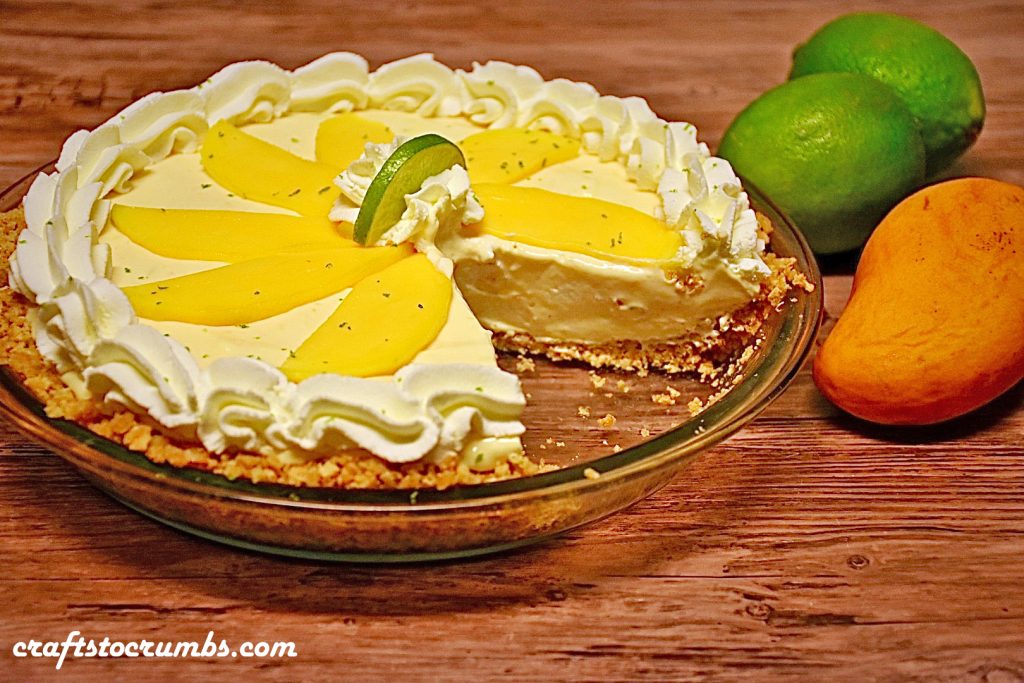 Notes:

• Crust – use any crackers or cookies that you'd like. As long as you get a cup and a half of crumbs. I think ginger snaps would be good here as well. It would add warmth to this bright dessert.
• Whipped cream – you can use the pre-made tub of whipped topping, I chose not to because of the added sugar, which is not needed.
• Sour cream vs. cream cheese – I tried this dessert with both. When the pie is made with 8 oz. of cream cheese, it sets up just slightly better, but the flavor is better when sour cream. In my opinion, the tang of the sour cream helps balance the sweetness of the ripe mango. Flavor wins. You can use cream cheese if you prefer. It will still yield a very good pie. You may also notice different ratios on my video, they are a compilation of the best footage from various kitchen trials.
• Store in the fridge for 3-5 days or in the freezer for a month. If you are storing in the freezer, stick the uncovered pie in the freeze for a quick freeze for about 30 minutes. Once frozen cover with plastic wrap and aluminum foil. When ready to eat, thaw it at room temperature for 10-15 minutes before serving. It tastes great half frozen as well! Makes a cool summer treat!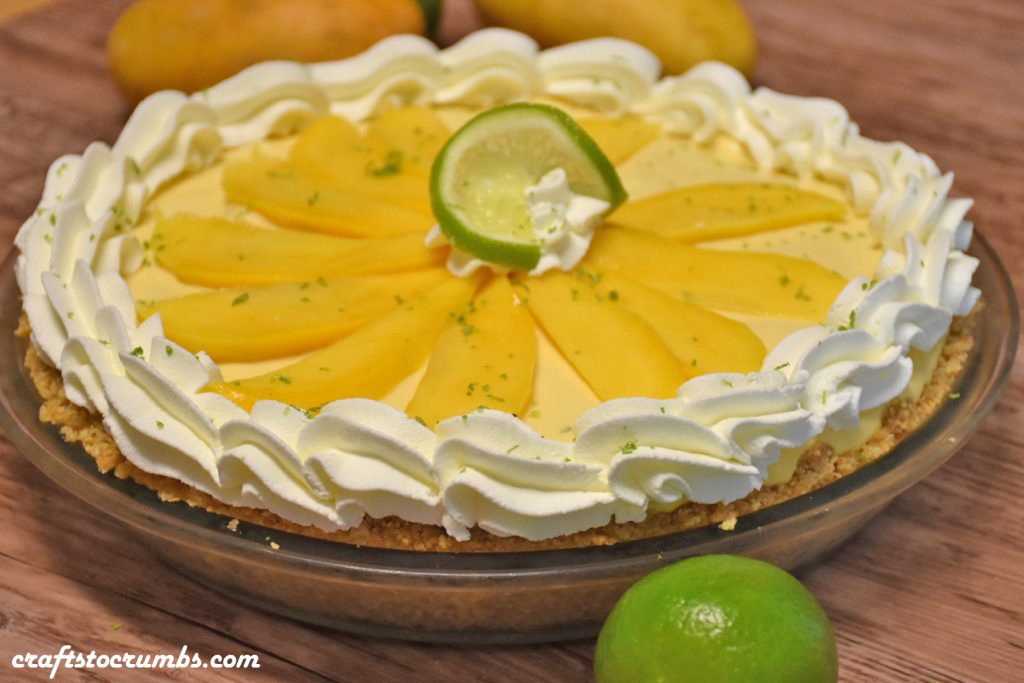 No Bake Mango Lime Pie

Serves: 8
Time: 30 minutes + 3 hours to inactive time
1 ½ cup graham cracker crumbs
2 tablespoons sugar
6 tablespoons butter (melted)
1 (14 oz.) can sweetened condensed milk
½ cup sour cream
¼ cup mango puree
¼ cup lime juice
2 teaspoons lime zest
1 cup heavy whipping cream (see note)
Optional Topping
½ cream heavy whipping cream
2 tablespoons confectioners' sugar
¼ teaspoon vanilla extract
Mango slices
Lime slices
Lime zest
Make the crust:
• In a medium bowl, mix graham cracker crumbs, 2 Tablespoons sugar, and melted butter. Mix well.
• Pour the crust onto a 9-inch pie pan, making sure to pack the crumbs firmly onto the pan.
• Chill the crust in the freezer while making the filling.
Filling:
• In a large bowl whip heavy whipping cream until you get medium peaks, almost stiff peaks. Set aside.
• In another bowl, add condensed milk, sour cream, mango puree, lime juice, and lime zest. Mix well.
• Fold the whipped cream into the filling mixture.
• Pour filling onto prepared pie pan.
• Let pie chill in the fridge for at least 3 hours before serving.
Optional whipped cream topping:
• In large bowl whip heavy whipping cream with confectioners' sugar and vanilla extract until you get stiff peaks. Don't overwhip. Pipe or spread on top of pie.
• Garnish with mango slices, lime slices and lime zest, if desired.