Cannoli is a fried pastry originating from Italy, specifically Sicily. The dough for the shells is typically made with marsala wine, which also originated from the region. The tube-like fried shells are filled with sweet cream, garnished with chocolate chips, pistachios, candied orange, or maraschino cherries, and sprinkled with confectioners' sugar.

This is me taking a stab at making Italian dessert for my Italian father-in-law.
Sweet World #2: Cannoli
Dessert:
Cannoli
Flavor profile:
Cinamon, marsala sweet shell filled with sweetened ricotta cheese filling with a hint of orange
Country:
Italy
Service:
Dessert, served cold. Versions may be topped with mini chocolate chips, pistachios, candied cheeries or candied orange.
Notable ingredients:
Ricotta cheese
Marsala wine
Notes:
Dough – I found the dough is very forgiving. There is almost an elasticity to it. I had to roll the dough out a little bit more after cutting with the cookie cutter because the dough tended to shrink back in and became thicker than desired. Roll it out really well and get the dough as thin as possible.
Shells – Don't let the shells cool on -the tube too long because they shrink slightly when cooled and you could end up with shells that are stuck on the tube. You can make these ahead of them and freeze them in an airtight container for up to a month.
Cannoli tubes – They are typically stainless steel and are readily available on the internet. You may also check your local markets.
Ricotta – let the ricotta strain for an hour or two on a fine mesh sieve lined with a cheesecloth. Let this sit in the fridge while you work on the dough and other things.
Cannoli

Yields: 14-16 cannoli
Time: 1 hour including resting time
2 cups (240g) all-purpose flour
¼ teaspoon salt
½ teaspoon cinnamon
2 tablespoons sugar
4 tablespoons (~57g) cold unsalted butter
1/3 cup (~79 ml) marsala wine
1 egg + 1 egg yolk
1 egg white (to seal the shell)
Oil for frying (vegetable or canola)
Filling
32 oz whole milk ricotta cheese (strained)
¾ cup (~84g) confectioners' sugar
1 teaspoon zest of an orange
½ teaspoon vanilla extract
½ cup mini chocolate chips
½ cup pistachios (chopped)
1 tablespoon confectioners' sugar for topping (if desired)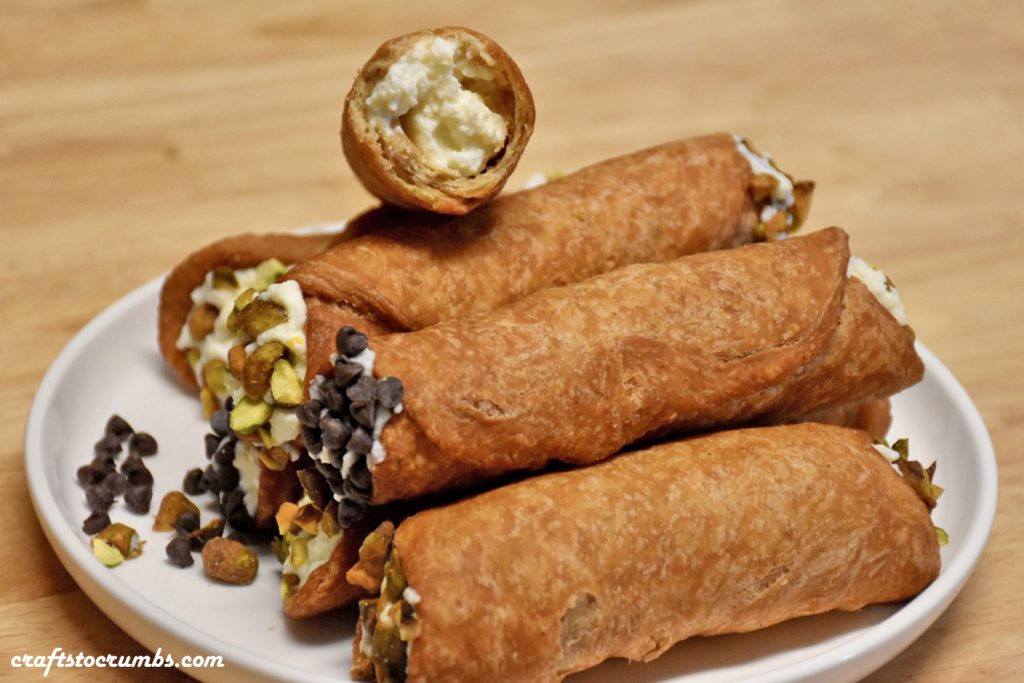 • For the dough, in a large bowl mix the flour, salt, sugar and cinnamon. Work in the cold butter into the flour mixture with your hands or pastry knife. Then add the egg + egg yolk and marsala wine. Knead until the dough forms. About a minute or two.
• Wrap the dough in plastic wrap and let it rest in the fridge for half an hour to an hour.
• After resting, cut the dough in half and work with half of the dough at a time. Roll the dough out on a floured surface. Use a 3-inch cookie cutter or biscuit cutter and cut circles from the sheet of dough. If you find that the dough is too thick, you may have to roll the circles out a little bit more.
• Wrap on the cannoli tube and brush a little bit of the egg white on the end to seal.
• Heat the oil to 350F and fry the shells for 2-3 minutes or until golden brown. Remove from the oil and place on tray lined with paper towels.
• Carefully, remove the shells from the tube. Don't wait until it has cooled too much otherwise, the shell may shrink and stick to the tubes.
• Let cool completely before filling.
• For the filling, in a large bowl, add the strained ricotta cheese, orange zest, confectioner's sugar and vanilla. Mix well.
• Fill a piping bag with the filling and pipe into the cannoli shells. Dip the ends in chocolate chips or pistachios.
• Sprinkle additional confectioners' sugar on cannoli if desired.