No-Bake Neapolitan Cheesecake
If you love cheesecake, but don't feel like baking. This is the cheesecake for you. It is a light cake that tastes almost like a mousse cake.
The best part is, you can prepare it in minutes. Although, it does take some time to set, it's  inactive time and you're not doing much work (if at all). Just spend the time thinking about the deliciousness  to come.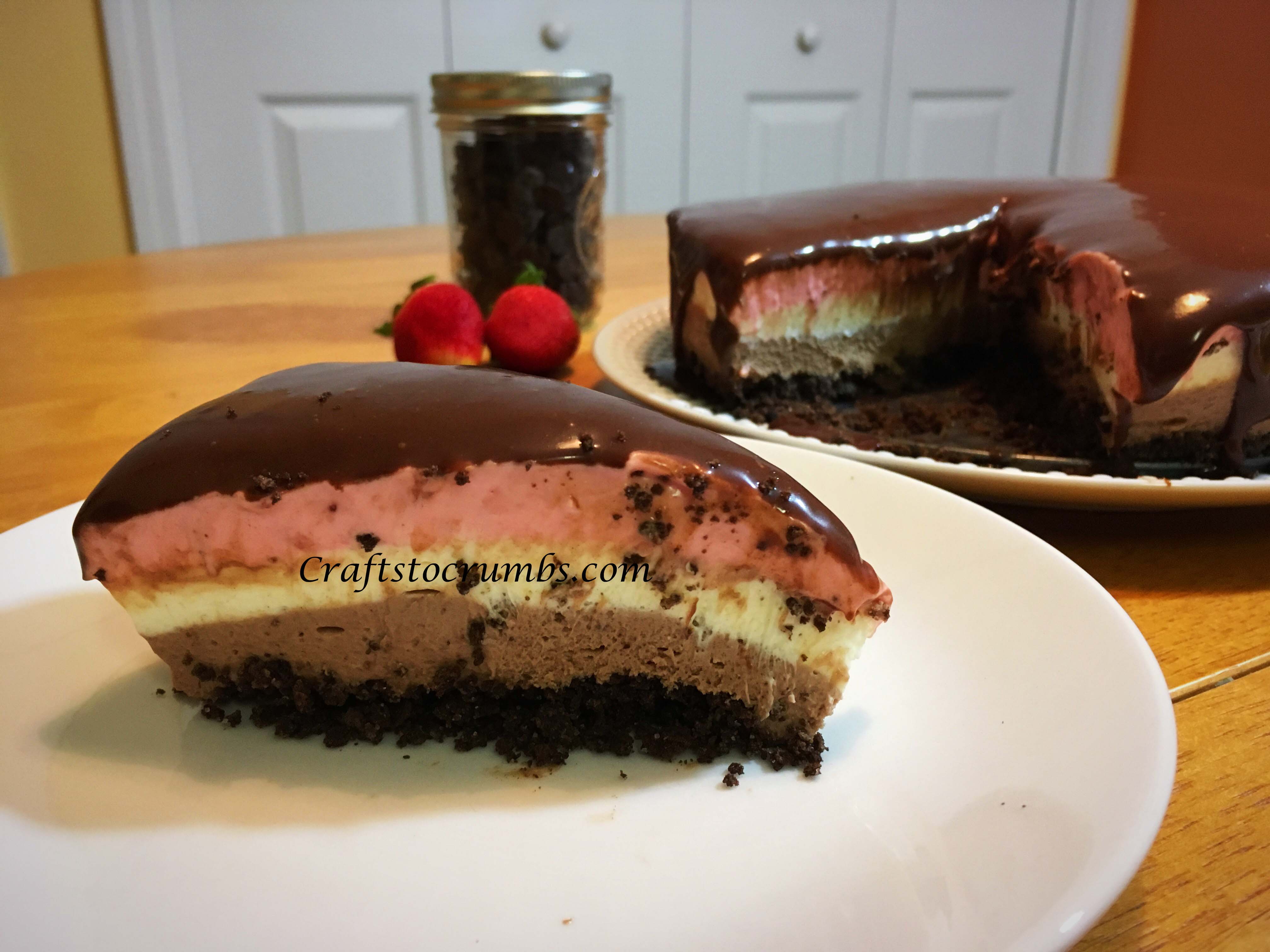 For the crust you can use the classic graham crackers, the chocolate graham crackers (like the ones that I used) or even chocolate sandwich cookies. It's up to you. I usually buy graham crackers when they are on the buy-one-get-out sale at the grocery store and typically have some in the pantry. It doesn't hurt to have one of each flavor on hand.
For the frosting or topping, you can do it anyway you like it or omit it all together. No pressure here, (unless you are indecisive). I made a simple ganache and poured it on top. One note here is that the ganache does make cutting the cheesecake a little chocolate-y. It's not as clean a cut since the chocolate gets on the knife. I didn't mind it much and none of my taste testers minded either. It simply got rave reviews and recipe requests. 🙂
The other option for the topping is whipping up a simple whipped cream and piping it on top. Perhaps serve with some sliced strawberries. Let your imagination run wild.
No-Bake Neapolitan Cheesecake
Serves 8-10
Prep: 15 minutes
Inactive time: 4-6 hours
For the crust:
7 chocolate graham crackers or chocolate cookies of any choice – (about 1 cup crumbs)
2 tablespoons sugar
4 tablespoons melted unsalted butter
In a small bowl mix ingredient together until well blended. Press mixture into the bottom of an 8-inch spring form pan. Chill in the fridge while you work on the filling.
For the filling:
3 (8 oz.) blocks of cream cheese (room temperature)
2 cups (210g) confectioners' sugar
1/2 cup (85g) semisweet chocolate
2 teaspoons vanilla extract
1 1/2 cup (375ml) heavy cream (double cream)
1/4 cup (60 ml) strawberry puree
Red food coloring (optional)
In a small bowl microwave, the 1/2 cup of semisweet chocolate in short bursts of 30 seconds until it is completely melted and smooth. Set aside.
In the bowl of a mixer fitted with a whisk attachment, add cream cheese and confectioners' sugar. Whisk on medium speed until creamy and smooth, about a minute or two minutes. Add the vanilla extract. Whisk until incorporated. Then slowly add the heavy whipping cream and whisk for another two minutes or so until filling is fluffy and smooth.
Divide the filling into three bowls.
In the first filling bowl, fold in the melted chocolate. Spread the chocolate filling into the pan on top of the crust.
Then carefully spread the plain vanilla layer on top of the chocolate layer.
In the third filling bowl, fold in the strawberry puree and food coloring (if desired). Spread the strawberry layer on top of the other two layers.
Cover with plastic wrap and place in the refrigerator for 4-6 hours or overnight to completely set.
Once set run a knife around the pan before releasing the spring form.
Optional Ganache Topping
1/2 cup (85g) semisweet chocolate
1/2 cup (125 ml) heavy cream (double cream)
Heat the heavy cream until almost boiled. Pour over the semisweet chocolate. Cover for 5-7 minutes. The whisk until smooth. Allow to cool and thicken slightly before pouring over the cake.
Optional Whipped Cream Topping
1 cup (250 ml) heavy cream
2 tablespoons of confectioners' sugar
½ teaspoon of vanilla extract (optional)
Whisk heavy cream and confectioners' sugar together until you get stiff peak. Add vanilla extract if desired. Pipe on top of cake.