This is a fusion of the classic pandan and coconut combination in a western cinnamon-roll-esque rolls. The flavors are a subtle pandan with coconut sugar and coconut. I wanted the flavors to be reminiscent of kanom nab.
As I expand and repot my pandans, I'm thinking of how many more times I can make these rolls. I love sharing these fusion creations with my family and friends as I know they will appreciate them. My mom has been asking to learn how to make breads and cookies with me, so this only makes her want to learn more.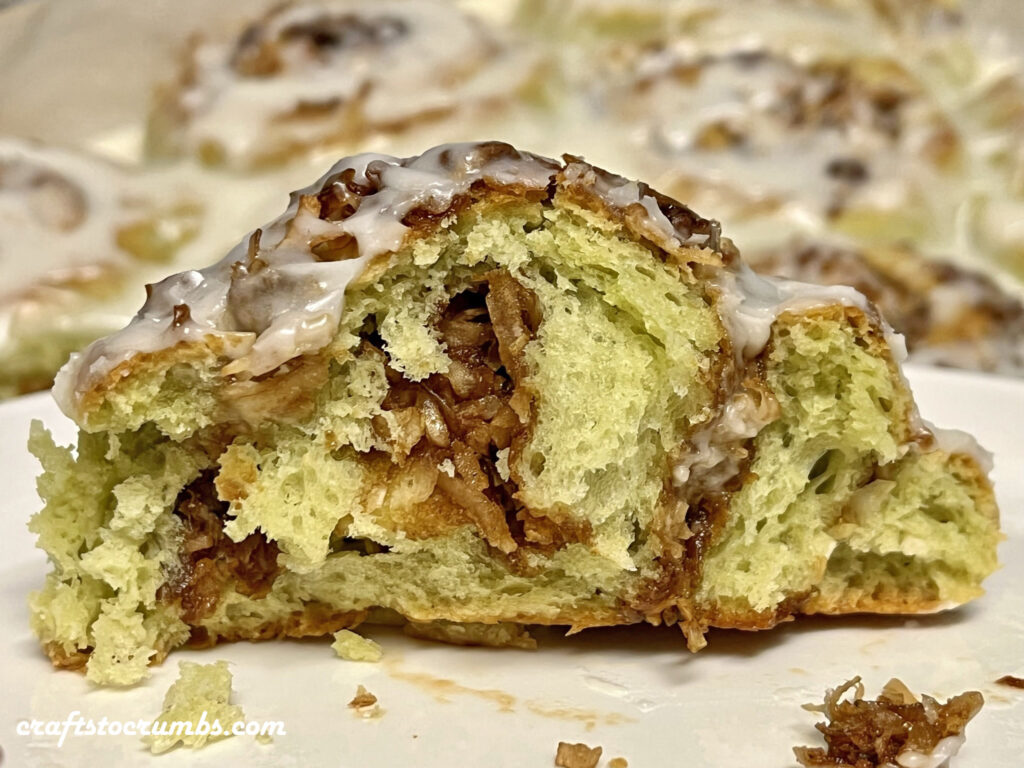 Notes:
Milk mixture – after blending the pandan and milk, make sure to stir and deflate the foam. We're not making dalgona coffee. After heating the milk, it will deflate as well. Make sure you still have about 1 ¼ cup of liquid. If you find that you lost of liquid, perhaps in the roughage of the pandan, you can add some more milk, but don't add too much as the ratios of liquids to dry ingredients can be easily thrown off. You will end up having to add a lot more flour during the kneading process and you don't want to go down that route.
Pandan – if you don't have fresh or frozen pandan, you may substitute by adding 1 teaspoon pandan extract or ½ teaspoon of pandan paste when you add the liquids to your mixing bowl. Skip the steps about blending the pandan leaves. Or you can try these rolls without the pandan at all. It would just be a coconut roll. I can imagine adding cinnamon and having a cinnamon coconut roll too.
This recipe yields a lot. You can use a 9×13 and a 9X9 pan. Or if making individuals, use two half sheets. Or use two to three 9-inch round pans.
Traditional rolls vs individual rolls – I prefer the traditional rolls where they are clustered in a pan. This yields softer buns/rolls. If you are making individual rolls, the edges tend to get drier and harder. You may need to brush these rolls with a tablespoon of melted butter to help with the dryness. You'll do that before you glaze it.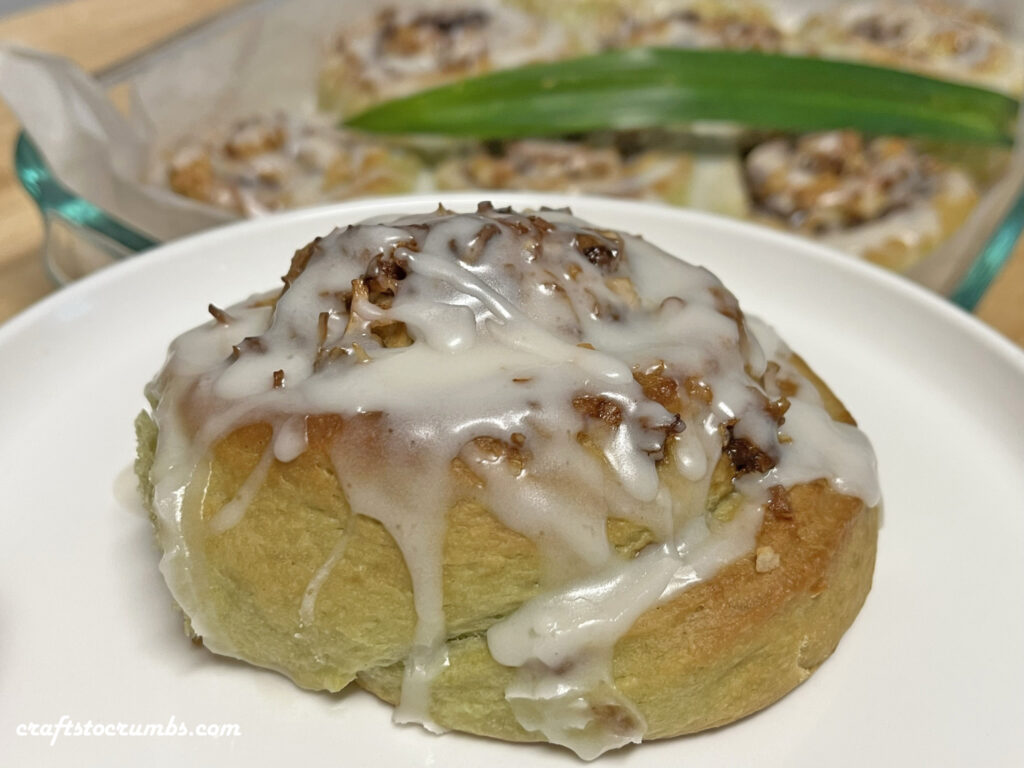 Pandan Coconut Rolls

Yields: 16 rolls
Time: 2 hours
Dough
4 ½ cups all-purpose flour + more if needed
1 teaspoon salt
1 stick (8 tablespoons) unsalted butter, melted and cooled
1 ¼ cup whole milk
2 ¼ teaspoons (1 7g package) active dry yeast
2 eggs
½ cup sugar + 1 tablespoon for yeast
8-10 fresh or frozen pandan leaves
1 drop of green food coloring (optional)
Filling
2 cups unsweetened shredded coconuts
¾ cup coconut sugar or palm sugar or brown sugar (I used coconut sugar)
½ teaspoon salt
4-5 tablespoons unsalted butter, melted and cooled (depending on how dry shredded coconuts are)
Glaze
1 ½ cups confectioners' sugar
3-4 tablespoons of milk (or until you get desired thickness)
1 teaspoon of vanilla or natural coconut extract
1 tablespoon melted butter
• Prepare the dough, by first cleaning and cutting the pandan leaves. Place them in a blending. Pour in the whole milk. Blend or puree for about a minute.
• Strain the mixture back into a measuring cup. Stir to deflate the foam. Add 1 tablespoon sugar and heat the mixture to a lukewarm temperature that's about the same as your body temperature, 98 degrees.
• Add the yeast to the pandan milk mixture. Give it a quick stir and let it proof for about 5 minutes or so. It should get foamy and bubbly. At the very least you should see some bubbling action. If it doesn't, the yeast is dead. Get a new pack and start over.
• In another bowl, add flour and salt. Whisk together and set aside.
• In the bowl of a stand mixer with the dough hook attachment, add ½ cup of sugar and 8 tablespoons of melted butter. Start mixing. Add the pandan milk mixture. Then add the eggs. Let it mixture for about 30 seconds.
• Slowly add in the flour mixture. Knead. If the dough is too wet after adding all the flour, add additional flour 1 tablespoon at a time and letting it incorporate completely before adding anymore. Knead until the dough forms a ball and pulls away from the sides of the bowl. It should not be sticky or tacky to the touch.
• Form the dough into a ball and place into a greased bowl. Cover the bowl with plastic wrap or a clean kitchen towel. Let it rise for about one hour or until doubled in size. Times may vary depending on the warmth of your kitchen.
• Meanwhile, make the filling by adding shredded coconuts, coconut sugar, ½ teaspoon salt and 4 to 5 tablespoons of melted butter. Mix well and set aside.
• Once the dough has risen, transfer to a well-greased work surface. Shape and roll out to about 20 x 12 rectangle.
• Spread filling on most of the rectangle, leaving about an inch on one long side.
• Start rolling in from the filled side until you have formed a log.
• Use unflavored floss to cut the log into 16 (1 ¼ inch) pieces.
• If making individual rolls, tuck the edge in under the roll to prevent unraveling. Place on a greased baking sheet.
• If making rolls in a 9×13 (and 9×9), arrange them about an inch apart.
• Cover the pans/baking sheet with plastic wrap or kitchen towel and let it rise for another 30 minutes.
• Bake at 350F for 24-27 minutes. If you want to be precise, until the food thermometer reaches about 190F.
• Make the glaze, by mixing the confectioners' sugar, pinch of salt, extract and 3-4 tablespoons of milk. Add melted butter. Whisk well. You can reduce the milk or increase the milk until you get desired thickness.
• Drizzle the glaze on the warm rolls.
• Serve. Enjoy