Sai gok Isaan or sai krok Isaan is a fermented sausage that originates from the Lao people living in the region of Northeastern Thailand, known as the Isan or Isaan region. The sourness or fermented taste of the sausage can be an acquired taste. However, the sausage is enjoyed throughout the region (and beyond) and is typically served with cabbage, fresh chilies, sliced ginger, and a nice cold beer.
If you've never had this sausage before, I'd like to think of it as a cross between sai oua and som moo (sour cured pork). The sausage filling smells a lot like som moo when you are mixing it. However, I'd like to add an important note. When mixing the filling it had a smell, but after a day or so, it didn't smell much at all. It wasn't pungent in anyway. If you find that your sausage has a strong odor, I'd be cautious as something might have gone awry with the fermentation process.
Notes: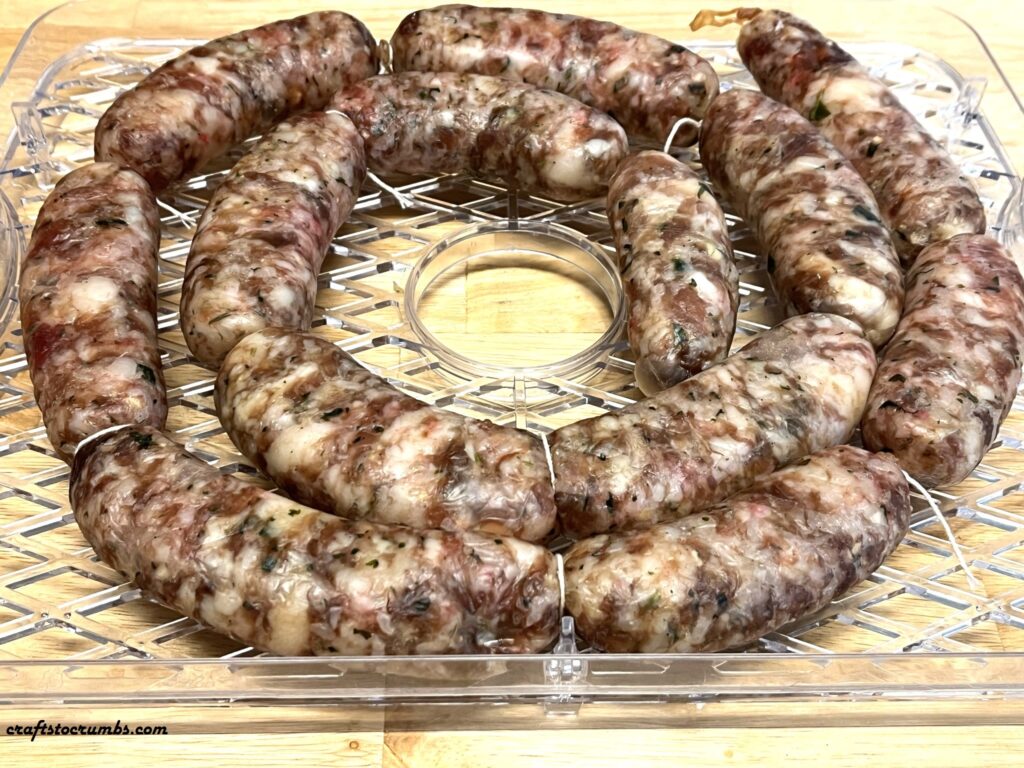 Drying/curing process – if you have a place to hang the sausage, feel free to hang them. I'm using racks from my dehydrator. Whatever you choose, make sure that the air can circulate around the sausages. They should be placed in a dry area that is between 75-85F. When using the rack, I flipped the sausages every day or so. During one test, I ran the dehydrator for one day at the lowest setting, which was about 90F. This helped emulate being sun dried and that worked well. For the rest of the time, I let it cure on the rack at room temperature.
Fermentation – the fermentation process takes 2-5 days, depending on how sour or fermented you prefer. I was happy with the taste after about 3 days. You can cut off a link and cook it to see if it's to your desired taste.
Equipment – instead of using the food processor, you can use the traditional mortar and pestle to muddle the coriander, garlic, and lime leaves. You can also mince/ground the pork by hand using a clever or use a meat grinder. For the sausage stuffer, I used a simple sausage/jerky gun. It's great for sai oua too as you can have chunkier fatty pieces stuffed into the casing.
Hog casing – I used only about a quarter of the package. Stored unused hog casings in the fridge per the manufacturer's instructions. This is good for a year. You won't want to freeze the unused casing as quality and elasticity will deteriorate.
Storing – sausages can be stored uncooked in the freezer for up to a month.
Sai Gok Isaan

Yields: 4.4 lbs/ 2 kg
Time: 1.5 hours + 2-5 days (inactive time)

2.2 lbs (1kg) pork shoulder butt (cut into 1-inch pieces)
2.2 lbs (1kg) pork belly (cut into 1-inch pieces)
20 cloves(100g) garlic (peeled, I used about 2 heads of garlic)
½ cup coriander (stem and all)
5-8 kaffir lime leaves (optional)
1 ½ cup (300g) cooked rice (jasmine or sweet rice, I used jasmine)
2 1/2 teaspoons (17g) salt
1 tablespoon (13g) sugar
½ teaspoon (3g) pink curing salt
½ teaspoon MSG
1 teaspoon white pepper
1 (16oz) package of natural hog casing – I used only a quarter of the casing from the package
Kitchen twine

Accompaniments
Cabbage
Coriander
Fresh chilies
Thinly sliced ginger
• Take out approximately the amount of casing that you will need. This will vary depending on the size and length of the casings. Follow the instructions on the back of the package to prepare the casing, which in most cases will require you to soak the casing in lukewarm water for 10-15 minutes and then rinse the casing several times before patting them dry.
• Using a food processor, add garlic, kaffir lime leaves, and coriander. Process until fine. Remove most of the mixture from the processor.
• Add the pork into the food processor with the garlic mixture that is left in there, and process until you get a rough ground/minced texture. You may have to work in batches. Add pork and some of the garlic mixture that was set aside to the processor and process.
• Transfer the ground pork into a large bowl. Add the cooked rice, salt, sugar, curing salt, MSG, white pepper, and any extra garlic-coriander mixture that you may have left to the pork. Mix well.
• Use a sausage stuffer to stuff the sausage into the casing. Twist or tie off using kitchen twine creating 2-3-inch-long (or desired length) sausages.
• Hang to dry or place on wire rack and let cure in a dry place at 75-85 degrees temperature for 2-5 days depending on desired level of sourness/fermentation.
• Cook by grilling, pan frying or baking at 400F for 20-25 minutes (depending on link size) or until done.
• Serve with accompaniments.