Yum Talay (Seafood Salad)
Salty, tangy, slightly sweet with the warmth of chili. It's a very refreshing and light salad that can be made in less than half an hour. Yum translates to salad and talay translates to ocean. So the name literally translates to salad ocean.
You may find that they are served on a bed lettuce or if you order it from your favorite restaurant, it may be served with a side of jasmine. The jasmine rice is my favorite way to enjoy it the dish as I love when the juice gets into the nooks and crannies of the sweet jasmine rice. So good.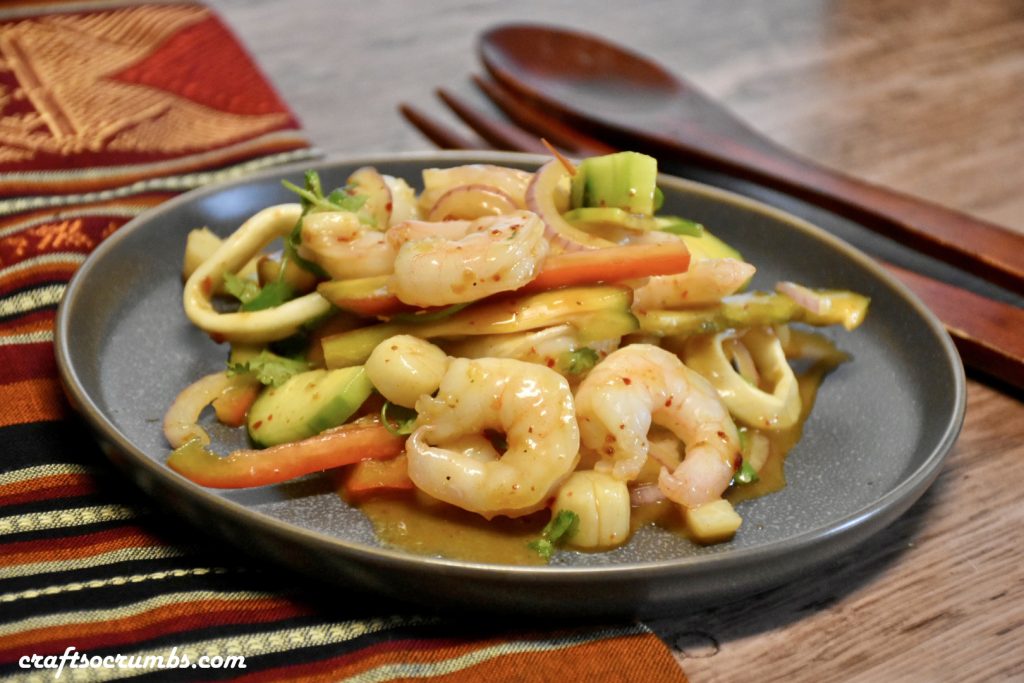 Notes:
Do not overcook seafood – cook each seafood item separately as they cook at different rates and you don't want over one and undercook another.
Customizable – pick and choose the seafood of choice. Some people like only shrimp and make yum goong (shrimp salad).
Yum Talay (Seafood Salad)
Time: 20 minutes
Serves: 4
1 lb (~0.45 kg) shrimp, cleaned and deveined
½ lb (~0.22 kg) calamari
½ lb (~0.22 kg) scallops
Water and a pinch of salt
1 ½ tablespoon chili paste with soya bean oil
1 tablespoon fish sauce
2 tablespoons oyster sauce
1 tablespoon sugar
1 lime, juiced (~2 tablespoons)
1 bell pepper, sliced
¼ red onion (or 1 large shallot), thinly sliced
½ English cucumber, sliced
1 handful cilantro, roughly chopped
Lettuce (optional)
Red chili flakes (optional for added spice)
• In a large pot, bring water and a pinch of salt to boil. Boil the shrimp, calamari, and scallops separately until cooked. Keep in mind that seafood cooks fairly quickly. Cook the shrimp until it turns orange and cook the calamari and scallops until they turn opaque. Do not overcook. Quickly remove from boiling water and set aside.
• In a large bowl, add the chili paste with soya bean oil, fish sauce, oyster sauce, sugar, and lime juice. Also add chili flakes if using for desired spice levels. Mix well.
• Add the cooked seafood, bell pepper, red onion, cucumber, and cilantro. Toss well to ensure all ingredients have been coated by the dressing.
• Serve immediately. Serve on a bed of lettuce, optional.