Thanks to the pandemic and quarantine, this year has been the year of bread baking. We saw no-knead breads, sour dough, lots, and lots of banana bread. Grocery stores ran out of flour and yeast. There have been many speculations on what the "banana bread" of fall baking will be.
I'm not saying this is a speculation, but I'm just putting it out there into the universe. It's autumn, October and 2020. Bacon beer and cheese bread. Why not?

This is a quick bread which means it utilizes leavening agents other than yeast and doesn't require hours and hours of rising time. Since it has beer, it still has a yeasty flavor to it. You also get a little heat from the ground chili, crunchy bacon bits and cheesy crust.
I wanted a bread that says fall but is neither apple nor pumpkin. In my opinion, fall is unofficially beer season with Octoberfest and football games. This bread was a surprise for a non-beer drinker like myself and I enjoyed it quite a bit.

Notes:
• Beer – Dark beers like a stout or porter are preferred, but you can use what you have on hand. Make sure the beer is room temperature though.
• Chilis – adjust the ground cayenne to taste. The ½ teaspoon was fine for me, but I can tolerate heat better than some people. The jalapeno, I made optional for this recipe as I felt it didn't add much once you de-seed and devein the pepper. Don't skip the ground chili though! That little bit of heat makes it bread.
• Bacon – if you use precooked bacon bits (~2/3 cup) or turkey bacon, which may not have as much grease, add vegetable oil in place of the bacon grease.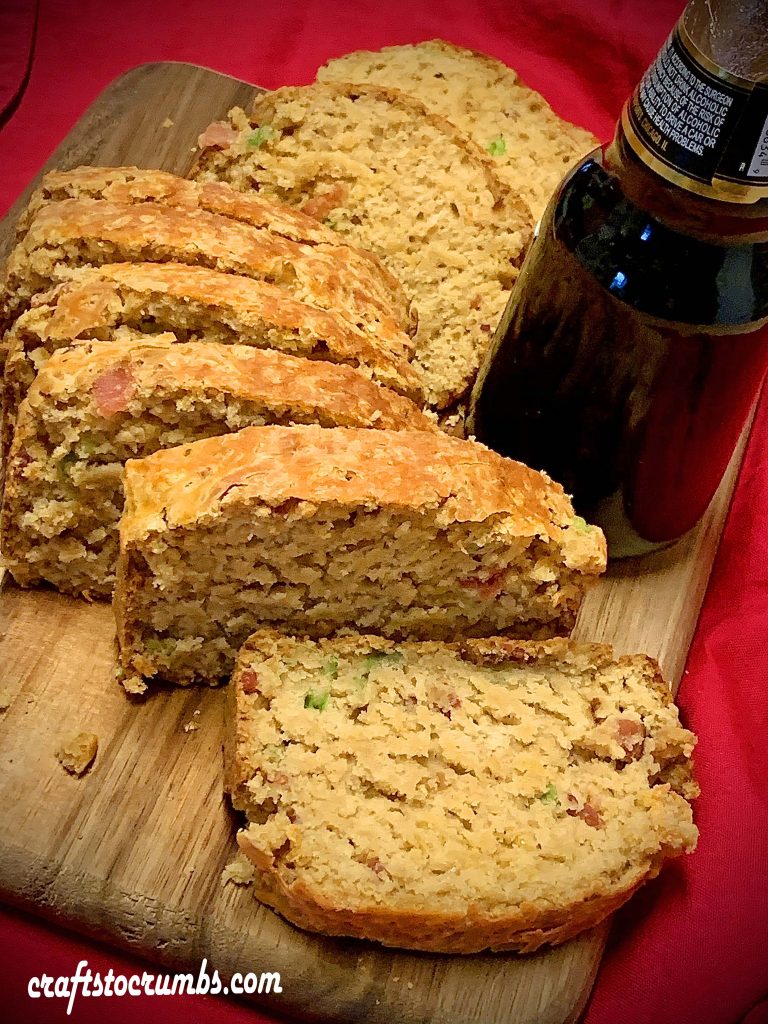 Bacon Beer and Cheese Bread
Time: 1 hr
Serves: 12-16
2 ½ cup (300g) all-purpose flour
2 tablespoons (24.75g) sugar
1 teaspoon (6g) baking soda
½ teaspoon (2g) baking powder
½ teaspoon (3g) salt
½ teaspoon (1.6g) garlic powder
½ teaspoon (1.36g) ground chili (cayenne pepper – adjust to taste)
1 jalapeno, diced (Optional)
4-5 bacon slices, diced
1 (12 oz) bottle or can dark beer (at room temperature)
¾ cup grated Mexican style shredded cheese blend or cheddar (divided)
3-4 scallions, chopped
• Preheat oven to 350F. Spray cooking spray on a 9×5 loaf pan and set aside.
• In a skillet, cook bacon until crispy. Remove bacon for the skillet and reserve the bacon grease, approximate 2 tablespoons' worth.
• Whisk together flour, sugar, baking soda, baking powder, salt, garlic powder and ground chili.
• Add beer and reserved bacon grease. Stir a few times.
• Fold in the cooked bacon, ½ cup of the cheese blend, scallions, and jalapeno, if using. Mix until just wet. Do not overmix.
• Spoon the batter into the prepared pan.
• Top with the rest (1/4 cup) of the shredded cheese blend.
• Bake for 40-45 minutes or until tester comes out clean.
• Allow it cool in the pan for a couple of minutes. Then remove and cool completely on a wire rack.
• Cut, serve, and enjoy!