Butter mochi or sweet rice cake is chewy, sweet and coconut-y. Sweet rice flour or glutinous rice flour lends it that soft chewy texture. The basic butter mochi can be a blank canvas. This time, I made a coconut version. Also, for the upcoming fall season, I made a pumpkin spiced version. Perfect to share with the family.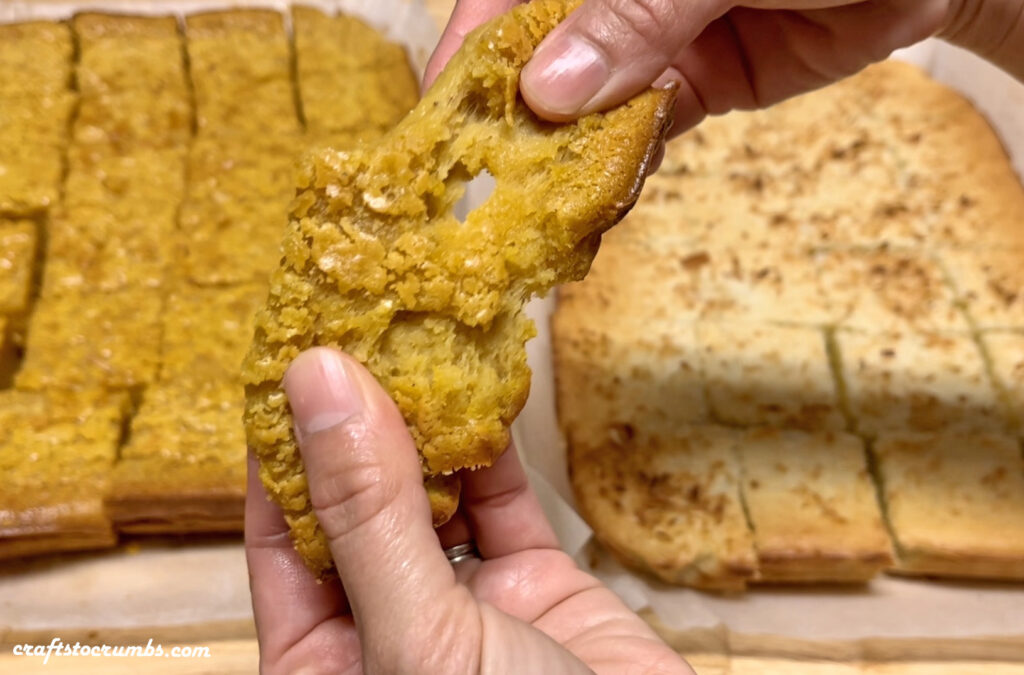 There are many variations of the cake throughout Asia and the Pacific Islands. Here in the states, we may be more familiar with the Hawaiian butter mochi, which is similar to Japanese mochi and Filipino bibingka. To some degree, it also reminds me of Chinese nian gao.

I enjoyed putting my spin on this classic dessert, especially the pumpkin spice version. This version was soft and chewy. The texture and coconut undertones remind me so much of khao pard, which gave me an idea for developing an easier version of that dessert.

Notes: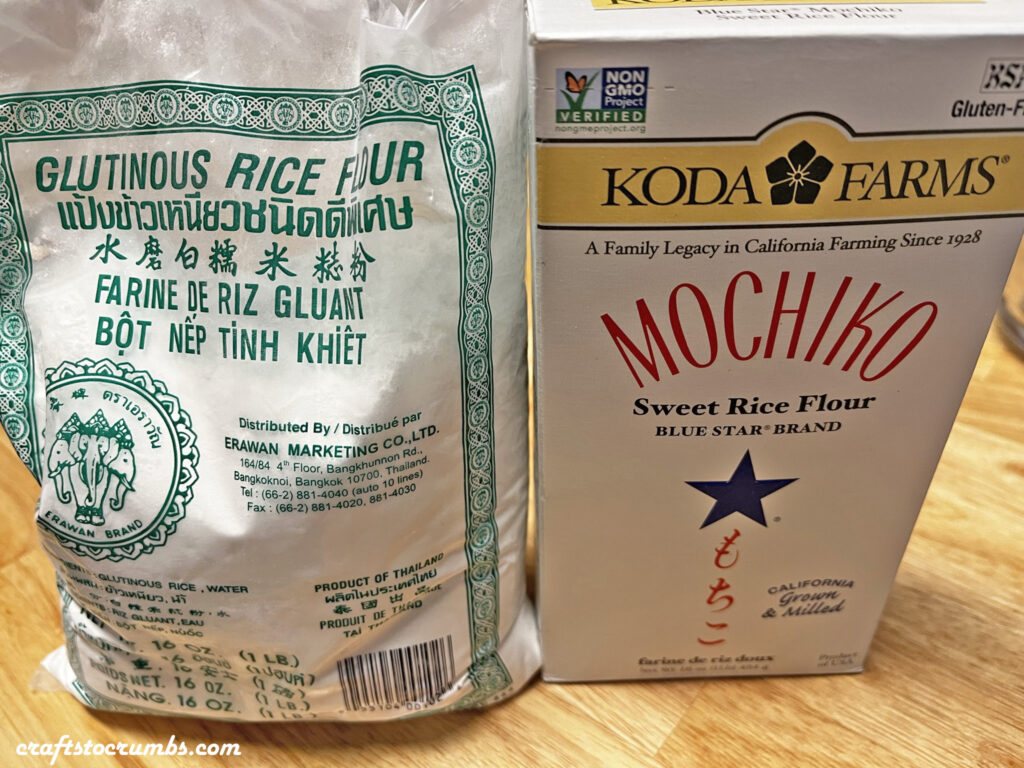 Flour– use sweet rice flour, which is also known as glutinous rice flour. It's not the same as just rice flour. Sweet rice flour is made from sweet rice or sticky rice. Mochi lovers will swear by the Blue Star Brand Mochiko by Koda Farms. I always have the Erawan Brand on hand and made the pumpkin spiced version with the Erawan Brand glutinous rice flour. The coconut version is made with the Blue Star Brand. Both brands come in 16-ounce packages and they both work. I was able to find both brands of sticky rice flour at a local Asian Market. I have not tried the Bob's Red Mill brand yet, but they are more likely to be found at your local grocery store or health food store because, yes, glutinous rice flour is actually gluten free. It is called glutinous rice because of the sticky texture and not its contents. A small additional note. These flours are made from two different varieties of sweet rice. The brands are also noticeable different in that the Erawan brand are more processed and produce a smoother mochi, whereas the Blue Star Brand, are more granular. Depending on your preferences, you may want to consider this when choosing which brand to use.

Softy** – the sweet rice flour is fairly forgiving. The more liquids you add, the softer the cake texture. In the pumpkin spiced version, there is slightly more liquid, which includes liquids from the pumpkin puree itself and it is noticeable softer than the coconut version. If I had decreased the half & half to about 1 ½ cup it would be a tighter mochi.

Sweetness* – the amount of sugar is adjustable to taste. I've seen recipes with 2 to 3 cups of sugar. For me, I would reduce the sugar to about 1 ¼ or 1 1/3 cup, but the 1 ½ cup in the recipe is not too sweet and is acceptable to the general guinea pig/ family member.
Liquids** – use whatever liquids you want. Depending on how rich you want the cake to be, you can use everything from water to heavy cream. This also helps in flavoring and customizing the butter mochi. I plan on making this again with pandan water and coconut milk for that khao pard-esque cake. The best part about using the measuring cup to mix my liquids is that I can see how much liquids I'm adding to the batter. Total liquids prior to added eggs and extracts is usually about 3 ½ cups for the 16 oz package of sweet rice flour.

Greasing the pan – light grease the pan and if you are using parchment paper you'll need less or may not need to grease your pan at all. I was over cautious and greased the pan and greased the parchment paper which made things a little greasy. The cake already has butter in it and it's easy for things to get greasy. Be mindful when greasing the pan.
Butter Mochi (2-Ways)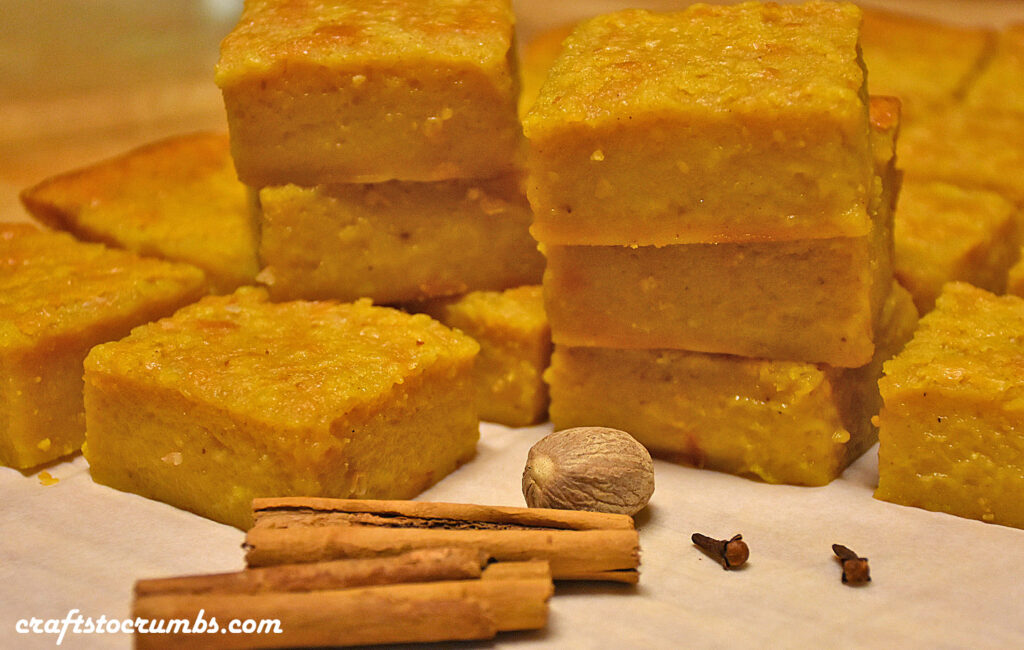 Pumpkin Spice Butter Mochi
16 oz. (454g) sweet rice flour/ glutinous rice flour
1 ½ cup (300g) sugar*
1 ½ teaspoon baking powder
½ salt
1 teaspoon pumpkin spice
1 ¾ milk or half & half**
1 can (13.5 oz / 400 ml) unsweetened coconut milk
4 eggs
1 cup pumpkin puree
½ cup (113g) unsalted butter, melted
1 teaspoon vanilla extract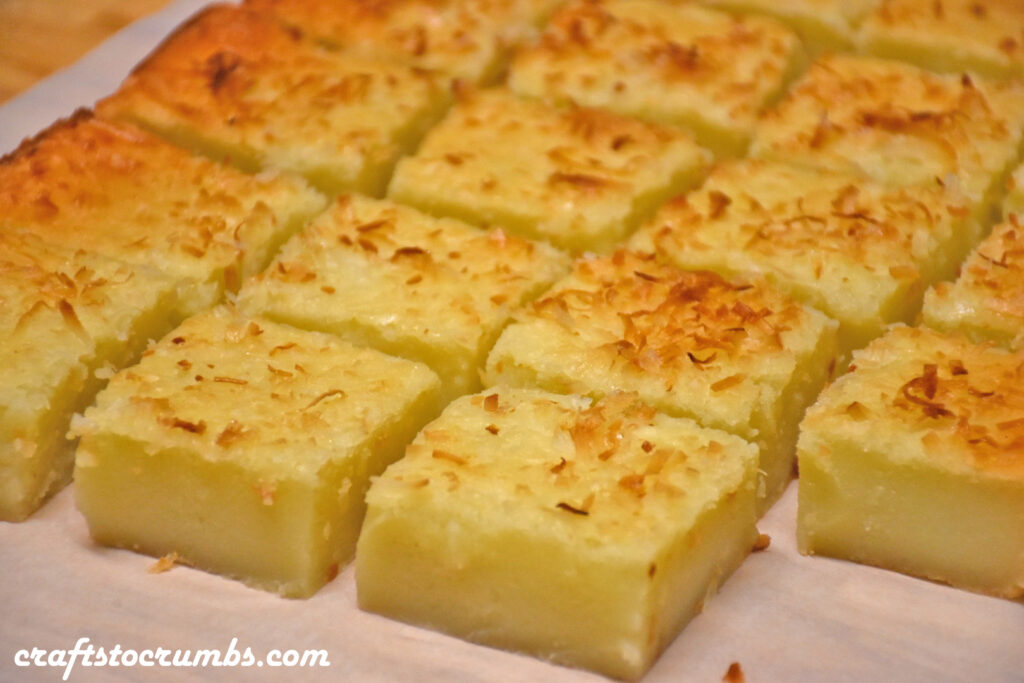 Coconut Butter Mochi
16 oz. (454g) sweet rice flour/ glutinous rice flour
1 ½ cup (300g) sugar*
1 ½ teaspoon baking powder
½ salt
2 cans (800 ml) unsweetened coconut milk
4 eggs
½ cup (113g) unsalted butter, melted
1 teaspoon vanilla extract or coconut extract
½ cup coconut flakes
• Preheat oven to 350°F.
• In a large bowl, add glutinous rice flour, sugar, baking powder, salt, and pumpkin spice (if making the pumpkin spiced version). Mix well and set aside.
• In a large measuring cup or medium bowl, combine milk/coconut milk, eggs, and vanilla or coconut extract.
• Add the wet ingredients to the dry ingredients. Whisk a few times before adding the melted butter. Whisk really well until you have a smooth.
• Pour batter into greased or parchment lined 9×13 baking pan.
• Bake for 55-60 minutes until it's evenly golden brown on the top and center has set.
• Let cool completely. This may take an hour or two.
• Cut and serve. Store at room temperature in an airtight container for 1-2 days or up to 3 days in the fridge.
Enjoy!