Drunken noodles, pad siew, chow fun. What do they have in common? They are all noodle dishes made with flat rice noodles. You can get the noodles dried. Or if you are lucky, you can find fresh ones at your local Asian market. But the fresh ones are very popular and they sell out fast.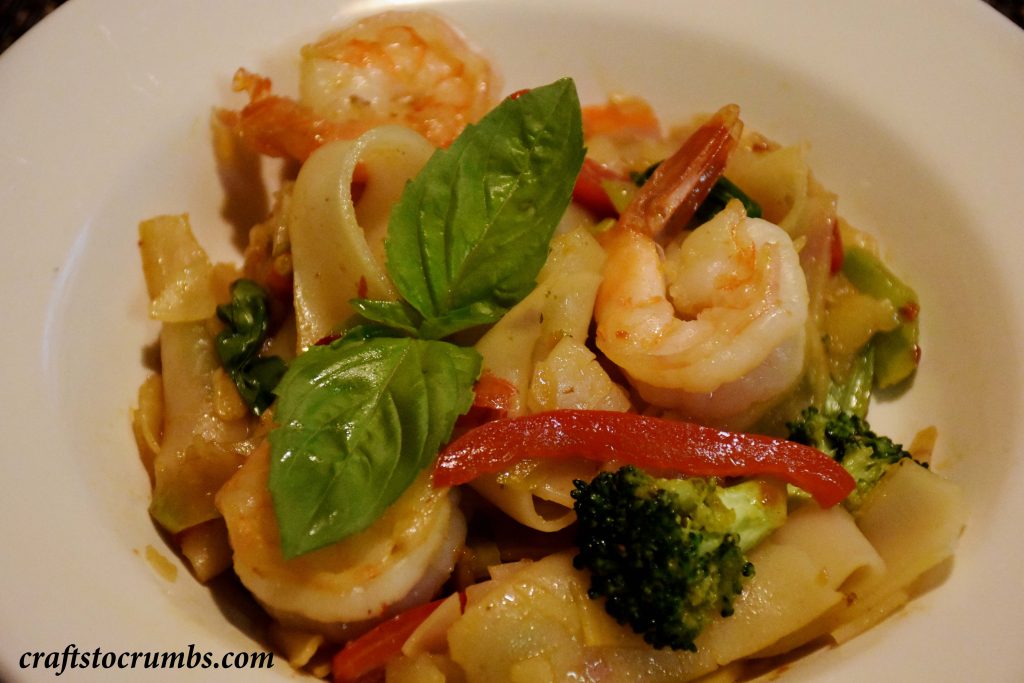 Rather than guessing, when they will be available at the market, I figured, I'll make it myself. I had forgotten that I have tried making these years ago. Then I saw some beef chow fun my friend made for Thanksgiving. It all came back. Except for, I didn't keep any notes nor recorded any results. So I had to start all over with my experiments.  One thing I figured out is the ratio of rice flour to water is always 1:1. If you are making a pound and a half's worth, use 2 cups of rice flour and 2 cups of water.
The variable in this recipe is the tapioca starch. I've seen recipes with 1 tablespoon and  some with a whole half cup. In the past few weeks, I've tried the recipe with 1 tablespoon, 2 tablespoons, 1/4 cup and 1/2 cup to see what yields the best result. And by best result, I mean, the noodles have a resiliency and doesn't completely break apart when used in those noodle dishes.  I like the result with a 1/4 cup tapioca best. There is some breakage, but it is not as mush as with less tapioca.  And having more tapioca actually has diminishing return because the batter gets thicker and throws off the ratio slightly.
Of course there are other variables that can cause breakage in the noodles. Below are some of my notes and my recipe.
Notes:
 Make sure to try to get your batter as smooth and spread as evenly as possible on your pan when steaming. Uneven noodles, lead to breakage.
If your heat is too high, the sheets will cook unevenly and this will be evident by bubbles in the noodle sheet.
The noodles are best fresh. If you are going to use the same day, don't unroll the noodles. Keep them rolled and sealed in a air tight zip lock bag at room temperature. If you're not using it the same day, you can refrigerate it. It will be hard, but heat should help spring it back. I wouldn't keep it for longer than a couple of days though.
Don't over grease your pans. This will make it harder for the batter to spread and cover the pan evenly. Wipe off extra oil with a paper towel before pouring batter into pan. If you have multiple pans, you can steam a new sheet while the previous one cools and keeps the process going. I used a couple of 9-inch rounds, but I have made the noodles with 8-inch square pans with no problems. I did use slightly less than 1/4 cup batter with the 8 inch square.
Flat Rice Noodles
Yields: ¾ lb.
Time:  about 1 hour including resting time
1 cup rice flour
¼ cup tapioca starch
¼ teaspoon salt
1 cup water
1 teaspoon vegetable oil + more for brushing
In a medium bowl, combine all ingredients (1 teaspoon of vegetable oil only) and mix well. Let batter rest for 20-25 minutes.
Meanwhile, heat a large steamer to a low rolling boil (more like a simmer).
Lightly, brush a cake pan with vegetable oil. Stir your batter bowl. Pour ¼ cup of the batter into the greased pan. Tilt the pan gently to help the batter spread evenly onto the pan. Place the pan with batter into the steamer. Tilt the pan once more to get the batter as even as possible in the pan, as it may have shifted when you placed the pan in the steamer. (Be careful this is hot). Wipe the lid of the steamer, so that there is no excess moisture that will drip into your batter. Cover and steam for 4-5 minutes.
Remove pan from steamer and let it cool for a few minutes. During this time, you can steam another sheet, if you have multiple pans.
Once the sheet has cooled, lightly brush with a little bit of vegetable oil and roll the rice noodle sheet. You may need a rubber spatula to help remove the sheet from the pan.
Cut into one-inch pieces and unroll. Use immediately in your favorite recipes.