Kanom Kok – is a popular street treat that can be found throughout Southeast Asia. Each country has a slightly different variation. Some serve it with a little bit of coconut sauce on the side. It is soft and coconut-y. It's not very sweet and depending on the topping can be salty-sweet, almost savory as well.
I think that's what makes it so delicious and almost addicting. It hits on a few of those tastes and textures that we like. There's salty, sweet, slightly savory. It's soft and smooth, but can have a little bite on the edge.
For this recipe, I wanted it to be simple. The best recipes from my childhood are the simplest.  Most of the recipes I found had two batters. There was a crust batter and then an inner batter for the creamy center. I wasn't going to partake in that. It's too much. When I think of the ladies sitting at their street kiosk, I never recall it being complicated for them. The most complicated part of that scenario, is me, having to wait for for those cakes to cook. And by the way, when you are making it yourself, with only one batter, those few minutes fly by, which makes it even better.
I took the components that appeared essential, like the rice flour, tapioca flour and coconut milk and played with the proportions. I had a few test runs with various amounts of both flours, with and without water and a couple different amounts of sugar and salt. I didn't even bother with the ground rice that many Thai recipes used.  The recipe that I ended up with is soft, smooth and nicely balanced. You couldn't tell that it wasn't made with two batters. Take the water out and you get a thicker more toothy version, but I like the added water. It brings the custard-y smoothness.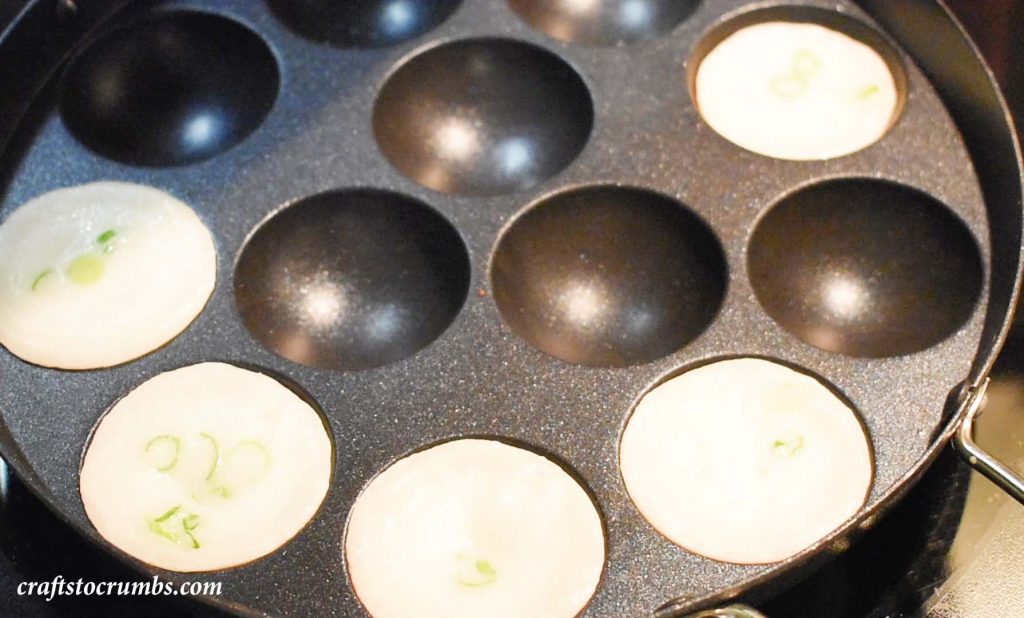 Here are my notes and the recipe.
Notes:
Pan – I tried a few different pans. I have a kanom kok pan that my sister brought back for me from Laos, but it was not made for the flat electric stove tops that we have and did not yield nice golden brown cakes. I also tried the aebleskiver pan used for the Danish dessert and that pan was just not right. It was a cast iron pan and took a lot of oil to grease the pan. It held to much heat and burnt the cakes fairly quickly, even on very low heat. The non-stick appam patra pan that I found on Amazon (paid link) was perfect.
Heat – Your stove is most likely different from mine. I found the heat is right at almost exactly near the middle between low and medium. It's pretty much exactly where I set my stove for pancakes using a non-stick pan. You can test your pan with one or two cakes. There should be a nice sizzle, but it should not be smoky. If it's smoky, it's too hot. If it doesn't sizzle, it's too cool.
Coconut – You can used grated coconut or use coconut flakes, as I did. I grounded the flakes up in a mini food processor until they were fine grounds. Whatever you decide to use, make sure it is unsweetened otherwise, you'll have to adjust your sugar. Ideally, you want the creamiest batter as possible. Your best option might me to omit the coconut flakes, and use unsweetened coconut cream instead of coconut milk.
Topping – aside from the scallions, you can use other toppings, such as corn or cooked mung beans. It's up to you. Go crazy.
Oil** – with some feedback, I was able to test the cakes with less oil. With a nonstick pan, you can reduce the amount of oil in the batter to about 2 tablespoon and the recipe still works. Wipe the pan with a paper towel wet with a little bit of oil. The cakes will be less greasy.  If you are using a non-nonstick pan, you may have to use the full 1/4 cup of oil. 
Salt**- over the years my tastebuds have changed and salt has become the flavor that my tastebuds pick up on the most. Over the past couple of weeks I tested reduce salt amount from the original 1 teaspoon called for in my original recipe. When I reduced it, one of my cousins told me she wish it was saltier. Salt is alright with this kind of dessert because it plays well with the green onion. However, when I made it again with the original  1 teaspoon of salt, my mom told me it was a tad salty for her taste. Everybody still enjoyed them. I would say that salt is a personal preference here. If you like it to taste a little sweeter/less salty, use 3/4 teaspoon of salt. If you prefer where the salt is present, use the original 1 teaspoon. 
Kanom Kok – (Coconut Custard Cakes)
Yields: 24-26 cakes
Prep Time: 10 mins
Cook Time: 5-6 mins (per dozen)
2/3 cup rice flour
2 Tablespoon tapioca flour (tapioca starch)
1/3 cup sugar
3/4 teaspoon or 1 teaspoon salt**
1/3 cup unsweetened coconut flakes (grounded or in blender or food processor – fine grounds) – optional
1 can (13.5oz/400 ml) unsweetened coconut milk or unsweetened coconut cream
2 tablespoons to 4 tablespoons (1/4 cup) canola oil** – (plus 1 tablespoon or so more for greasing pan)
¼ cup water
1-2 scallions – thinly sliced (or topping of choice)
In a container with a spout, whisk together flours, salt, sugar and grounded coconut flakes. Add coconut milk, and oil. Whisk well. Finally add water. Set aside.
Heat up your kanom kok pan (I'm using a stainless-steel Appam Patra pan). The heat should be set at low to medium low. The pan should be hot and sizzle, but not be smoky. If it's smoky, then it's too hot. You can test one to 2 cakes before starting.
Grease each cavity with a little bit of oil. Stir your batter. Then fill each cavity to the top with batter. Sprinkle on the scallions. Cover and let cook for about 5-6 minutes. You can use a metal spoon to remove the cakes from the pan. They are done when the edges and bottoms are golden brown. If they are not quite as golden brown, just leave them in the pan for another minute or so.
Make sure to grease the pan and stir the batter in between each batch as the coconut may settle to the bottom of the container.