Salty, tart with a hint of natural sweetness and optional spice. Literally, every taste bud is activated with pickle. For those of us who grew up snacking on green mangoes, our mouths are watering at the thought of green mangoes.
This is a recipe for refrigerator pickled green mangoes. For this recipe, the brine is similar to that of dill pickles (minus the dill). It's saltier than other versions. I've tasted pickled green mangoes with brines that are sweeter, similar to those for sweet gherkins. Both versions are good, but I am partial to the saltier version with the little bit of chili flakes, you don't need a dip or anything additional. The sweeter version is a more traditional version.
***Sweeter version added below***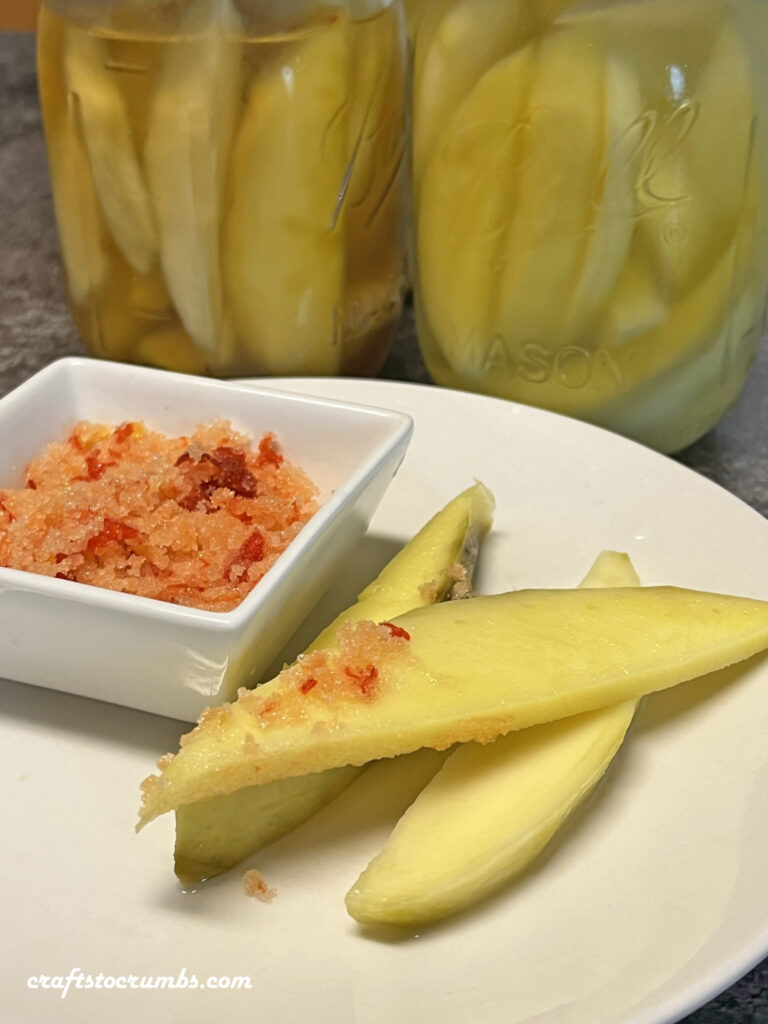 Notes:
• Green Mangoes** – green mangoes are unripe, tart mangoes. This recipe calls for about 2.5 lbs. of cleaned and cut mangoes. Truly young and unripen mangoes will have seeds that have not fully developed, and seeds don't make up much of the weight of the mangoes. They are available at most Asian Markets. You can buy 3 lbs. of mangoes, that would be enough for the recipe, plus some for snacking. However, green mangoes can be a bit pricey, especially during these inflationary times. I've found that you can save a buck or two, by going to any of your local grocery store and buying the firmest and greenest mangoes you can find. Basically, the opposite of what you would look for if you were buying mangoes for desserts. You may have to buy a pound more of the mangoes because seeds are typically developed in these mangoes, and they make up a good amount of the weight of the mangoes. You may find some could be sweeter than the traditional green mangoes, but once you pickle them, they are still very enjoyable and add yet another depth of flavor. Mangoes at your local grocery store are typically sold one for $1 versus sold by the pound at the Asian market so this is a budget friendly alternative.
• Pickling salt *– canning and pickling salt is not the same as table salt. Table salt contains anti-caking agents and are not recommended for acidic pickling. The best substitute for pickling salt is natural sea salt because it's all natural and does not have caking agents. Other substitutes include kosher salt, or fine sea salt. However, check the labels for those caking agents. They may appear as yellow prussiate of soda (YPS) or ferrocyanide decahydrate. They are about a 1:1 conversion per.
• Time – These are refrigerator pickles, meaning they are stored in the fridge. They are good for up to 3 months in the fridge, but they won't last that long!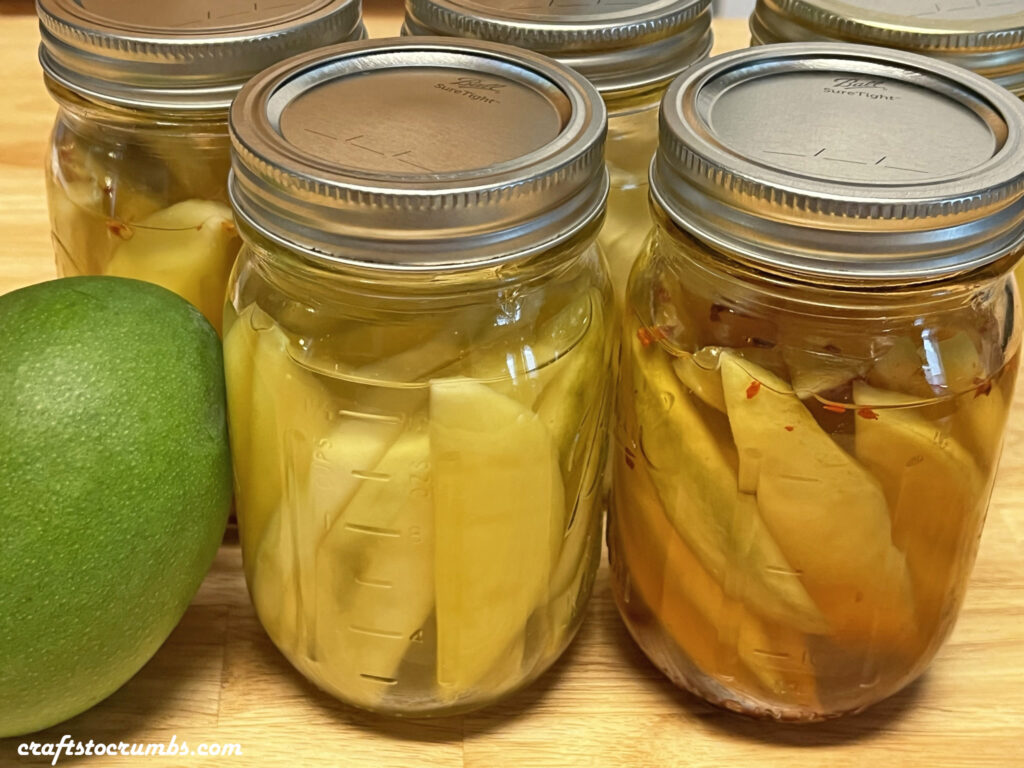 Pickled Green Mangoes

Yields: 5 pint-sized jars

5 cups (3lbs) green mangoes, peeled and sliced to about ¼ inch thick**
3 cups white vinegar
3 cups water
6 tablespoons pickling salt*
6 tablespoons sugar
2 ½ teaspoons chili flakes
Sweeter Version:
3 lbs green mangoes
3 cups water
2 cups distilled vinegar
2 cups sugar
3 tablespoon pickling salt or natural sea salt
Chili flakes (optional)
• Wash, peel, trim, and slice green mangoes to about ¼ inch thick wedges.
• In a large stainless-steel pot over medium heat, add vinegar, water, salt, and sugar. Bring to a boil, stirring to ensure that salt and sugar have dissolved.
• Cover, and let the mixture boil for an additional 10 minutes.
• Turn off the heat. Then add the sliced mangoes to the pot and let it cook for one minute.
• If you prefer spicy pickles, add about ½ teaspoon of chili flakes into clean pint size mason jars.
• Transfer the mangoes and pickling liquids into jars.
• Allow the contents and jars to cool completely before applying the lids.
• Let them marinate in the fridge for 1 to 2 weeks before enjoying.
• Store in the refrigerator for up to 3 months.