Rice Noodles / Rice Vermicelli Noodles from Scratch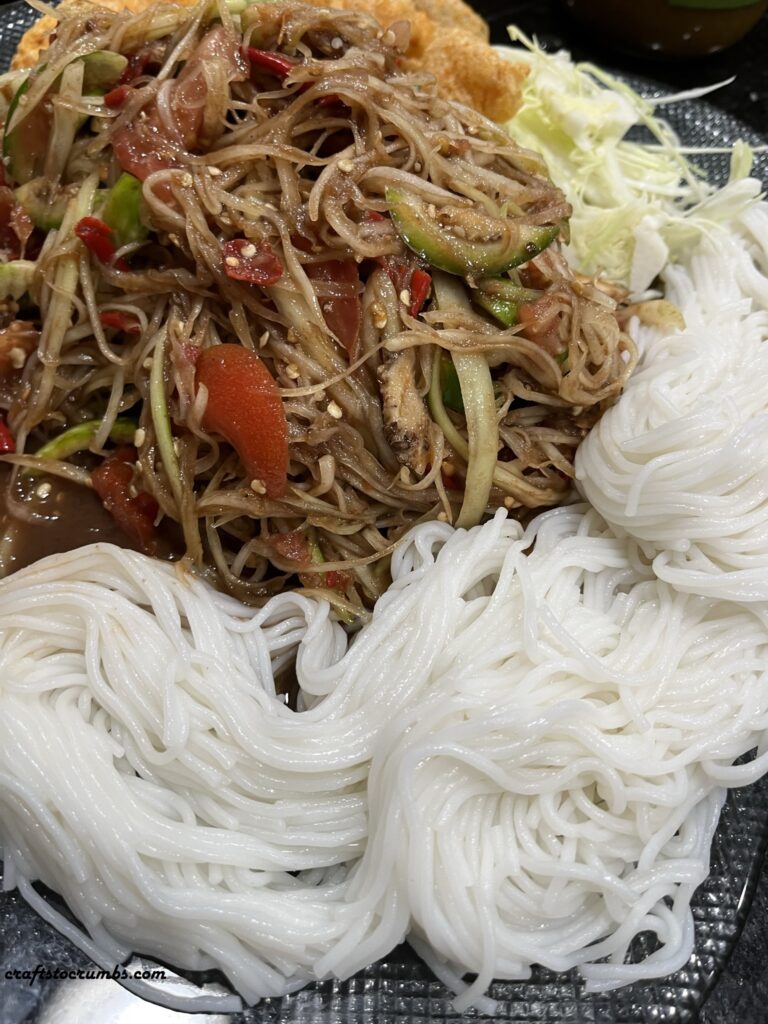 This recipe is going back to the basics. It's great to have a simple recipe like this in your back pocket. Noodles, especially rice noodles are essential in Asian cuisine. This recipe uses basic ingredients.

I was able to use this recipe recently. It yields a small batch of fresh, made from scratch rice noodles. You can easily scale up if you need to make a larger batch. You can use the noodles in other recipes, such as thum khao poon, summer rolls, lettuce wraps or noodle soups.

Notes:

Equipment – I used a potato ricer with small holes. It worked, but it was quite the workout because the ricer was not made for making noodles. A noodle press or pasta extruder would work. I used what I had on hand. This was meant to be an easy recipe and I used what I had.

Water – the best part about using rice flour is that it is very forgiving, and you don't have to be as precise with the measurement of the water. However, if your dough is too wet, the noodles will not be pretty, and it could stick in the potato ricer or noodle press, which would make it difficult to work with. When adding the water after reaching the ¾ cups that is required, I would add 1 tablespoon at a time. The dough should be smooth, soft and pliable.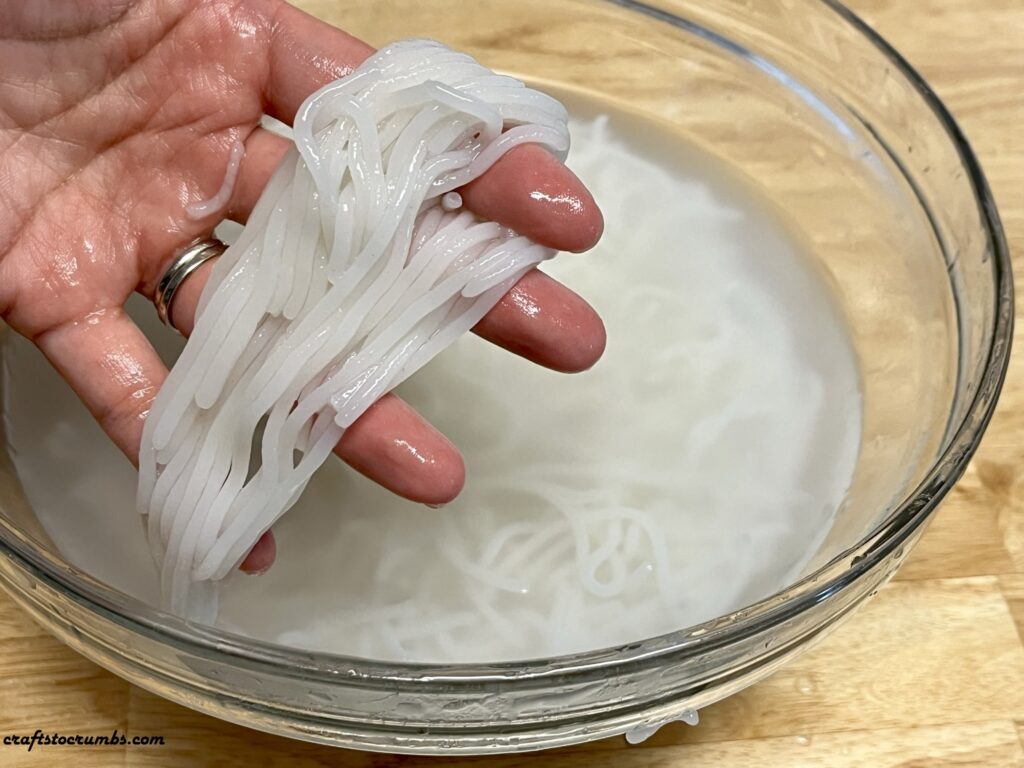 Scaling up – to scale up, the amount of rice flour + tapioca starch should be twice as much as the water. To double the recipe, it would be 2 cups rice flour, 1 cup tapioca starch, 2 tablespoons, and 1 ½ cup of hot water.

Cornstarch or Xanthan gum – You may find recipes that use xanthan gum. Xanthan gum is an additive that is used to stabilize or thicken food. In this case, I have chosen to use cornstarch because again it is widely available, and I have it in the pantry. If you would like to use xanthan gum, reduce the amount to about 1 ½ teaspoon.
Rice Vermicelli Noodles (From Scratch)

1 cup (130g) rice flour
½ cup (65g) tapioca starch
1 tablespoon (8.5g) corn starch
¾ cup (~150ml) boiling hot water + more if needed
1 tablespoons vegetable or canola oil
Water and ice for an ice bath
Special equipment: potato ricer or noodle press/extruder
• Bring a large both of water to a boil.
• In the bowl of a stand mixer with the paddle attachment, add rice flour and starches. Mix to combine.
• With the mixer on low, add in the hot water.
• Then add the oil. Mix until the dough comes together. You can change the attachment to the dough hook and knead for a couple of minutes, but the paddle attachment works as well. You want the dough to be smooth. If your dough is too dry, add hot water, 1 tablespoon at a time. Do not add too much water. The pasta will be off texturally and will not be smooth.
• If you don't have a stand mixer you can complete the above steps; mix and knead by hand.
• Prepare an ice bath, by filling a bowl with water and adding the ice.
• Take about a third or half of the dough and place in a potato ricer or a pasta extruder or pasta press.
• Press the noodles directly into the pot of boiling water. Once the noodles reach the desired lengths, dip the ricer or noodle press into the boiling water. This will end the noodles.
• Let the noodles cook for a couple of minutes in boiling water. Using a skimmer strainer or spider, remove the noodles and place directly into the ice bath.
• The noodles are ready for use.