This recipe features soft buns with Chinese-style roast (BBQ) pork or an alternate Lao-style kala pao fillings. Either one is delicious and addicting. And I would know. I've had a bun for breakfast every morning for the past three weeks as I test the recipes.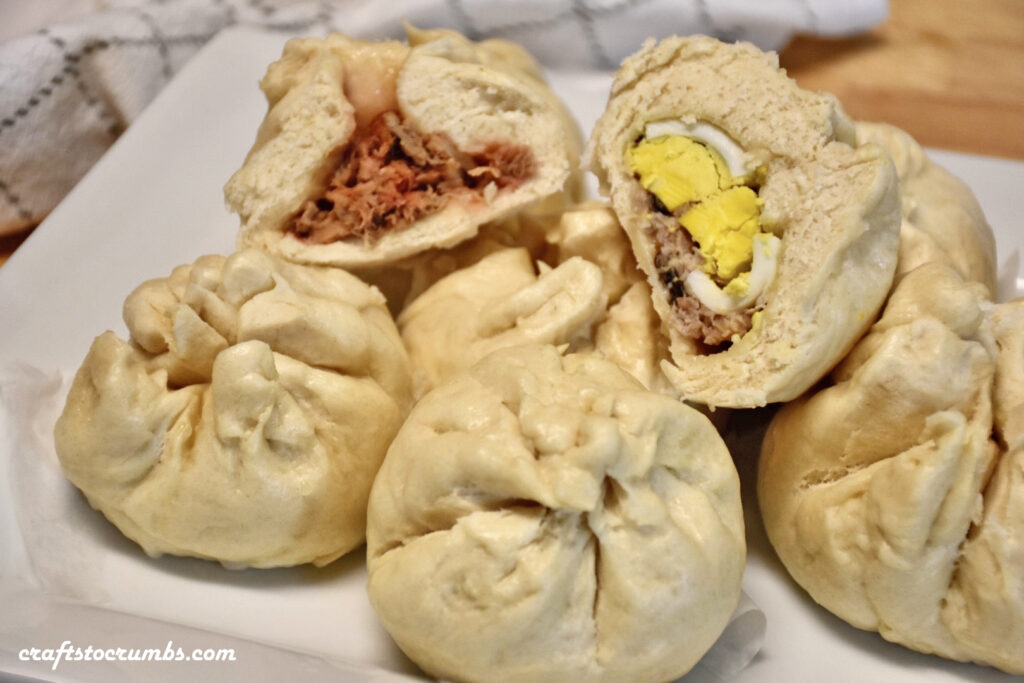 I've heard other people's answer to the question, "if you could eat only one food for the rest of your life, what would it be?" I'm glad no one has asked me yet because I can't decide. After eating this for three weeks, I might have a contender. Mind you, I also ate chicken pho for 3 weeks while tweaking my recipe for a slow cooker and I was fairly happy with that too. I think if we are at a point, when we have to choose only one food, then something is probably really wrong and I'd be grateful to have any food at all.
The only thing I played with for these recipes is the dough. I had a basic yeast dough recipe that I used for years, but it's not very soft. After looking at a few recipes, I saw a wide range of flours, sugars and leavening agents. Everything from all-purpose with cornstarch to low protein, Hong Kong flour. After seeing these combinations it clicks. I knew exactly how to tweak my recipe. Sometimes, all-purpose flour cut with cornstarch is used to substitute a low protein flour that I am familiar with. That's right, cake flour. Hello, my old friend. The rest was history.
I did try a few combinations of leavening agents, including; yeast, baking powder and baking soda. I also tried with granulated sugar and confectioner's sugar.  Below are my notes and recipes.
Notes and tips:
Cake flour substitute – although cake flour can be found in most major grocery stores, if you do not have access to cake flour you can substitute for cake flour by measure 1 cup of all purpose flour, scooping out 2 tablespoons of the all purpose flour and then adding in 2 tablespoons of cornstarch. Sift a couple of times and this will give you 1 cup of cake flour equivalent. My sister and I have tried this without cake flour and without this substitution. All-purpose flour in a 1:1 ratio to the cake flour below works too!
Part of the water can be substituted by milk. 1/4 cup is enough to add a creamy depth to the bun. More than that could make the dough hard to work with. The dough also gets super soft.
Yeast – Instant vs Active Dry yeast – use either instant or active dry – In the past, I have used active dry yeast and not proof the yeast before adding to the dough and it still works. But over the years, I've learned that instant dry yeast is the yeast that you can add to the dry mixture before proofing and that is the method it is intended for. I have grown partial to the instant dry yeast.
Sugar – You can use either granulated sugar or confectioners' sugar, but you will have to use more confectioners' sugar (measurement wise) than you would granulated sugar. 1/3 cup of granulated sugar  yields sweeter buns than 1/3 cup of confectioners' sugar.
For salt level of char siu filling, adjust it to the saltiness level of the pork. You may want to omit the salt all together and taste your pork filling before you take it off the heat. Add salt as the final seasoning, if it is needed.
Note that steam time for gala pao is longer than char siu bao because the filling is not pre-cooked
You can freeze fully cooked buns and microwave them for 45 seconds to 1 minute and enjoy.
Double the dough! – I high recommend doubling the dough amount to give yourself room for your customization. When we make kala pao, we tend to add more eggs and/or lap cheong. You can make bigger buns and not worry about fitting things into a dozen buns.
Steamed  Buns
Yields: 12 Buns
Time: 2 hours (including inactive time)
For dough:
2 ¾ cup cake flour (see notes above for cake flour substitute) or All-purpose flour
¼ cup corn starch
1/3 cup sugar
1 Tablespoon baking powder
1 tsp active dry yeast (or instant dry – see notes)
¾ cup lukewarm water (1/4 of water can be substituted by milk), plus more if needed
2 Tablespoons lard or shortening
• Sift flour, corn starch, baking powder, yeast and sugar into mixer bowl.
• Add lard and mix into flour mixture by hand to ensure the lard is well incorporated.
• It should resemble coarse crumbs. Slowly, pour water into mixture and knead for 1-2 minutes until dough comes together.
• If it's dry at this point, add water, 1 teaspoon at a time making sure to knead in between addition. You can continue to knead by hand until dough is soft and elastic. Or use the dough hook attachment on your mixer on medium speed. Allow it to knead for another 8-10 minutes until the dough is soft and elastic.
• Cover and allow dough to rise for 30-45 minutes.
For Char Siu Pork Filling:
1 ½ cup (185g) char siu /roast pork – cut into thin strips
2 scallions, chopped
1 Tablespoon oil, for frying
1 Tablespoon light soy sauce
1 Tablespoon oyster sauce
1 Tablespoon sugar
1/8 teaspoon salt (omit or adjust to saltiness level of pork)
¼ teaspoon white pepper
1 Tablespoon cornstarch
1/3 cup water
• Mix all the sauces and spices (all ingredients except roast pork, scallions and oil). Set aside.
Heat pan over medium high heat.
• Add oil and allow to heat for about 30 seconds or so. Then add pork and scallions.
• Fry, stirring frequently for about 1-2 minutes. Then add the sauce mixtures and continue to cook until cornstarch cooks out and filling thickens. Set aside and allow it to cool.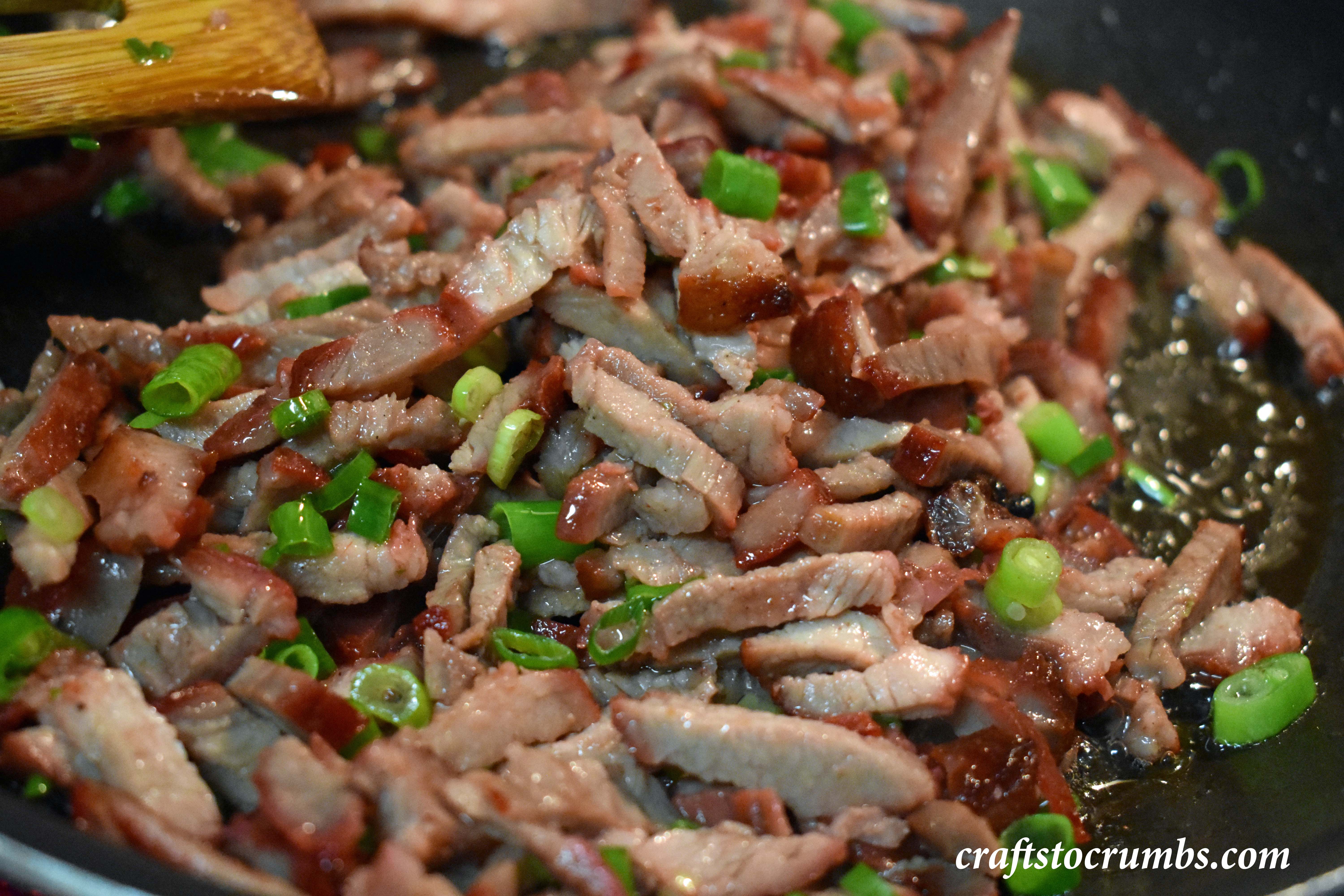 To assemble:
Cut 12 pieces of 2-inch parchment paper or wax paper (I used wax paper).
• On lightly floured surface, cut dough ball in half. Then roll out into log and cut into 6 pieces.
• Repeat for the other half. You should have 12 equal pieces. You can weigh your dough pieces to get more uniform buns.
• Flatten out the piece of dough into a round 3-inch disc. Make sure to work on the edge so it is thinner than the center.
• Fill with a heaping tablespoon of filling in the center of your disc and pull edge in and pinch together at the top to close bun.
• Place on wax paper and allow bun to rest for another 30 minutes. Steam over rapidly boiling water for 13-15 minutes. Enjoy.
For Kala pao (gala pao), Lao-style filling:
½ lb. ground pork
2 Tablespoons dried wood-ear mushroom
2 scallions, chopped
1 Tablespoon light soy sauce
1 Tablespoon oyster sauce
1/2 Tablespoon black soy sauce
1 teaspoon sugar
1/8 teaspoon salt
¼ teaspoon white pepper
2 links Chinese sausages (lap cheong), cut into small pieces
3 large hard-boiled eggs, cut into quarters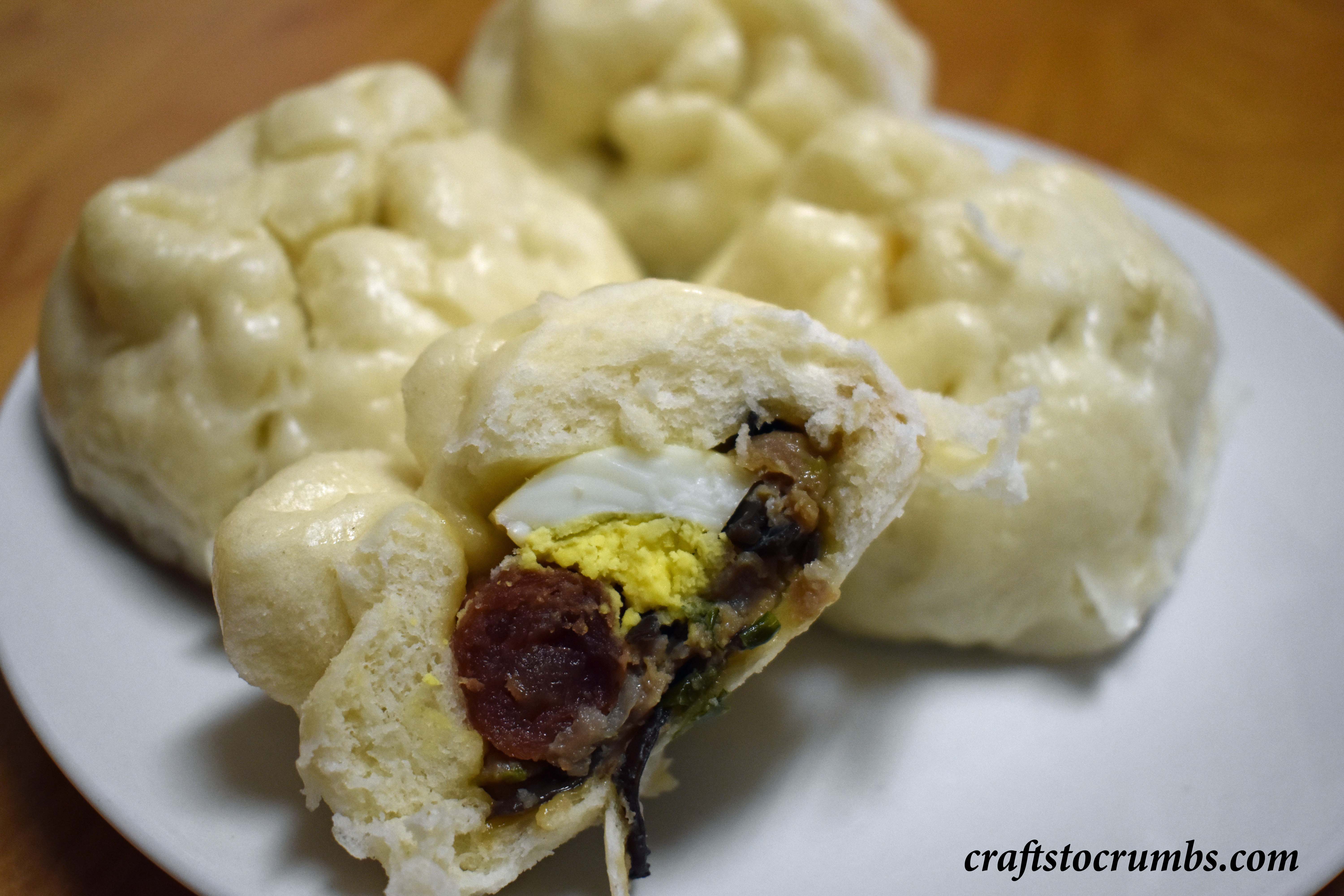 • Soak, dried mushroom in warm water for at least 15 minutes. Drain and chop into small pieces.
• In a medium bowl, mix pork with mushroom, scallions, sauces, sugar, salt and pepper. (All ingredients except for the sausage and hard-boiled eggs).
• When assembling, fill dough disc with a little bit of the filling, one quarter egg and sausage piece(s) and pull the edge of disc and pinch to close.
• Place on wax paper. Allow it to rest for 30 minutes before steaming for about 30 minutes.