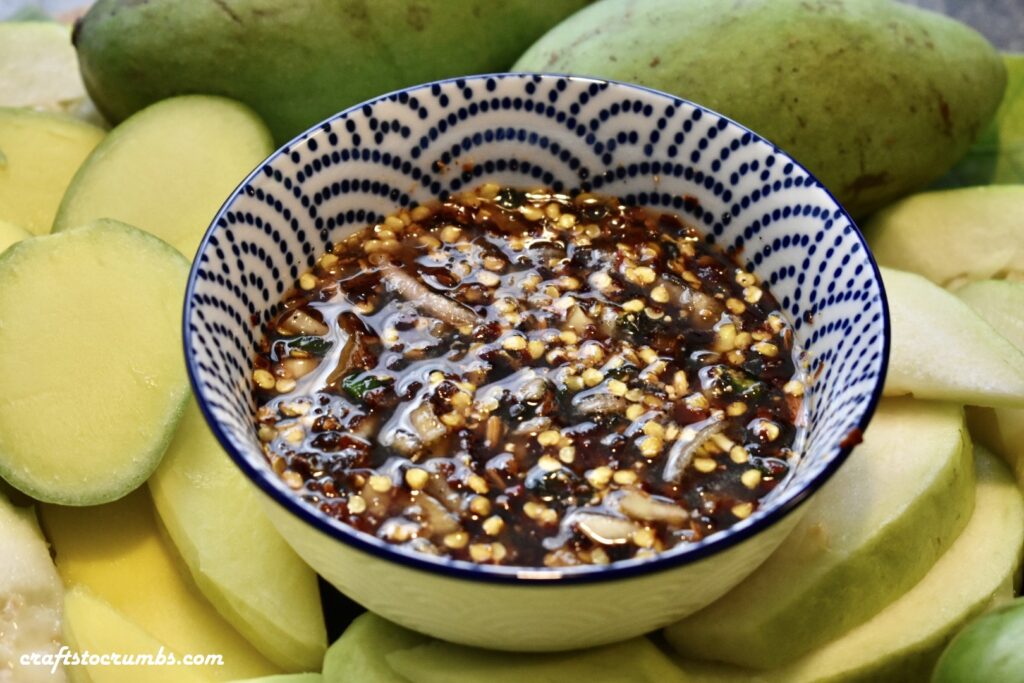 When I think back to the snacks of my childhood, they didn't consist of chips, or sweets or anything packaged. We always had fruit. Our favorites were and still are tart fruits, which can be eaten with a dip. The dips can be as simple as salt and chili or layered in flavors like this jeow jum nampa wan. It's a little funky, but you get saltiness from the fish sauces, a little bitter smokiness from the toasted rice powder, heat from the chilies, and sweetness from sugar. Add the tartness from the fruit, and you've literally hit every tastebud. It's no wonder that it's enjoyed by so many. It's so craveable. The sight of green mangoes and the dip can trigger a Pavlov drool effect.
This recipe was requested by one of my friends. It comes together easily as a snack friendly recipe and can be adjusted to taste. These ingredients are staples in a Southeast Asian kitchen and can be thrown together in a minute after you've poached your neighbors' loquats. I will not name names.
Notes:
Shallots – some would say shallots are essential, but it can be optional. It's up to your preferred taste and what's available. I've made the dip many times without the shallot because I didn't have any on hand.
Garlic – another option. You can add thinly sliced garlic for some extra zing. I don't prefer garlic in this dip as it can be overpowering.
Fruits – use any fruit that is tart. However, the dip will work with fruits that aren't tart as well. We've eaten the dip with everything from apples to gooseberries to starfruits. Most people enjoy the flavors of green mangoes with the sweet dip. I have fond memories from climbing wild almond trees that we stumbled upon while fishing with dad. The young green almonds are tart and have a bright taste profile like green mangoes or granny smith apples. The best part about young almonds is that the seed which most people know as almonds are still soft and gel-like can be scooped out creating a nice pocket that can be filled with this dip.
Sweetness – If you use sweeter fruit, you may want to reduce the amount of sugar a little.
Adjusting to taste – This is a base recipe. I don't typically measure any ingredients when making this dip. Any ingredient in this recipe can be adjusted to your taste. Sweetness and heat can be adjusted to your preference no matter how tart or sweet the fruit is. There are versions without the pa daek as well. If you do this, you may need to increase the fish sauce. Taste and adjust to how you would like it. If you don't know how, test it out with a piece of fruit.
Jeow Jum Nampa Wan
Time: 5 minutes

¼ cup (50g) sugar
3 Tablespoons (45 ml) nam pa/ fish sauce
2 tablespoons (30 ml) padaek / pla laa/ fermented fish sauce
2 tablespoons (30g) toasted rice powder
1 ½ tablespoons (8g) grounded chilies / pepper flakes (or to taste)
1 small (30g) shallot, thinly sliced
½ teaspoon MSG
3-4 fresh chilies, sliced (optional / to taste)
Accompaniments
Green mangos
Starfruit
Green apples
Crabapples
Unripened plums
Green almonds
Gooseberries
Grapefruit
Or any tart fruit
• In a small bowl, add sugar, toasted rice powder, chili flakes, and MSG. Stir to combine.
• Then add in fish sauce and padaek. Give it another stir before adding the shallots and fresh chilies.
• Served with fruits.