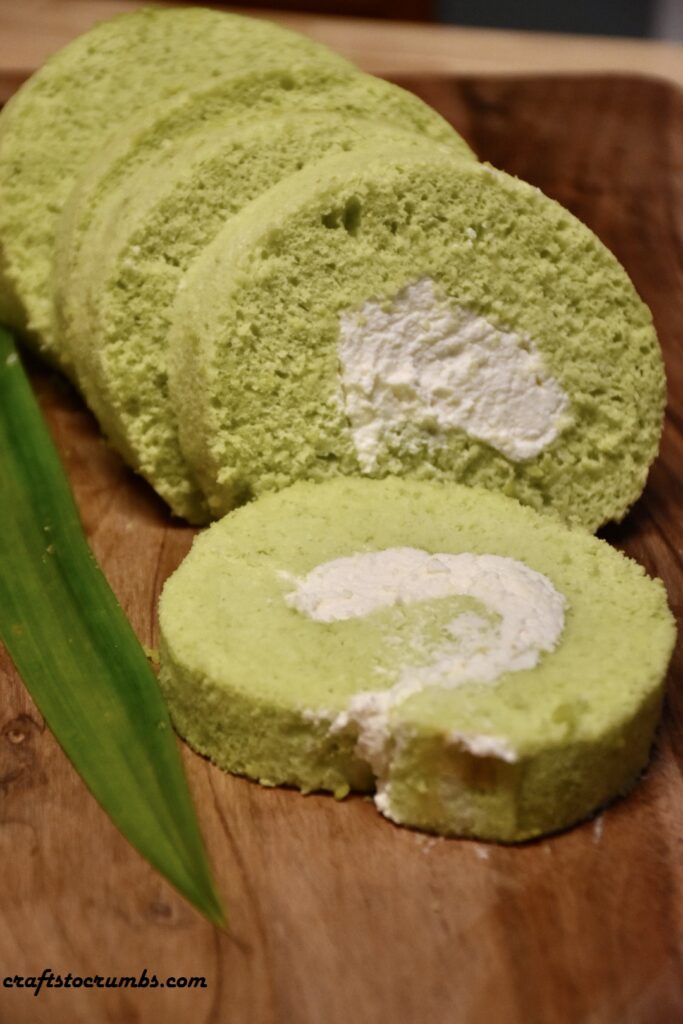 Pandan is one of the most popular Asian dessert flavors. This is a light pandan chiffon cake filled with whipped cream. It can be made with fresh or frozen pandan leaves. If you do not have access to pandan leaves, they can be omitted, and the amount of extract increased.
It's not too sweet and subtly showcases the aromatic pandan flavor. And if you are not a fan of pandan, you can skip the pandan all together and make a vanilla version.
Notes:
Pandan or vanilla – to make a vanilla version, you can omit the pandan leaves. Use 2 teaspoons of vanilla extract. If you choose to make a vanilla version, it goes without saying that you can skip the steps for blending and straining the pandan milk. Use whole milk. Similarly, if you do have access to fresh or frozen pandan leaves, omit the leaves and increase the pandan extract to 1 ½ to 2 teaspoons. Be mindful that some brands are stronger than others. Hence the range in extract amounts. Also note that some extracts are clear, meaning that you may have to add a touch of green food coloring.
Chiffon – See my other notes for making chiffons cakes. But especially note that you are not greasing the pan. Just line with parchment paper.
Don't over mix – don't over mix the meringue as it leavens the cake. You don't want to end up with deflated cake.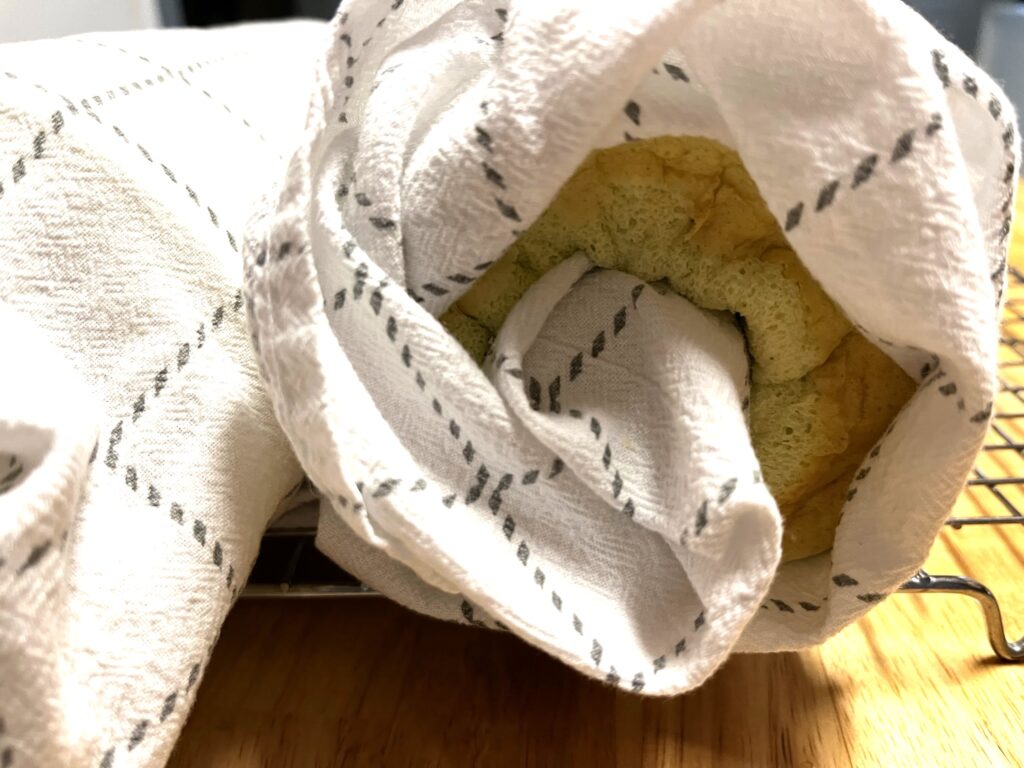 Cracks – Although you should try not to over mix the batter, make sure that meringue is completely incorporated. If you see dark green spots of batter where the meringue has not been folded into, you'll have a flat cake, and it will be prone to cracking. This is why I like using the glass bowls for this recipe so that I can lift it up and see where I need to fold the meringue into. During one of my test runs, I doubled the recipe which made it a lot harder to incorporate the meringue into the batter and ended up with lots of cracks in the cake and cake that was harder to roll.
Rolling the Cake – you'll want to roll the cake when it is still warm. If it has cooled too much it will be prone to cracking. You can use parchment or a clean kitchen towel to roll. I prefer the kitchen towel as it is more breathable and allows the cake to cool better than parchment paper which ends up trapping the heat and causes steam. But either one will work. It's a matter of preference.
Pan sizes – I used a 14×10 half sheet size rectangular pan. Different pans will have different cooking times. If you are using a standard 9×13 add a few minutes more. A larger sized pan will yield thinner cake that will be easier to roll, but keep in mind that the cooking time will likely decrease as the pan size increases. In any case, no two pans or ovens are alike. Test the cake to ensure doneness. A tester will come out clean.
Pandan Cake Roll
1 ¼ cup (167g) cake flour
¼ cup (59 ml) canola oil
½ cup (118 ml) whole milk
½ teaspoon baking powder
¼ teaspoon salt
½ teaspoon pandan extract / 1 ½ teaspoon (if not using fresh/frozen pandan)**
6-8 fresh/frozen pandan leaves**
5 egg yolks
½ cup (107g) sugar (divided)
5 egg whites
½ teaspoon cream of tartar
Whipped cream
1 cup (118 ml) heavy cream
2-3 tablespoons powdered sugar
1 teaspoon vanilla extract
• Preheat oven to 325F. Prepare place cut parchment paper into a 14×10 half sheet size baking pan. Do not grease. Set aside.
• Puree the pandan leaves with 1/2 cup of milk (plus a tablespoon). Strain juice through fine sieve. Add more milk if needed. You need a 1/2 cup of pandan milk mixture.
• Separate eggs, putting egg whites directly into a mixer bowl. For the meringue, use the whisk attachment or a hand whisk beat egg whites until frothy. Add a little bit of the sugar (about two tablespoons or so) and cream of tartar and whisk until it is glossy and at stiff peak stage. This could take several minutes. If you are using a stand mixer you can start to mix the batter while the meringue is going.
• For the batter, whisk together the egg yolks, the remainder of the ½ cup of sugar, pandan milk mixture, pandan juice, pandan extract and vegetable oil. Sift cake flour, salt and baking powder into mixture and whisk until smooth.
• Fold in a little bit of the meringue until well combined, then gently fold in the rest of the meringue. Try not to overwork but ensure that the batter is blended well with the meringue. If not, the meringue is not properly incorporated, this may cause the cake to crack when rolled.
• Pour batter into prepared pan and bake for 16-18 minutes. Remove the pan from the oven. Allow the cake to cool in pan for about 5 minutes before turning onto a cooling rack and covering with another parchment paper or kitchen towel and then rolling the cake while it is still warm. Let the cake roll cool completely on a wire rack.
• To make the whipped cream, whip the heavy cream with the powdered sugar. Once it starts to get frothy, add the vanilla extract. Continue to whip until you get stiff peaks.
• Once the pandan cake is completely cooled, carefully unroll the cake and spread the whipped cream on the cake.
• Carefully roll the cake back up again. It is best if given time to chill with the whipped cream inside the cake before cutting.
• Cut and serve.
• Enjoy.