3-2-1 Cake (1 vs 2 cake mixes)
TRIED IT!
After I posted my 4-3-2 mug cake. I had a special request from a special supporter for the 3-2-1 cake. She has since passed and it has eaten me up inside knowing that I didn't get this recipe posted for her.
But in our last conversation about this recipe, we talked about the original version of the cake which involves a box of angel food cake and any other cake mix versus the one cake mix.
For those who don't know, the Original 3-2-1 cake recipes essentially instructions you to mix a box of angel food cake mix with another box of cake mix, take 3 tablespoons of the mixture of the two cake mixes, plus 2 tablespoons of water in a mug or a microwaveable vessel and nuke it in the microwave for 1 minute.
Now there has been a growing number of people who say that this works just fine with only one cake mix of any flavor. So for what we'll cake Single Mix, take 3 tablespoons of the cake mix, 2 tablespoons of water and microwave for 1 minute. Why wouldn't this work? A cake mix already have the leavening agents in the mix!
I have tried both and here are my conclusions and which version I like more. Actually, I did a kitchen lab test and used a perfect world scenario with exactly 1 1/2 tablespoons each of the cake mixes for the original recipe vs 3 tablespoons of the a super moist cake. I also used the same mug to ensure that the cooking vessel isn't an added variable that could throw off my experiment.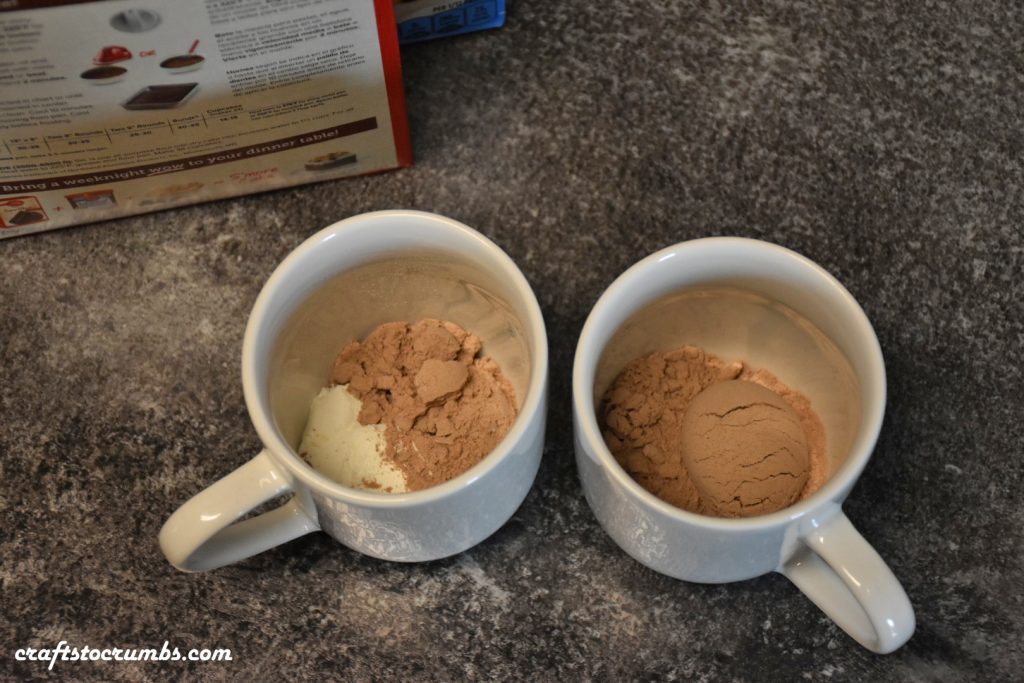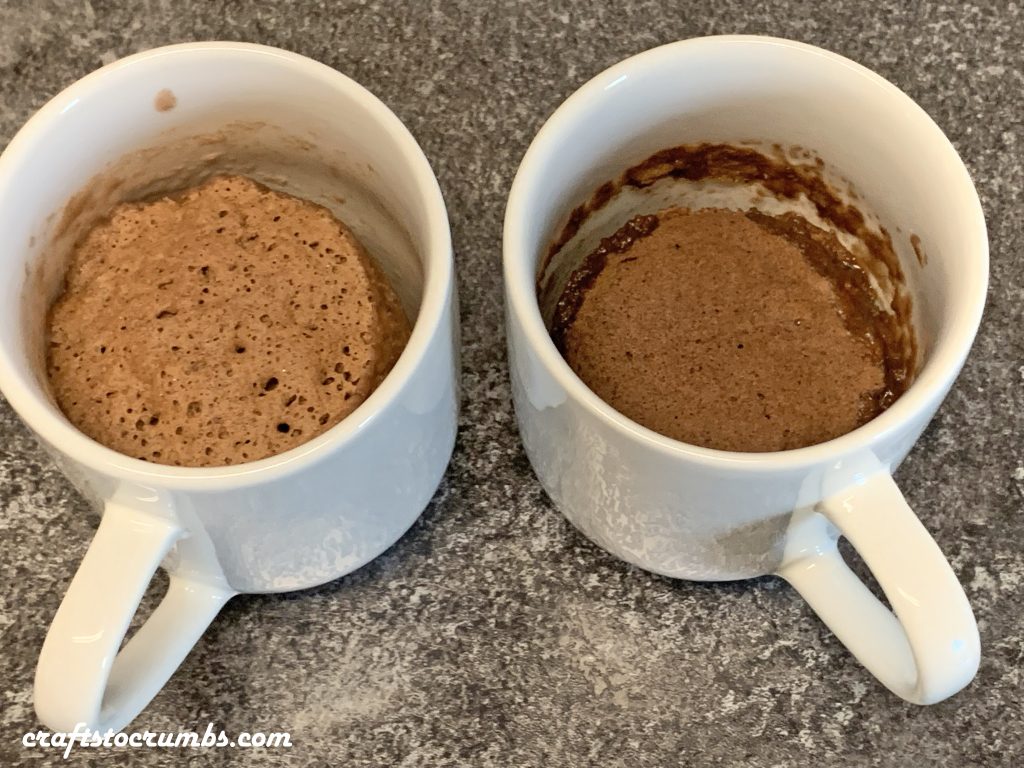 Note:
**There was not a preference to the brand of cake mixes, I just bought whichever one was on buy one get one sale at the grocery store.
***side note to the note, angel food cake in more expensive than the other flavors of cake mixes of the same brand and is usually not on sale!
****Microwaves and cooking vessels may vary results. My cardinal rule for mug cakes, if you can smell it, it's just about done. If you can smell it burn. It went to long. Reduce cook time.
Texture – the original with the angel food cake mix, taste spongy and after a minute in the microwave is a bit tough. It was hard to get into with a spoon. Single Mix was definitely moister. It was easier to get into with a spoon.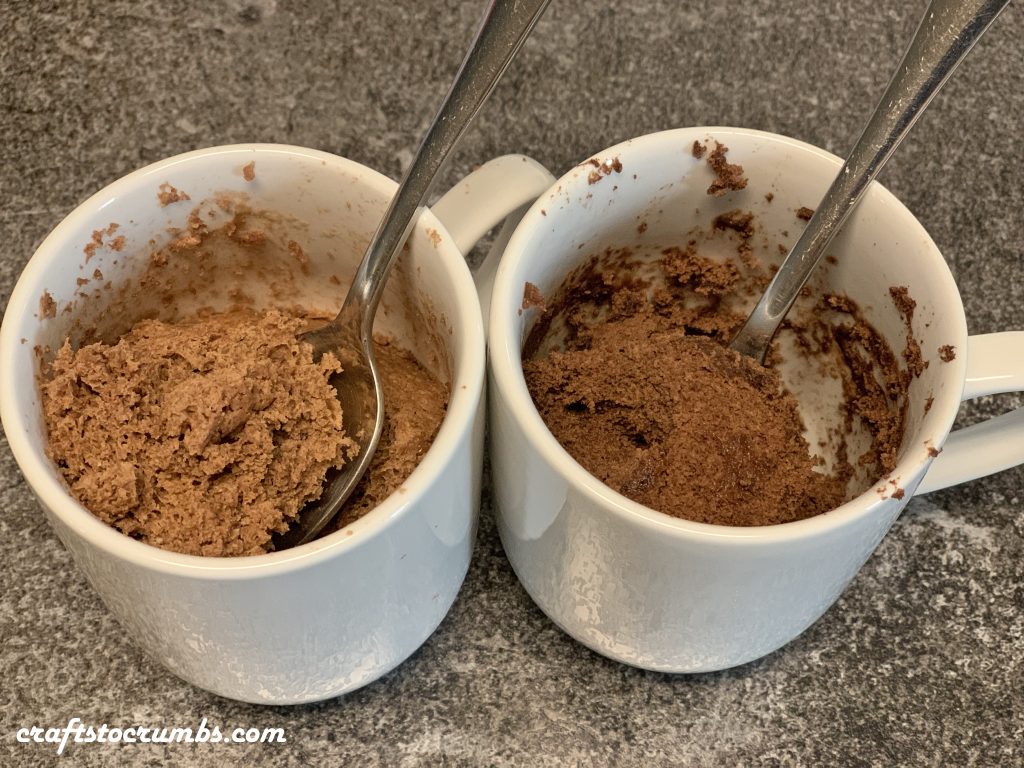 Height – Original wins here, but that is to be expected since sponge cake has the added meringue to help it rise. The Single Mix didn't rise as high as high.
Taste – to be honest, neither tasted great. It is what you would expect a cake mix with water would taste like. Original 3-2-1 yielded a sweeter cake, while Single Mix cake was not as sweet, but the flavors were deeper as it's not diluted with sugary meringue-ness as in the Original.
Conclusion – if you are looking for a quick treat that you can toss in the microwave and enjoy in a minute, I would say go with the Single Mix. 1) Cheaper – angel food cake cost more than the other cake mixes. I know I know. It's only a couple of dollars, but a couple dollars you don't need to spend. 2) Less time and ease, you don't have to mix any mixes. Take it straight from the box, add water and microwave. 3-2-1 with one cake is as about easy as it can get. 3) I was not a fan of the tough spongy texture and enjoyed the texture and deeper flavor of the Single mix more. In my humble opinion, Single Mix wins!
Original 3-2-1 Cake
1 box (16oz) angel food cake mix
1 box (15.5oz or greater) cake mix of any flavor
2 Tablespoons water
In a zip top bag or bowl, combine the two cake mixes. Whisk/mix well. Store in air tight container.
When ready to use, take 3 tablespoons of mixture with 2 tablespoons of water in a microwaveable vessel and microwave on high for one minute. Enjoy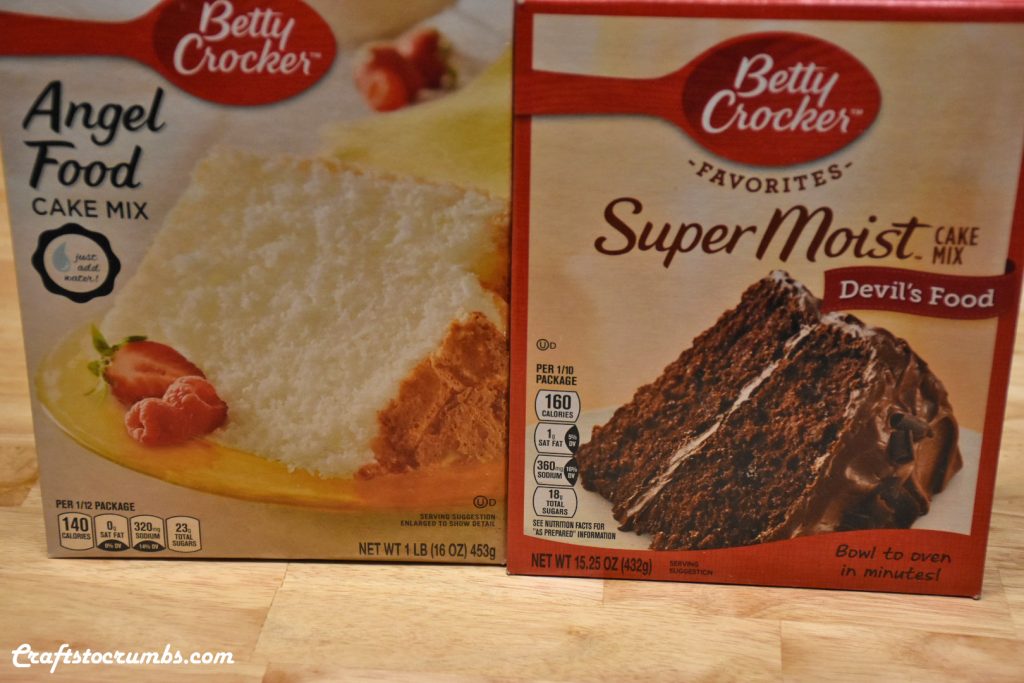 Single Mix 3-2-1 Cake
3 tablespoons of any cake mix of any flavor
2 tablespoons water
Combine cake mix with water in a microwaveable vessel. Microwave on high for 1 minute. Enjoy.
This kitchen experiment is dedicate to Aunt Suzanne. I miss you! Also, could these literally be called cupcakes?