Egyptian pumpkin pie, kar assaly, is Egypt's version of a pumpkin pie and at a glance is more of a casserole. It's crustless and topped with a creamy bechamel sauce. Pumpkin originated in the Americas was introduced into the region by Europeans. This also explains why the dessert is topped with a sweetened version of a classic French mother sauce. It works so well and adds a custardy-ness to the dessert. Reminds me of a sweet potato casserole.

This was a requested recipe and I had never heard of the dessert prior to this request. After some research, I was intrigued. There was one thing that stood out to me about this dessert. It can easily be customizable and adjusted to taste. There are versions of this dessert where the pumpkin is macerated in a lot of sugar and then boiled with that sugar water. Some versions have coconuts, dates, and cardamom in the filling. And the pumpkin itself, doesn't have to be pumpkin! You can use butternut squash, sweet potatoes, or any combination thereof. It's definitely a fall dessert and will be added to my fall baking rotation. You know I love pumpkin anything. Not too surprised.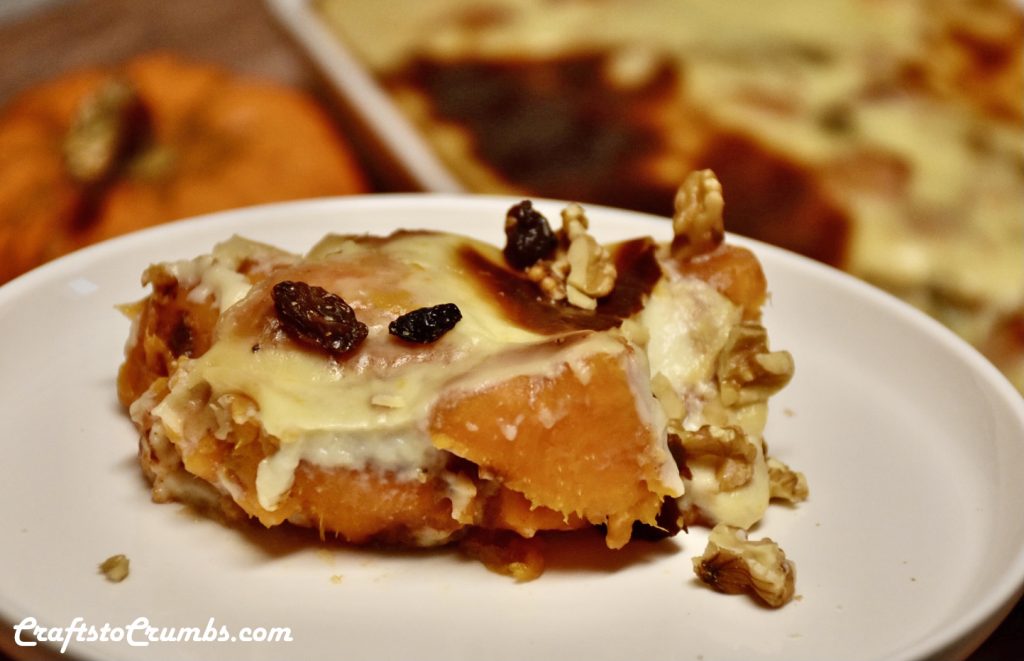 Sweet World #3: Egyptian Pumpkin Pie
Dessert:
Kar Assaly (Eyptian Pumpkin Pie)
Flavor profile:
Pumpkin/squashes/or sweet potato with a creamy bechamel sauce
Country:
Egypt
`
Service:
Served hot or cold with or without additional toppings, such as nuts and raisins.
Notable ingredients:
Pumpkin/squash/sweet potato
Milk/cream

Of course, this is my take on the Egyptian pumpkin pie and as always, here are my notes.

Notes:

• Pumpkin – As mentioned above, you can use pumpkin, butternut squash, or sweet potatoes. You may even find some versions with a mixture of all three. I'm sure you can use any squash. I'd imagine kabocha squash or yams would be good in this preparation. I tried kar assaly with pumpkin and with sweet potato. I preferred the sweet potato version more. The sweet potato holds together slightly better and is also…well, sweeter. Thus, I didn't need to use as much sugar within the dessert.
• Sweetie pie – If you ever peruse the kar assaly recipes, you may notice that many use upwards of 2 to 3 cups of sugar. I prefer a less sweet dessert. You can adjust the sugar to your liking. As mentioned, there are versions where the pumpkin is macerated overnight and then cooked with that sugary liquid.
• Filling – traditionally the cooked pumpkin is distributed in the baking dish and then it is topped with nuts, raisins, coconut flakes and anything thing else you want to put in there before it is topped with the bechamel.
• Spice of life – aside of ground cinnamon, you may find cardamom is frequently used. The cardamom was a bit too strong for me and I'm omitting from my recipe. If you like cardamom, you can definitely use it. For those of us who are still living the #PSL, you can probably use pumpkin spice.
Egyptian Pumpkin Pie (Kar Assaly)

3 lbs (~5 cups) pumpkin, cleaned and cubed
1 cup sugar (adjust to taste)
1 teaspoon ground cinnamon
½ cup nuts, chopped
½ cup raisins
Bechamel
3 tablespoons butter
4 tablespoons all-purpose flour
2 ½ cups whole milk
Pinch of salt
1 teaspoon vanilla extract
• Place cleaned and cubed pumpkin in a pot with just enough water to cover the pumpkin. Bring to a boil and let it boil for a few minutes. Use a strainer or sieve to drain out most of the water. Leave at least a little bit of water.
• Return the pot to the heat and add sugar. Let it boil cook for another couple of minutes until the pumpkin is fork tender.
• Using a slotted spoon, remove the pumpkin from the water. Reserve about ½ a cup of the sweetened pumpkin water.
• Add spices, raisins, and nuts. Gently toss and pour into an 11×7 baking dish.
• Preheat oven to 375F.
• Make the bechamel sauce. In a small saucepan over medium heat, add butter. Once melted, add flour, and let it cook for a minute. Slowly add half of the milk, then the sweetened pumpkin water. Followed by the other half of the milk, pinch of salt, and vanilla extract. Let the sauce cook until it thickens.
• Pour the bechamel sauce over the prepared pumpkin mixture.
• Bake for 35-40 minutes until the top is golden brown.
• Serve warm or cold.