This is a super easy pumpkin bread recipe that is somewhat healthier as well. It uses less sugar, oil and eggs than most two-loaf recipes out there. Yet it yields moist and delicious loaves. This recipe has been friends, family and coworker approved.
I love spice cakes and that love extends to spice…well almost everything. And 'tis the season for spice. Oh that reminds me. Happy Autumn! Since it stays quite warm down in Florida, it's easy to forget sometimes. Although, every shop and store around  has stocked up on pumpkin spice…everything! So that's a nice reminder.
If you can't beat them (or if you openly love them), join them. So I had to do a pumpkin spice recipe. Last year, I made my pumpkin scones, which I enjoy from time to time, even when it is not Fall. I can probably get an Asian pumpkin dessert in this Fall too. I have a couple things in mind.
Below are my notes and this easy pumpkin bread recipe.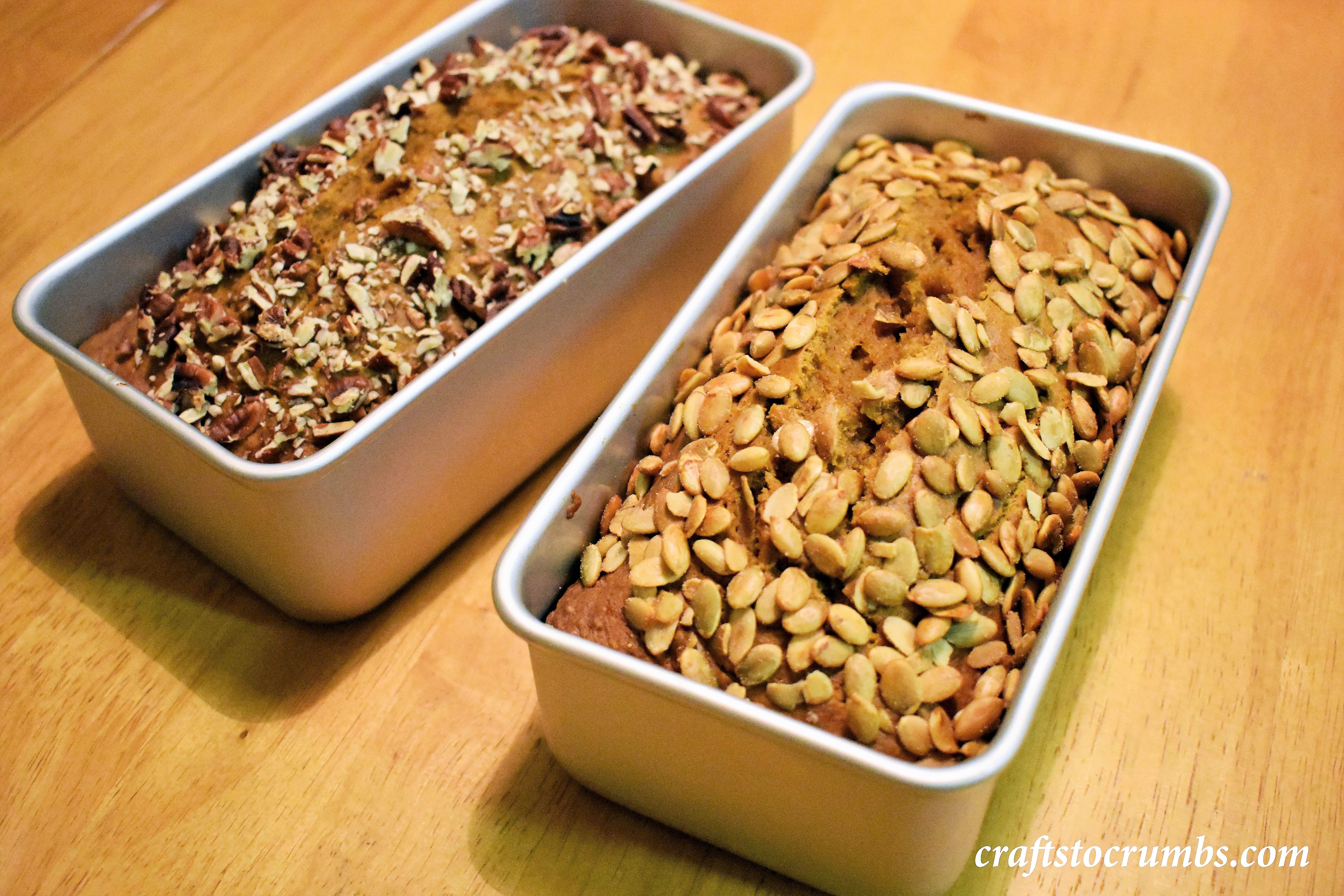 Notes: 
Use pure pumpkin puree, not the pumpkin pie mix, which already has the spices and such added. You can also cut and steam a fresh pie pumpkin and use about 2 cup (but that will add time and difficulty to the recipe).
I used ¼ cup chopped pecans and ¼ cup pepitas (pumpkin seeds), which seemed like a lot when I was making it.  You can reduce this to a couple tablespoons each or about ¼ cup for the whole recipe. If you want to fold them into the bread itself, I would stick with a ½ cup. You can use nuts only, pepitas only or omit them both all together.
For the pumpkin spice, I mixed my own with 1 tsp cinnamon, ½ tsp ground ginger, ¼ tsp nutmeg, and ¼ tsp ground cloves. You can also use allspice instead of the cloves. The store bought pumpkin spice (like McCormick's) has allspice, but not cloves.
Pans – as I have mentioned before, not all pans are created equal. If you use a nonstick pan, you may have to lower the baking temperature as to not over bake. If you use larger pans, you will have to adjust the bake time. But either way, for any recipe that requires this much bake time, it's a good idea to test 5 to 10 minutes before the bake time that the recipe calls for as there could be a number of variables that could impact your bake time. Even the weather could impact this. When the tester comes out clean, it is done.
Pumpkin Bread
Yields: 2 loaves
Prep time: 5 minutes
Bake time: 50-55 minutes
2 ½ cups all-purpose flour
1 teaspoon baking soda
½ teaspoon baking powder
½ teaspoon salt
2 teaspoon pumpkin spice (1 tsp cinnamon, ½ tsp ground ginger, ¼ tsp nutmeg, ¼ tsp ground cloves)
1 ½ cup brown sugar (lightly packed)
1/3 cup unsweetened applesauce (I used one 3.9 oz cup, which yielded a heaping 1/3 cup)
½ cup of canola oil
1 (15 oz.) can pumpkin puree (not pie mix)
2 large eggs
½ cup of chopped nuts or pumpkin seeds (optional)
Preheat oven to 350F. Spray two 7.75×3.75 loaf pans with cooking spray and set aside.
In medium bowl whisk together flour, baking soda, baking powder, salt and pumpkin spices. In a large bowl, whisk together sugar, applesauce, oil, pumpkin puree, and eggs. Add half of flour mixture and whisk. Then add second half of flour mixture. Whisk until well combined. Divide evenly between the two prepared pans. Sprinkle on nuts or pumpkin seeds, if desired.
Bake for 50-55 minutes or until tester comes out clean. Check loaves at about 45 minutes, if nuts or pumpkin seeds appear to be browning too quickly, you can fold a sheet of aluminum fold in half to form a tent on top of the pans for the remainder of bake time.
Enjoy!