Khao pad (or khao pard) is a Lao dessert typically made with fresh pandan and coconut milk. When made correctly, it has a smooth almost custard-like texture. It's creamy and aromatic with the classic pandan and coconut flavor combo.

Making khao pad requires a lot of patience and manual labor. Stirring the mixture, the wrong way could make the dessert lumpy. It requires constant and consistent stirring. This is a dessert best made with a friend who can take a shift, and help you stir. Or you can tough it out and think of it as an arm day because it most certainly will feel like you had an arm exercise! I broke a sweat the last few times that I made this.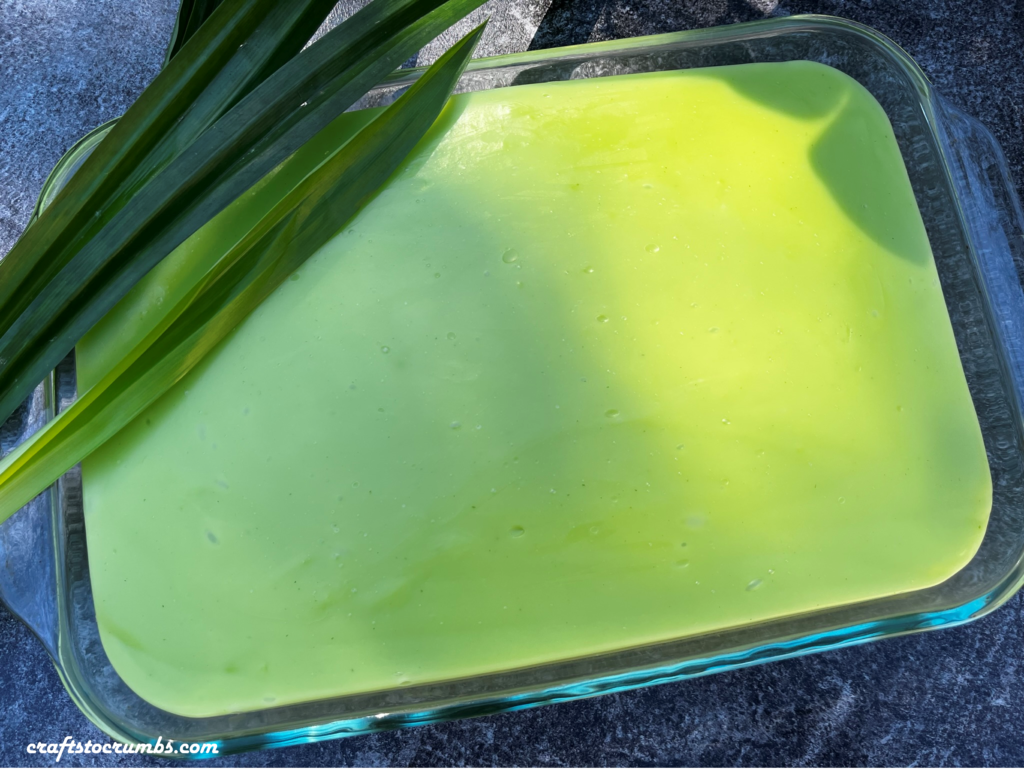 Notes:
• Banh Gio mix – the Trong Food International brand in the green bag is the preferred brand. My sister has tested with other brands and has found the results are not the same. I would only use other brands only if you are unable to get this brand. And if you do find another brand that works well like this one, let me know!
• Sweetness – You can adjust the sweetness. After you mix everything and before you heat the khao pad, you can give the mixture a taste and adjust to your liking. I would start with less sugar, the 1 ½ cup and increase if needed. However, keep in mind that it will taste sweeter after it has been cooked and after it has cooled as all the sugar will be dissolved.
• Color – same note for the coloring. The color will appear darker after the khao pad has cooked and cooled. If adding coloring, you only need a few drops unless you want a darker colored dessert.
• Stirring – Once you start to heat the mixture, it is best to stir in one direction. Choose your direction and stick to it. Going in all directions could lead to lumps in the dessert. Once the khao pad starts to thicken, that is crucial time. Make sure you stir vigorously at that point until the khao pad is smooth. That is the make-or-break moment. In a large stock pot over medium heat, it took about 15 minutes before I got to this moment.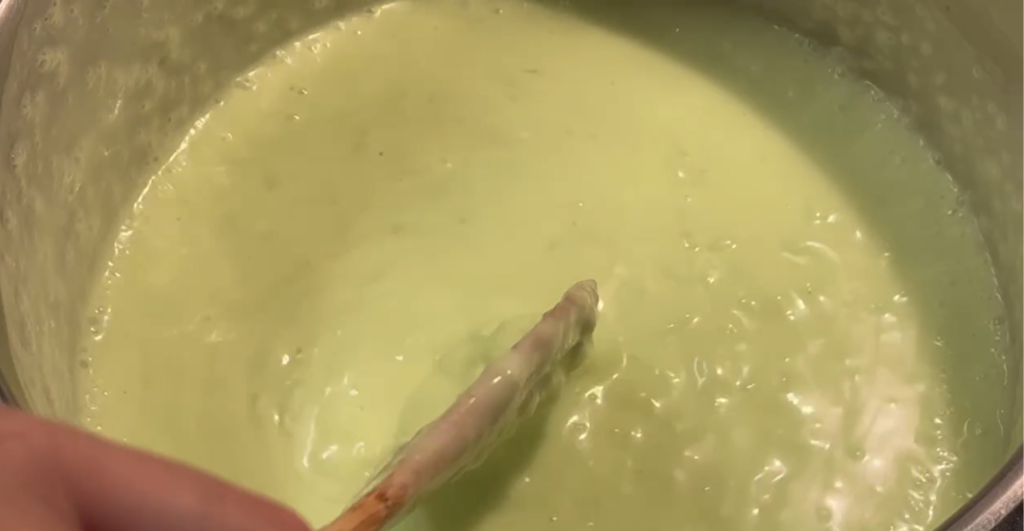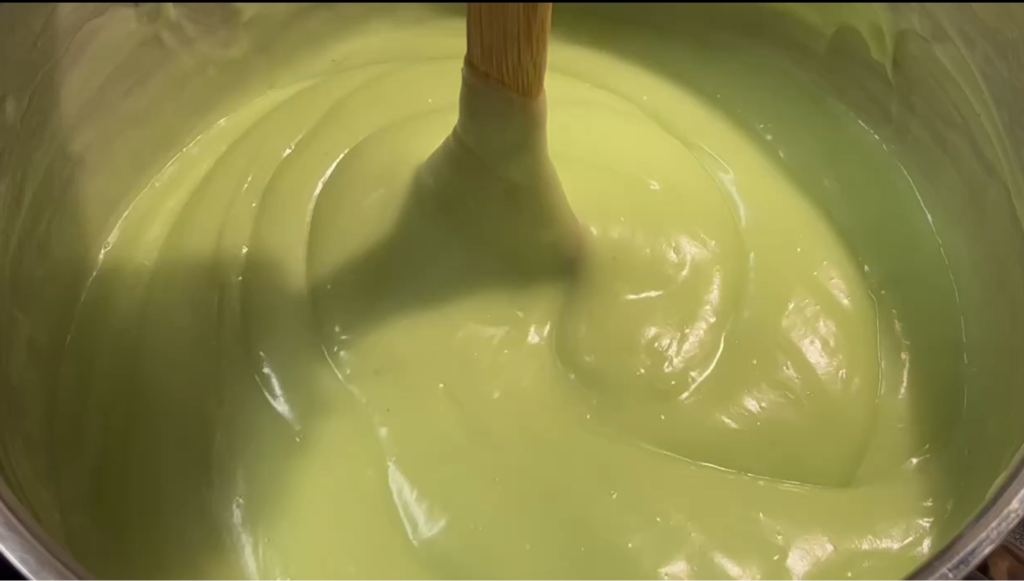 • Pandan juice – if you lose some of the juice in the roughage and don't have enough juice to fill four cans worth, just add more water. It's why I like to strain directly into the can rather than straining on the side and then pouring it into the cans. Extra water can be poured right onto the pandan pulp and squeezed out for more juice.
Khao Pad

1 (340g) package Bot Banh Gio mix (Trong Food International brand preferred)
1 bunch (about 12) pandan leaves (fresh or frozen)
9 cups (2100 ml) water
1 ½ to 1 ¾ cup (300 to 350g) sugar
¾ teaspoon salt
3 (13.5 fl oz) cans coconut milk (unsweetened)
Green food coloring (optional)
8 oz. scraped coconut
• Using a food processor or blender to blend the pandan leaves and water until well blended and then set the juice aside.
• In a large pot, add banh gio mix, sugar, and salt. Mix well.
• Next add the coconut milk.
• Then strain the pandan juice into the coconut milk cans. You'll need to get 4 cans worth of pandan juice. If you don't have enough, add enough water to make up the difference.
• Stir well to ensure there are no clumps in the mixture. Add a few drops of green food coloring here if using.
• Place the pot over medium heat. Stir the mixture continuously during this process, which may take 15 to 20 minutes.
• Once it starts to thicken, you will have to stir vigorously to get the mixture to be smooth.
• It is cooked after it appears translucent and glossy. Stir and let it cook for 3-4 more minutes after this point.
• Quickly pour the mixture into a baking dish or container and let it cool completely. This may take a couple of hours.
• Cut, toss with scraped coconut, and serve.
• Best if eaten the same day, but you can store leftovers in airtight container in the fridge for up to 3 days for best taste.
• Enjoy!