Pecan Pie Pumpkin Cheesecake
In my opinion, fall is not complete without pecan pie and pumpkin cheesecake. They are my two of favorite fall desserts and I've made both desserts for Thanksgiving for the past 12 years. The holidays would not be complete without them. But every year, I try to convince myself that I want to make other desserts and I should cut one of the two from the menu, but I can't! It's tradition!
This year, I created a mashup of the two desserts. It bakes in the amount of time of the cheesecake and takes only a few minutes longer to prepare the pecan pie filling. It's a win-win situation.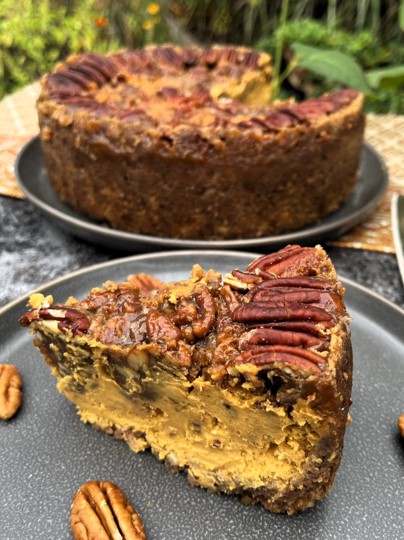 Notes:
Cook time and doneness – The pie-cheesecake is done when the filling does not jiggle too much. There may be some motion, but it should not jiggle like Jello. Also, it should have risen almost to the full height of the pan, and you may see cracks in the pecan pie layer. That's ok. That's from the puffing of the pie. Once you allow it to cool, it should flatten out and the cracks will not be overtly visible.
Pan size – There's a lot of filling involved. I use a 9×3 springform pan. If you do not have a 9×3 pan, use a 10-inch springform pan. The two pans typically have the same volume capacity. If you don't know what size pans you have, just break out with the ruler!
Cool – Make sure that the pecan pie cheesecake has cooled completely before removing from the pan. This will allow for cleaner removal and make it easier to cut.
Make ahead – the pecan pie pumpkin cheesecake, can be made ahead 2-3 days. Store in an airtight container in the fridge. They can also be frozen and good for 2-3 months. Let it cool completely, wrap well and place in a container in the freezer. Let it thaw over night in the fridge before serving.
Pumpkin Spice – if you don't have pumpkin spice mix, make your own. For this recipe I like, 1/2 teaspoon of cinnamon, 1/4 teaspoon ground ginger, 1/8 teaspoon ground nutmeg, and 1/8 teaspoon of ground cloves.
Pecan Pie Pumpkin Cheesecake

Time: 6 hours (including inactive time)
Serves: 12
Crust
1 sleeve (143g) graham crackers
2 cups (200g) pecan halves
5 tablespoons (70.6g) unsalted butter, melted
2 tablespoons (25g) sugar
½ teaspoon cinnamon
Cheesecake Filling
3 (8 oz) packages of cream cheese
1 cup (200g) sugar
1 (15oz) can pumpkin puree (not pumpkin pie filling)
1 teaspoon pumpkin pie spice (*see note to mix your own)
1 teaspoon vanilla extract
½ teaspoon salt
2 eggs
Pecan Pie Filling
4 tablespoons (56.6g) unsalted butter
1 cup (213g) brown sugar
¼ cup (59 ml) corn syrup
½ teaspoon salt
1 teaspoon vanilla extract
2 eggs
2 cups (200g) pecans, chopped
1 tablespoon flour
• Preheat oven to 325F. Grease a 9×3 springform pan with cooking spray and line the bottom with parchment paper. Then set aside.
• Prepare the crust. Add graham crackers, pecans, sugar, and cinnamon to a food processor. Pulse until you get fine crumbs. Add melted butter and pulse a few more times until well combined.
• Pour the crust into prepared pan and press onto the bottom and sides of the springform pan. Chill in the fridge while you make the fillings.
• Prepare the cheesecake filling. Using a stand mixer or hand mixer, cream together the cream cheese and sugar until smooth. Add pumpkin puree, pumpkin pie spice, salt, and vanilla. Cream until well combined. Add one egg at a time, beating in between in addition. Beat for an additional minute. Set it aside.
• Prepare the pecan pie filling. To a pan, add butter, sugar, corn syrup, and salt. Cook until butter and sugar have melted. Transfer sugar mixture to a bowl. Then mix in vanilla. Followed by the eggs. Add chopped pecans. Mix. Finally, add the flour and mix until combined.
• Bring the crust out of the fridge. Fill it with the cheesecake filling. Smooth the top of the mixing spoon/spatula. Pour the pecan pie filling on top of the cheesecake filling.
• Wrap the bottom of the springform pan with aluminum foil.
• Bake at 325F for 1 hour 15 minutes to 1 hour and 25 minutes. Turn off the heat and leave the pecan pie pumpkin cheesecake in the oven. Do not keep the oven door cracked open. You can peek in the oven and check on the cheesecake but keep the oven door closed for an additional 25 to 30 minutes.
• Then remove from the oven, allow to cool on the counter for 30 minutes to an hour before chilling in the fridge for at least 4 hours or overnight.
• After it has completely cooled, remove from springform pan, cut, and serve.
• Enjoy!