Khao lod song, which literally translate to rice passed through a channel is a pandan flavored jelly-like dessert. It is paired with palm sugar syrup and salted coconut. This is one of the most popular dessert in Southeast Asia. It is also known as cendol, lod chong, and banh lot, just to name a few. There are as many versions of this dessert as there are countries that enjoy it.
This recipe is an adaptation of a recipe that I inherited from a friend of the family who once sold khao lod song when we were in the refugee camp. Calling it an adaptation is somewhat of a stretch because in-line with the way most Southeast Asians cook, you put a bag of this and two big bowls of pandan water. Measurements aren't precise. You would be closer to the original if you pour half the bag of rice flour, shook a little bit of the tapioca and glutinous rice flour. It gets better with practice, and you cook by feel. "It just feels right."
There are so many ways and so many variety to make this dessert. I have a few different flour mixtures below for different textures.
Notes:
Special equipment – khao lod song maker or potato ricer. You need something with lots of holes to press the rice mixture through. That's how the dessert got its name! It's passed through channels/holes. I have a lod song maker, but the quality of the maker is not great and there's a lot of friction, so it is not my preferred equipment. The potato ricer works great as a alternative.
Limestone water – limestone water is used traditionally to add crispness and a little bite (texturally). It is used in various fried foods and desserts. Some have a container of lime water available at all times. If keeping some limestone for longer than a day, store it in the fridge. You can add more limestone paste in the water. My taste buds are a bit sensitive and less in more in this case. In certain countries, the limestone water is substituted by a tablespoon of food grade lye water added to the water.
**Video correction – As mentioned above, the recipe that was given to me was vague and did not have exact measurements. I tried a few combinations and had the wrong amount of water for the mixture in the video. See below for various mixtures. There are so many different combinations and mixtures for this dessert.
Clumpiness and how to salvage it – If you feel the mixture is thickening too quickly, reduce the heat. Different pots/pans and stoves will yield different results, adjusting the heat accordingly will help. Also, you have to stir constantly and vigorously once it's starts to thicken. I like to think of this as arm day. Or get a friend to help. You can try to salvage clumpy mixture, but lowering the heat and adding a little bit more pandan juice/water and stir vigorously.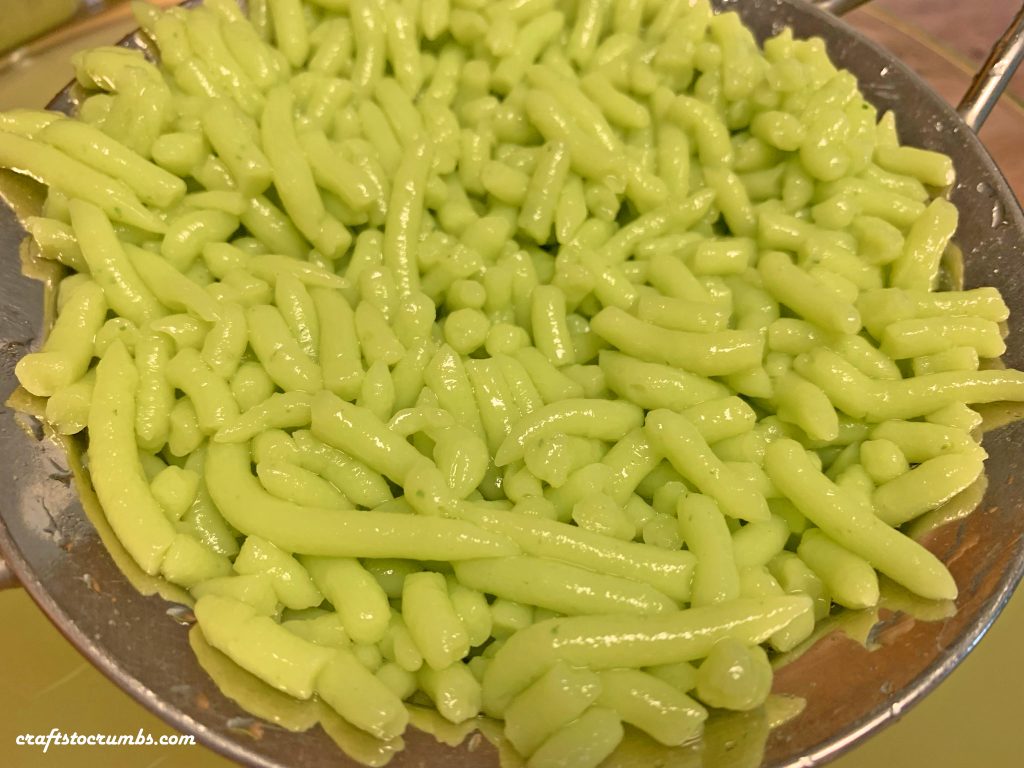 Khao Lod Song
Time: 1.5 hours (not including inactive time)
Serves: 8

Palm sugar syrup
200g (~1 cup) palm sugar (shaved from the block if using blocks or cubes)
¾ cup water
• In a small saucepan over medium heat, dissolve palm sugar in water. Turn off heat. Set aside and let cool.
Salted coconut milk
1 (13.4 oz.) can coconut milk
¼ teaspoon salt
1 pandan leaf, twisted (optional)
• In a medium sauce over medium-low heat, add coconut milk, salt and pandan leaf. Cook until the salt has dissolved and until coconut milk just comes to a boil. Turn off the heat and let cool completely.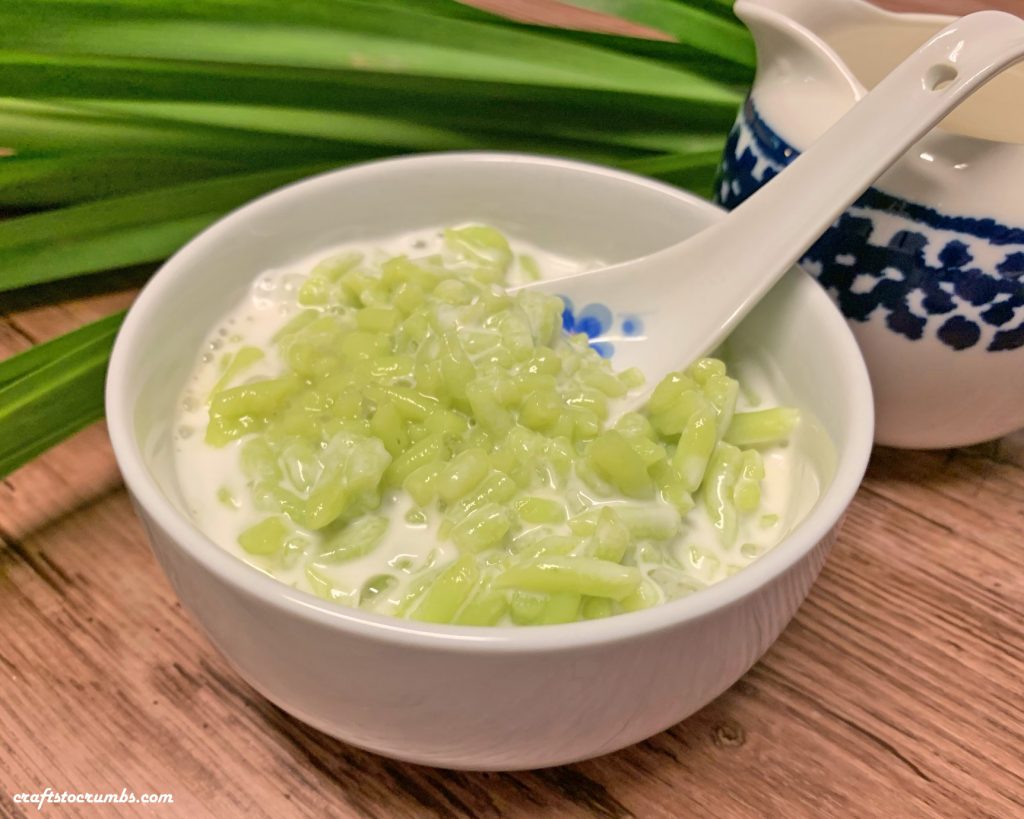 For softer khao lod song (preferred by me)
½ bag (~230g or ~1 ½ cup) rice flour
2 tablespoons (~17g) glutinous flour
2 tablespoons (~15g) tapioca flour
4 cups pandan water
For a more toothsome khao lod song
½ bag (~230g or ~1 ½ cup) rice flour
¼ cup (~34g) glutinous flour
¼ cup (~30g) tapioca flour
6 cups pandan water
For a tighter more jelly-like khao lod song
½ cup (~76g) rice flour
¼ cup (~35g) mung bean flour
¼ cup (~30g) tapioca flour
3 cups pandan water
Pandan water
8 cups water
½ teaspoon red limestone paste
8-10 pandan leaves
1/2 teaspoon pandan essence (optional if using frozen padan leaves)
• In a large container or bowl, add the limestone paste and water. Stir to mix the limestone well. Then let sit overnight.
• Take about 3-6 cups (depending on which texture you're going for above)** of the clear part of the limestone water being careful not to stir up the limestone at the bottom. If it gets murky. Wait until it settles back down again before taking the water.
• Add limestone water and pandan leaves to a blender or food processor. Blend well.
• In a large pot, add flours and mix well. Place a sieve over the pot and pour the pandan juice over the sieve into the pot. Add pandan essence if using.
• Turn heat on medium. Constantly stir in one direction. Turn down the heat once it starts to thicken. Make sure to stir vigorously to get a smooth jelly. The mixture will be glossy when cooked. Turn off the heat.
• Scoop some the mixture into a khao lod song maker or a potato ricer. Squeeze into an ice water bath. Making sure to shake potato ricer occasionally to cut off the jellies for size control.
• Remove from the water bath.
• Serve the palm sugar syrup and salted coconut.