Sai Oua (ໄສ້ອົ່ວ) – Lao Sausage
A simple recipe for herbaceous and slightly spicy Lao pork sausages (ໄສ້ອົ່ວ).  It uses simple, fresh ingredients that I was able to find in my garden (or your local Asian market).  There's so much depth to the flavor depth to the flavor of this sausage. From onion-y shallots, citrus-y lemongrass and kaffir lime leaves to a hint of spice from the chili.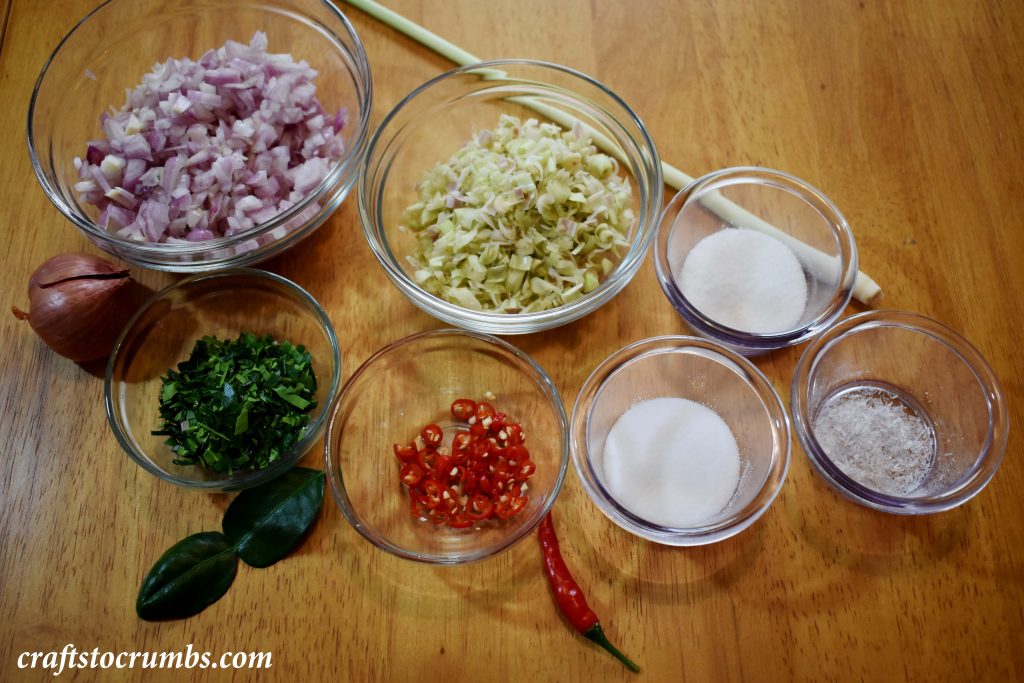 When we were younger my mom would make sai gok ໄສ້ກອກ (sai oua ໄສ້ອົ່ວ)  and give us a half a link with a ball of sticky rice. I would take nibbles of the sausage and continue to add to my ball of sticky rice because I wanted to make that sausage last. And I'm the picky eater of the family, remember? It is just that good.
Notes:
For the pork – I used picnic pork shoulder because it had a nice ratio of fat to meat. Sausage without fat is not that great, especially not this one. If you get a leaner cut of pork, you can add pork fat or pork belly. When I initially tested this recipe, I used 3 lbs lean ground pork and 1 lb ground pork belly.  I cut these meats up into cubes, froze them for 30 minutes or so and then grounded it using a food processor.
For the casing – you will not use the entire package of casing. I only used about 3 casings from the package. I recommend writing the purchase date on the back of the package because some packages do not have best by dates. Per this particular manufacturer, it is good for about a year after purchase. Once opened, store the unused casing in the fridge for up to a year.
Follow the instructions for whichever gadget or machinery you are using. Sometimes the simplest gadgets are the best. I gave away my meat grinder/sausage stuffer because the clean up and the setup/breakdown was just not worth it for me. My favorite gadget to us is a jerky gun, which squirts the filling straight into the casing and there's not unseen machinery in between. You get some hand/arm exercise too. The only downside to the jerky gun is that you have to refill the shaft often, but it's not that bad when you are making a batch this size.
Sai Oua (ໄສ້ອົ່ວ) – Lao Sausage
Prep & Stuffing time: 1 hour
Cook time: 35-40 minutes
Yields: 18-20 4-inch links
4 lbs ground pork – (I used picnic pork shoulder) (ໝູ ປະມານ 2 ກິໂລ)
5 shallots (~ 1 cup diced) (ຫົວຫອມ ຕັດ ປະມານ 1 ຈອກ)
4 stalks lemongrass (~2/3 cup diced) (ຫົວສີໄຄ 4 ຫົວ)
2-3 chili peppers or to taste (diced) (ໝາກພິກ 2 ໜ່ວຍ)
12 kaffir lime leaves (~ 2 tablespoons chiffonade then minced) (ໃບຂີ້ຫູດ 12 ໃບ)
1 Tablespoon sugar (ນໍ້າຕານ 1 ບ່ວງ)
1 Tablespoon salt (ເກືອ 1 ບ່ວງ)
1 teaspoon MSG (optional) (ແປ້ງນົວ 1 ບ່ວງນ້ອຍ)
Hog sausage casings (ໄສ້ໝູ)
Start by preparing the casing per the instructions on the back of the packaging as they may vary by manufacturer. This usually involves rinsing and soaking the casing for 30-40 minutes.
In a large bowl, combine all ingredients (except casing) and mix well. Stuff sausage into casing by hand using a metal Asian spoon to help keep the casing open at the end. Or you can use any gadget that you may have to stuff sausages. Once again make sure to read and follow instructions for your specific gadget.
Work the sausage filling away from the area you want to twist into links. Then gently twist the sausage into links at desired length. You can loop the casing to form a knot to close or use butcher's twine to tie it.
Grill or bake at 400F for 35-40 or until internal temperature reaches 155-160F.