Coconut Creme Filled Doughnuts
These are fluffy yeast doughnuts, fried, tossed with sugar and filled with a coconut pastry cream.
I'm not sure what I was thinking when I decided I wanted to make yeast doughnuts from scratch. I've attempted before, but my preferred doughnuts to make are the baked ones. They just don't take quite as long. With that said, most of the time spent on these doughnuts are inactive time, a.k.a waiting time. So they do take some patience, but they are well worth it. Plus I really just wanted to stuff something with coconut creme.
I played with the recipe a little and tried in a couple different ways. Here are a few notes:
For the coconut creme, when warming up the coconut milk, make sure that the coconut milk does not boil. The second time I made the creme (which I didn't video), it was much smoother and I didn't even have to strain it through a fine sieve.
You can make the coconut creme ahead of time. It can be stored in the fridge for 3 days.
You can make the dough the night before. Cover it in plastic wrap right after you knead it and store it in the fridge over night. Then bring it out, allow it to come to room temperature for about 15 minutes and then roll it out to cut the rounds. Allow it to rise for about an hour and a half to two hours.
Rising time make take longer if you are in cooler climate.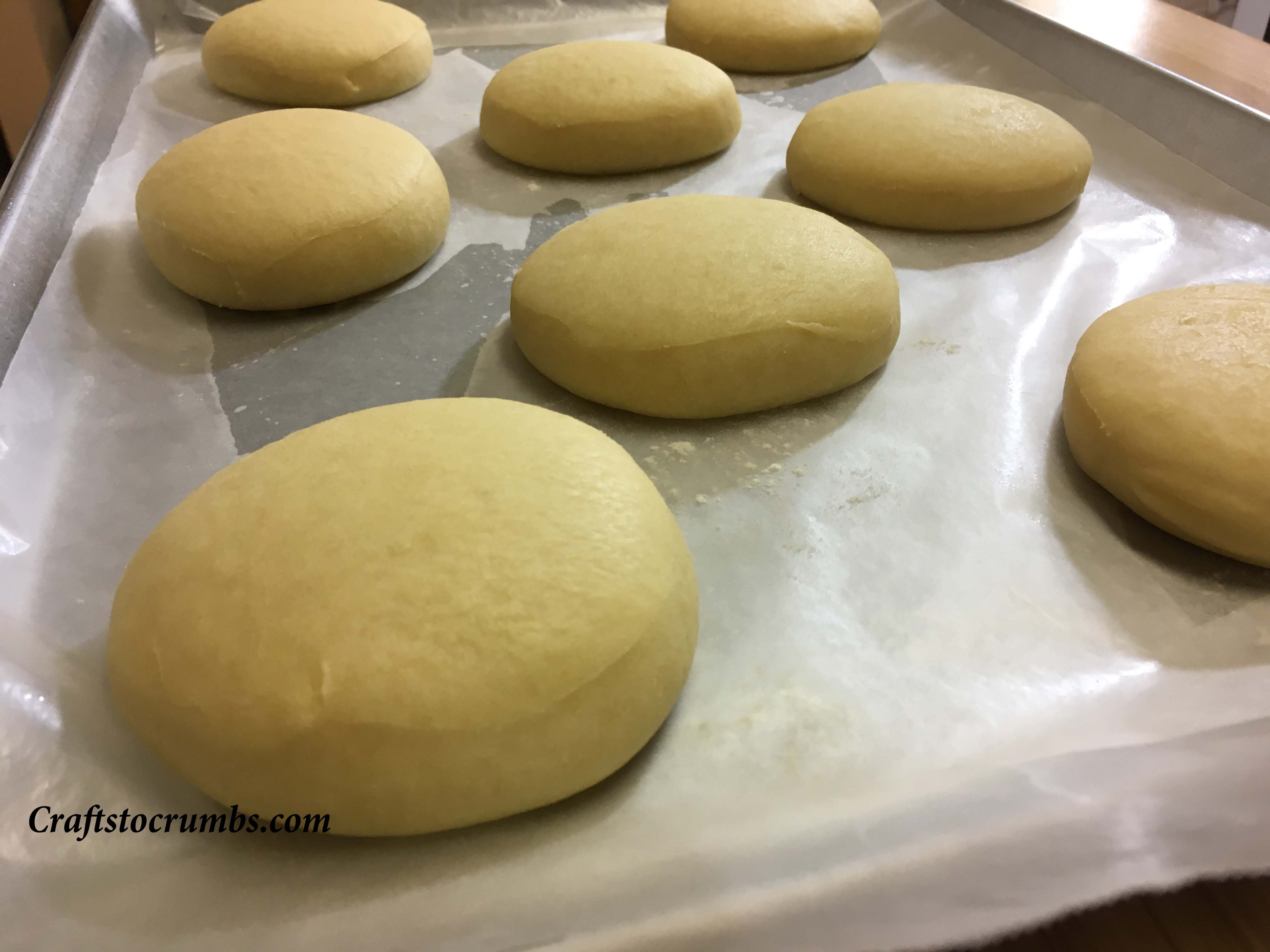 Make sure to flour the surface really well for your last rising. I used the baking sheet with wax paper and a little bit of flour. That was not enough, the dough was sticking to the wax paper and rough handling the doughnuts off the wax paper caused them to deflate a little. Flour, flour flour! Just flour the baking sheet and let the doughnuts rise directly on the baking sheet.


Coconut Crème Filled Doughnuts

Time: 4 hrs
Yields: 15 doughnuts

For coconut crème:

1 (13.5 oz) can coconut milk
½ cup sugar (divided)
2 large eggs (room temp)
¼ cup cornstarch
½ teaspoon salt
1 teaspoon vanilla or coconut extract
¼ cup heavy cream (set aside until end to lighten up crème)

• In a medium sauce pan over medium low heat, warm coconut milk and ¼ cup of sugar (half of the sugar) until the sugar is dissolved and coconut milk is steamy, but not boiling.
• Meanwhile, in a medium bowl, whisk eggs, the other ¼ cup of sugar and salt. Add cornstarch and whisk until smooth. Slowly pour the warm coconut milk over the egg mixture while whisking as to not cook the eggs.
• Return the egg and coconut milk mixture to the sauce pan and cook on medium heat, stirring constantly until the mixture thickens. Remove from heat. Whisk in extract.
• Pour coconut crème through fine sieve into a heat-proof bowl to remove any lumps. Cover with plastic wrap and chill for at least 2 hours. Crème can be made up to 3 days in advance.

• Right before filling the doughnuts, whisk in the heavy cream until coconut crème is light and fluffy. Place in piping bag fitted with a round piping tip.

For doughnuts:

4 cups all-purpose flour
½ cup sugar
½ teaspoon salt
6 tablespoons butter (melted & cooled)
2 large eggs (room temp)
¾ cup milk (slightly warm)
1 tablespoon active dry yeast
¼ warm water + 1 tablespoon sugar

½ cup of sugar to cover

• In small bowl, combine yeast, warm water and 1 tablespoon of sugar. Make sure your water is not too warm or hot, otherwise it will kill the yeast. Allow to proof for 5-10 minutes until mixture is foamy.
• In a large bowl, beat eggs, sugar and salt until well combined. Add yeast mixture, milk and melted butter.
• Gradually add in the flour until just combined.
• Change the mixer attachment to the hook attachment or knead by hand for about 5 minutes. The dough should be smooth and elastic.
• Put dough in greased bowl and cover with a kitchen towel. Allow to rise for about an hour or until the dough has doubled in size.
• On a floured surface, roll the dough to about ½ inch thick. Cut rounds using a 3-inch biscuit or cookie cutter. You can also use bottom of a cup or bowl.
• Place the dough rounds on a well-floured baking sheet. Cover and allow to rise for another hour to hour and a half or until dough has doubled in size again. This may take longer in a cooler environment.
• In heavy pan, fry in oil heated to 325F, for 2-3 minutes. Turn and fry the other side for another 2 to 3 minutes until golden brown.
• Remove with slotted spoon and place on paper towel lined plate. Allow to cool slightly, toss with sugar. Then allow to cool completely, about 15-20 minutes.
• Pipe the coconut crème into the doughnuts and enjoy.

https://youtu.be/cRXWgoy7bmQ