This is a recipe for pandan flavored butter cupcakes.
I've made many pandan cakes over the years. Everything from chiffon, chiffon cupcakes, butter cakes, and even doctored cake mix versions of pandan cakes. But for the first time, I baked pandan cupcakes out of depression. I've been working on a mango chiffon recipe for quite a while and can't seem to get it just right. After a round of recipe  turning out not quite to my liking, I was so depressed and frustrated. And what do I do when I get depressed and frustrated? If you said, bake. You're correct. So I threw some stuff together and voila, pandan cupcakes.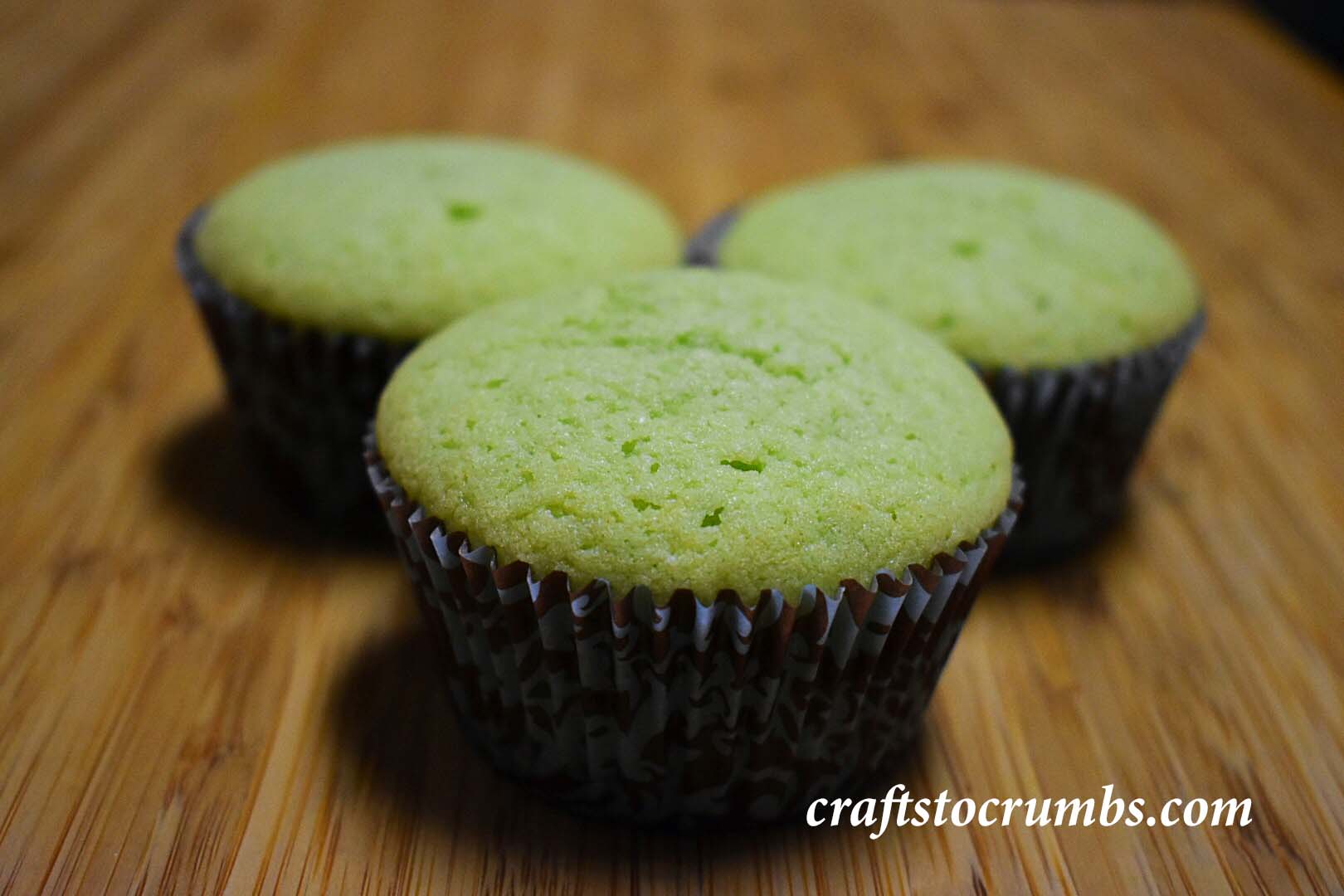 I was fairly happy with the cupcakes the first go around. I made it with coconut milk and pandan paste. But after depression and frustration had faded away, I thought about this recipe some more. Surely, using fresh or frozen pandan would make these cupcakes even better. Yep. I used frozen pandan leaves. I am quite happy with how these cupcakes turned out. I can't wait until my little pandan plant gets big enough for me to harvest fresh pandan leaves.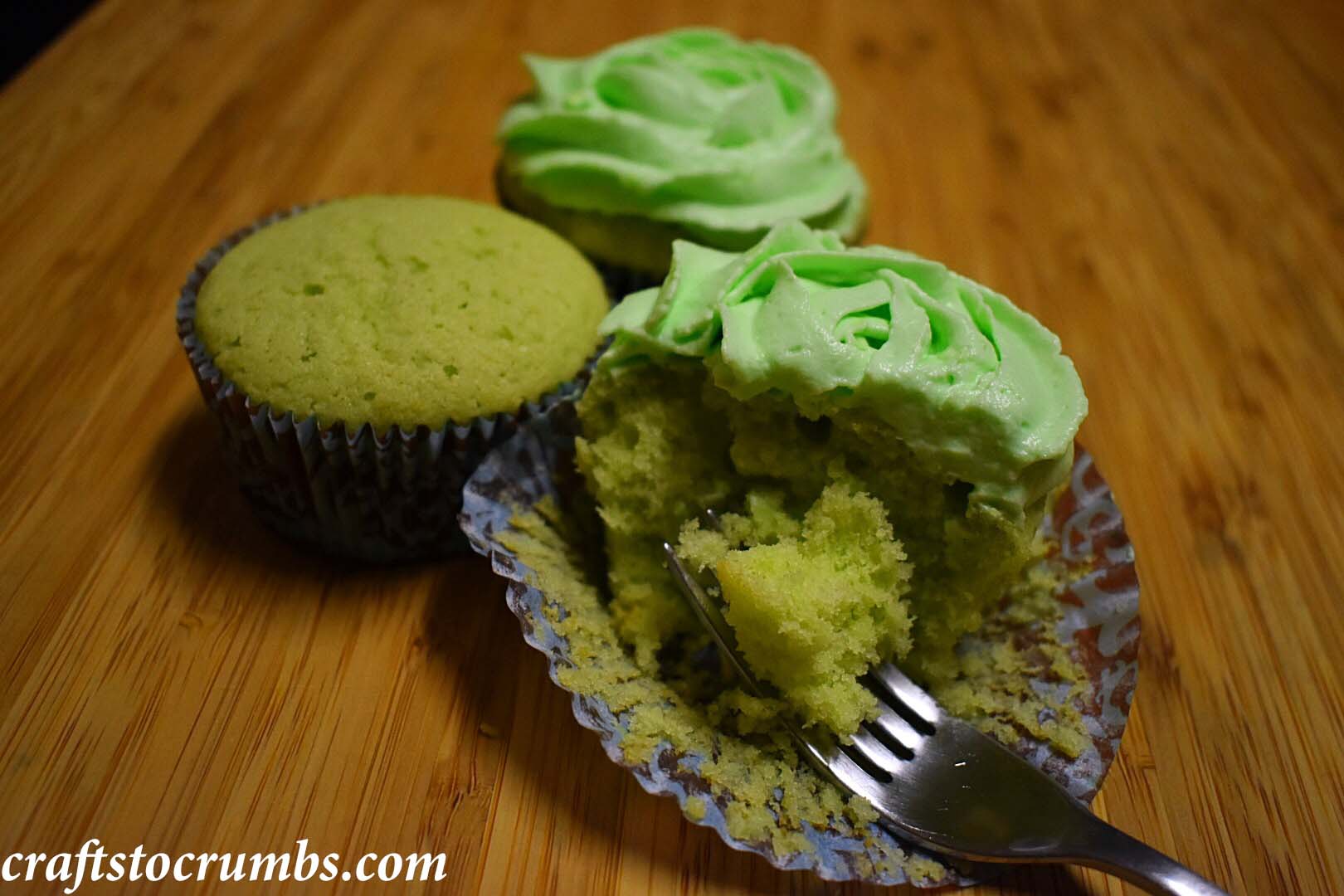 A few notes:
 If you don't have access to pandan leaves (fresh or frozen), you can make the pandan paste version. Just use a 1/2 cup of coconut milk and 1/2 teaspoon of pandan paste instead of 1/3 cup of coconut milk, 1/4 cup water + 6 pandan leaves and 1/8 teaspoon of pandan paste.
If you are using the pandan leaves, you can add the 1/8 teaspoon of pandan paste straight into the coconut milk and pandan juice mixture instead of adding it later into the batter like my video. The paste will stick to the measuring spoon and stirring the mixture with your measuring spoon with help get it all off. 1/8 is a very small amount.
Some of my video footage is of the recipe using pandan paste only so it will look like more than 1/8 teaspoon of pandan paste because it was more. Just keep calm and bake on.
 Pandan paste is very potent. Less is more. And you do not need to add any food coloring. It's already green. Very, very green.
For the frosting, I use a half recipe of my whipped cream frosting. Just substitute 1/2 teaspoon of pandan paste for the the vanilla extract. This frosting is so good. It tastes like soft serve pandan ice cream. Yum!
If you don't have coconut milk or don't want to open a can of coconut milk for cupcakes, you can use whole milk for this recipe.
**Update – after making these a few times, I've come to like the whole milk or low fat milk over coconut milk. The fat/oil in the coconut milk produces a crustier crust. Whole milk will yield softer cakes.
Pandan cupcakes
Yields: 12 cupcakes
Time: 30 minutes
Ingredients:
1 ½ cup (180g) all-purpose flour (spooned into measuring cup and leveled)
1 ½ teaspoon (6g) baking powder
1/2 teaspoon (2g) salt
1 stick (113g) softened unsalted butter
¾ cup (148.5g) sugar
1 large egg (room temperature)
1/3 cup (79 ml) coconut milk or whole milk (Whole milk preferred)
¼ cup (59 ml) water
6 fresh/frozen pandan leaves
1/8 teaspoon pandan paste
Preheat oven to 350F. Line a standard muffin pan with 12 cupcake liners.
Sift all-purpose flower, baking powder and salt into a small bowl. Set aside.
Cut the pandan leaves and place in a blender with water. Blend until the pandan leaves are a pulp. Strain the pandan juice over 1/3 cup of coconut milk. The total of the pandan juice and coconut milk should equal about 1/2 cup. If you need to add a little bit of water, add it to the pandan pulp and squeeze out more pandan juice.
In the bowl of a mixer, beat butter and sugar until light and fluffy. It will be lighter in color and no longer grainy, could take several minutes. Then add egg and beat until smooth, about 30 seconds to a minute. Add the pandan paste. Don't forget to scrape your bowl.
Then add half of the flour mixture, followed by all of the pandan coconut milk mixture. Finally, ending with the other half of the flour mixture. Beat until smooth, about another minute or so.
Using an ice cream scoop, fill the lined muffin tins about 2/3 full. Bake for 18-20 minutes or until tester comes out clean. Remove from pan and allow to cool completely on a cooling rack before frosting.
For frosting, use half of my whipped cream frosting recipe, substituting 1/2 teaspoon of pandan paste for vanilla extract.
Frost any way you like it.