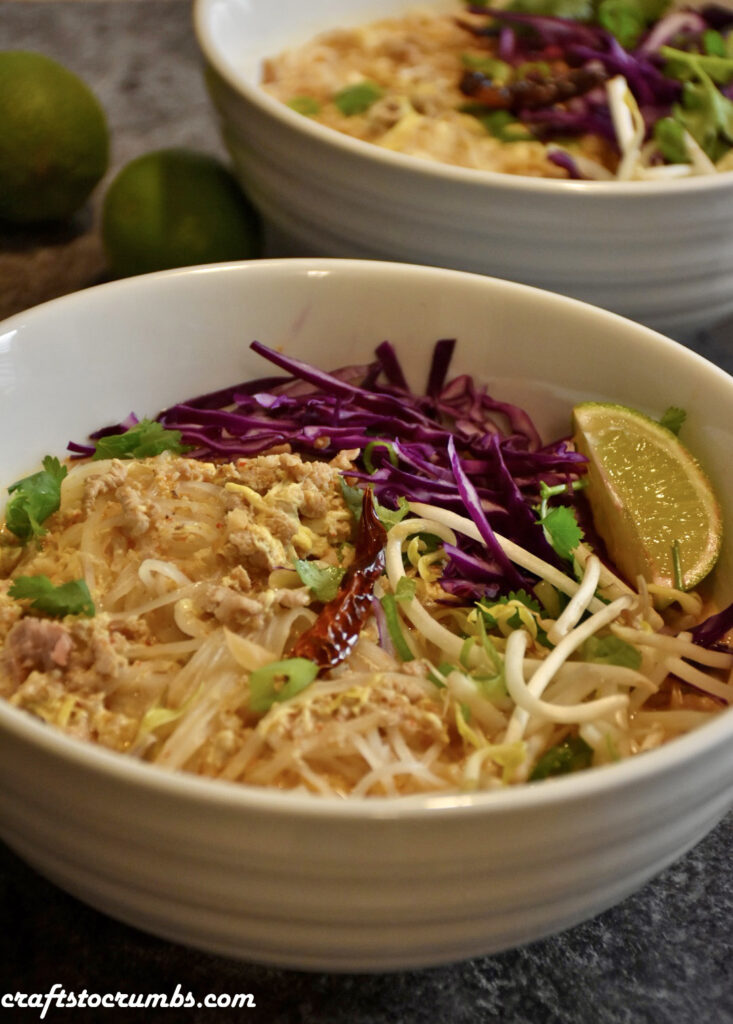 Mee kati is a coconut curry noodle soup dish that delivers an array of flavors from tart to sweet with a little bit of warmth of the curry and earthiness from the peanuts. With aromatics, spices and served with herbs, it's definitely a flavor punch. I like to think of it as like if a panang curry (minus basil) and khao piek sien (noodle soup) had a baby, it would be something like this dish. And the khao piek sien would probably wonder who the baby daddy is because those certainly look like pho noodles. Try to get that thought of your head. One big happy family of flavors. That's all I'm saying. 😊
This dish is popular in parts Laos and Thailand and the flavor that is most prominent can vary from region to region and person to person. When my sister and I got together to make this dish we decided we wanted a great base recipe. We wanted a flavorful broth that can easily be adjusted to taste.
Since it is a soup, it's such great comfort food and worth the effort to add to your soup rotation. Maybe you don't want just plain ole pho this week.

Notes: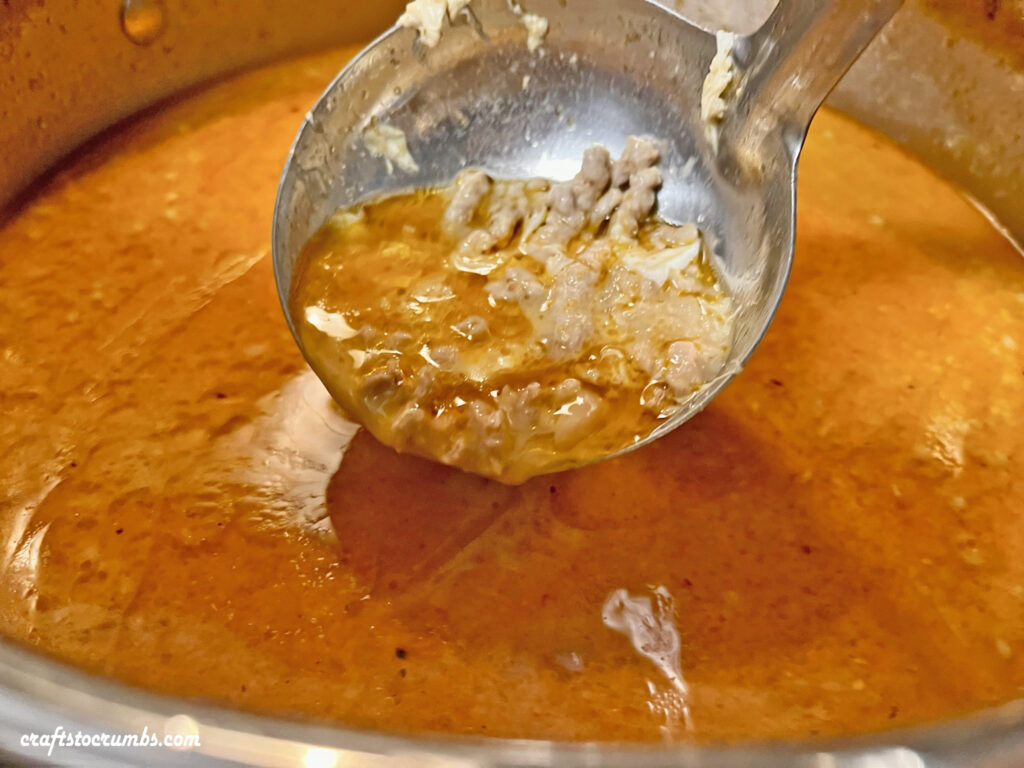 My written recipe and the video might seem out of order from each other at some points, but the broth cooks for a long time for flavor development and it allows you the opportunity to make the curry base, toast peanuts, blend things, prepare garnishes/accompaniments and cook the noodles. I had to edit the video to show the various steps, but most of that is happening almost simultaneously. You'll be humming in the kitchen. Get a helper. It's a great dish to share with family and friends.
The curry paste and peanuts can be pounded the old fashion way with a mortar and pestle if you do not have a food processor or blender.
As mentioned, this is a good base recipe. During the last stretch of simmering, you can always adjust the seasoning to your liking. There are some recipes that call for vinegar to add that tartness straight into the broth, but that's not necessarily for customization. Some like this soup to be sweeter. That's up to you. We like the sugar and lime added at the end right before serving.
Noodles – you can use almost any type of rice noodle that you like. The most popular one is the rice noodle typically used for pho.
Mee Kati
Broth
10-12 cups water
2 lbs pork neck bones
1 – 1.5-inch galangal sliced diagonally
2 stalks lemongrass
6-8 kaffir lime leaves
1 lb block of pork blood (optional)
1.5 lbs ground pork
2 tablespoons salt
1 teaspoon MSG
2 tablespoons fish sauce
2 tablespoon sugar
1 cup of peanuts toasted
2 13.5 oz cans coconut milk
4 eggs
Curry Base
3 tablespoons red curry paste
4 shallots
6-8 garlic cloves
1-inch piece galangal
2-inch piece ginger
4 kaffir lime leaf
1 tablespoon paprika (optional for color)
2 tablespoon vegetable oil

Garnishes and Accompaniments
Cabbage
Lime
Bean sprouts
Cilantro
Green onions/scallions
Dried chili peppers
1 lb package of dried flat rice noodles (kind used for pho) – soaked
• In a large stock pot or Dutch oven, bring water, lemongrass, galangal, kaffir lime leaves and pork neck bones to a boil. Add salt, MSG, fish sauce and sugar. Add ground pork to the broth in huge chunks (don't break up the pork). Allow to boil for about 30 minutes.
• If using pork blood. Boil the block of pork blood for a few minutes, cut into cubes and set aside.
• Remove the chunks of ground pork from the broth and blend in food processor or pound to get fine grounds.
• Toast the peanuts. Then chop/pound or use food processor to chop into small pieces. Set aside.
• From broth pot, remove the bones from the broth. Add the blended ground pork, chopped peanuts and chunks of pork blood.
• Make the curry base by blending the curry paste, shallots, garlic, kaffir, galangal, and ginger in food process until you get a fine paste. In frying, pan add oil and paprika and let it heat up for a few minutes. Then add curry base from food processor. Allow the curry base to cook for a few minutes until fragrant. Then add half a can of coconut milk. Let it bubble and simmer for one minute and turn heat off.
• Add the other half of the can of coconut, plus the second can. Then add the curry base. Bring to a boil and reduce to a simmer for another 30 minutes or so. Right before you are ready to serve, beat four eggs and drop the eggs into the soup.
• While the broth cooks, soak and cook pho noodles according to package instructions. Also, prepare your garnishes.
• To serve, add pho noodles top with garnishes and broth. Add sugar and squeeze of lime to taste.