Phat Kee Mao – Drunken Noodles
Phat kee mao, which translate to dunkard's stir fry, similar to phat see-ew, but spicier and with hint of Thai basil. Phat kee-mao has a few different variations of its origin story. One being that it was created as a popular pairing with drinks. Another is that a drunkard came home, was hungry and threw a dish together with items he had he his pantry and, voila, the drunkard's stir fry was born. Though, I'm not sure of the exact origin of the dish, I know that like the drunkard, I can easily throw the dish together with pantry staples. It has become one of my go-to recipes during busy work and school days.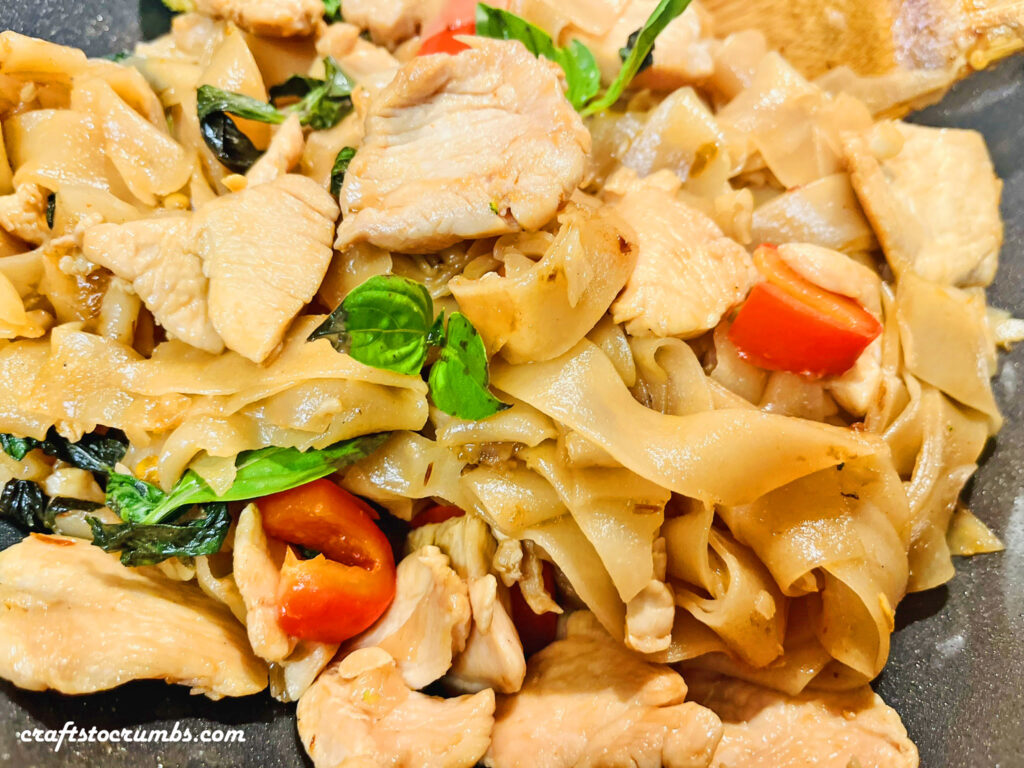 This recipe has evolved slightly for me. It originally started out very similar to the Thai basil fried rice, and the flavors are very similar. Over the past year or so as I started "streamlining" my recipes and cooking methods to fit into my schedule, certain ingredients such as the fresh chopped Thai chili evolved into the sambal oelek. This allowed me to get the spiciness along with other notes like acidity from the vinegar, which helps to brightens up the dish.
Notes:
Taste your sauce before you start cooking. We all have different preferences and you can adjust the sauce before you use it in the stir fry. It's a good idea to taste as you go when you cook anyway.
If using the fresh chili, leave that out of the sauce and fry it with the onion and garlic.
When using quick cooking proteins like shrimp and squid, remove from the wok while you fry everything else. Then return it to the wok at the end. This prevents overcooking of the protein.
If using different size noodles or different brand, follow the instructions on the back of the package for soaking time.
Vegetables – add your favorite vegetables for a more balanced one wok dinner.
Phat Kee Mao (Drunken Noodles)
Serves: 2
Time: 30 minutes
8 oz skinless chicken breasts (cut into thin strips) or shrimp or squid or protein of choice
½ (16 oz) package of rice stick noodles
3 tablespoons oyster sauce
2 tablespoons fish sauce
1 tablespoon seasoning sauce
1 teaspoon sweet soy sauce
2 teaspoons sugar
2/3 chicken unsalted broth
1 tablespoon sambal oelek or 1-2 Thai chili peppers (thinly sliced)
½ small onion or large shallot (thinly sliced)
½ red bell pepper (julienned)
2 cloves of garlic
Handful of Thai basil (about 1 cup)
2-3 tablespoons of canola oil
Soak rice noodles in warm water for 5-8 minutes or according direction on the back of package if you are using different size or brand noodles.
In a small bowl mix oyster sauce, soy, fish sauce, sweet soy, sugar, chicken broth and sambal oelek. Set aside. If using fresh chili instead of sambal oelek, do not add into sauce.
In a large wok over high heat, add oil and let it heat up. Then cook your protein with about a tablespoon of sauce mixture to flavor your protein. If using squid or shrimp, this will only take a minute or so. Remove the meat and set aside. Add the onion to the wok and let cook until translucent. Then add garlic (and chili, if using) and bell peppers and cook for another 30 seconds to a minute. At this point, add the drained noodles and the rest of the sauce mixture. Let the noodles cook for 3-5 minutes until it is golden brown and has softened. The sauce mixture has been completely absorbed.
Toss in the Thai basil. Add the meat back into the wok and cook for another 30 seconds or so to bring back to temperature. Serve immediately.