Peach Crumble (Ninja Foodi)
It's nearing the end of peach season in the south. They are plentiful at the grocers, farmer's market, and fruit stands. Peaches are great in pies and even ice cream. You can probably start a Forest Gump list for peaches. Peach crumble, peach crisp, peach cobbler, peach chutney…The list goes on and on.
It has been a minute since I've used my Ninja Foodi multi-cooker. It's still summer, so it's still hot as heck. This a great way to make a peach crumble without heating up the whole house for an hour. And you know what? You still get that great smell. What a way to showcase peaches than in a classic southern dessert? Sweet peaches, warm spices, crispy-crumbly topping served warm with vanilla ice cream that has melted into the nooks and crannies of that gooey goodness. And it cooks in less than thirty minutes!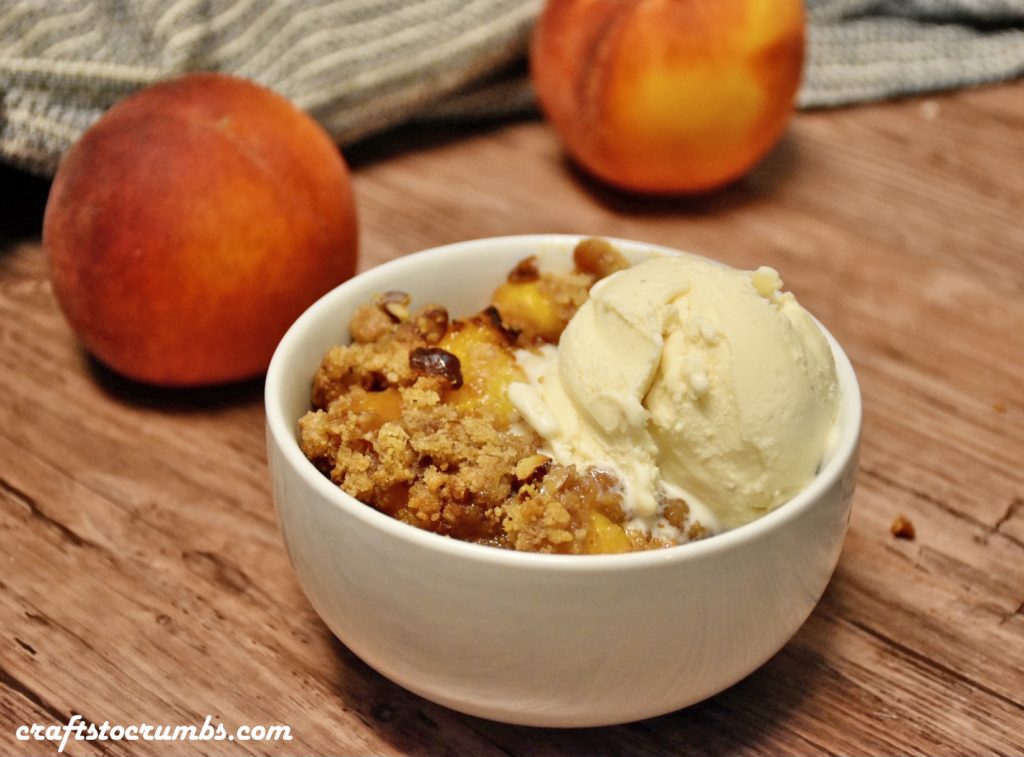 Notes:

• Zing it – add ground ginger and/or lemon juice to add more zing and zip to the peaches.
• Fruitful – use other fresh fruits to mix things up.
• Chill out – if using frozen fruit, add a cup of water and utilize the PRESSURE setting for about 8-10 minutes instead of SEAR/SAUTE.
• Liquid – some peach like their peach filling to have more liquid. If you like it this way, add about ¼ cup of water to the peach mixture when you SEAR/SAUTE. I like less moisture. It keeps the crumble topping crisper. When served with ice cream, the ice cream brings the liquid to the party.
• Size matter – cut the peaches to half-inch thick peaches. You don't want them too thin, as they will disintegrate during the cooking process.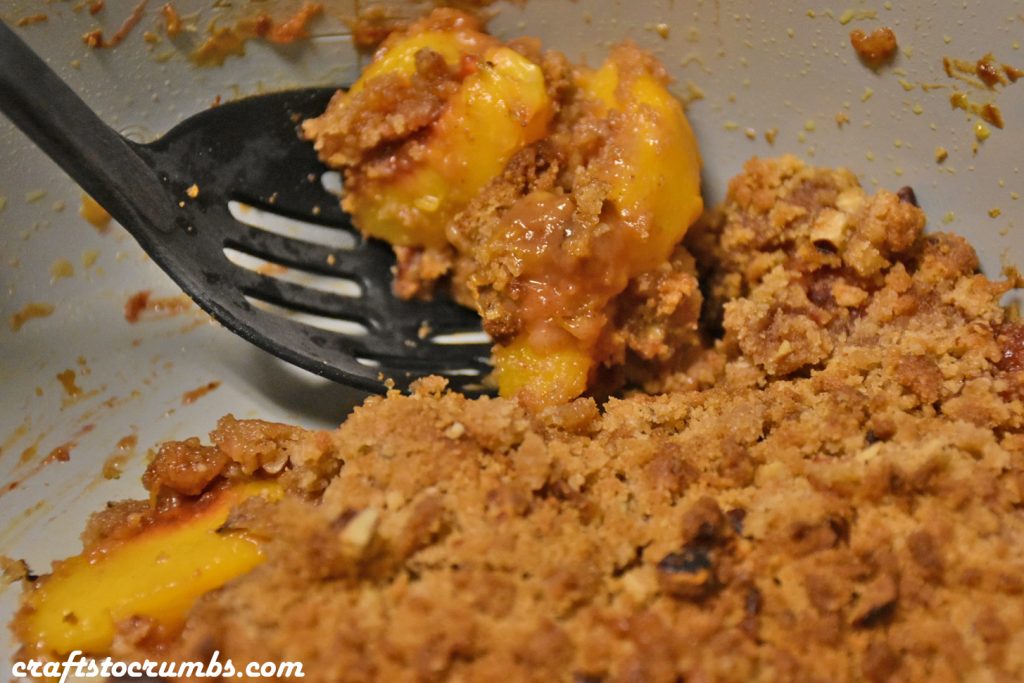 Peach Crumble (Multi-Cooker – Foodi)

Time: 30 minutes
Serves: 4-6
2 lbs fresh peaches, (5-6 peaches peeled and sliced)
¼ cup all-purpose flour
¼ cup brown sugar
½ teaspoon ground cinnamon
¼ teaspoon ground ginger (optional)
2 tablespoons butter
Topping
1 cup all-purpose flour
½ cup chopped pecans (or nut of choice)
¾ cup brown sugar
½ teaspoon ground cinnamon
8 tablespoons (1 stick) butter, cold and cubed
Pinch of salt
Vanilla ice cream for serving (optional)
• In a large bowl, mix all of the peaches, ¼ cup of flour, ¼ brown sugar, ½ teaspoon of cinnamon, ground ginger (if using). Set aside.
• In a medium bowl, add all the ingredients for the topping. Mix with your hand or pastry cutter until you get coarse crumbs.
• Set the Ninja Foodi/Multi-cooker to SEAR/SAUTE on HI, then START/STOP and add the 2 tablespoons of butter. Let it heat up for a minute. Then add the peach mixture. Cook the peach mixture for a minute or two until the flour has cooked off.
• Top with topping mixture. Then close the lid of the cooker. Set the cooker to AIR CRISP, 375F for 13-15 and cook until golden-brown in color and crispy. Hit START/STOP to stop.
• Serve warm with vanilla ice cream.