This is my take on the classic salt and pepper shrimp dish. You get a hit of heat with the peppercorn, another hit from the heat from the jalapeños and those spices are balanced by the sweetness of the bell pepper and onion. I know, triple peppers!

It's shrimping season here in Florida and shrimp reminds me of summertime with my parents. I have fond memories of shrimping with my dad. I also have nightmares about cleaning the shrimp afterwards! But I think the time spent with family and all the great shrimp dishes that we've made were worth staying up late to clean shrimp.

Salt and pepper shrimp is one of our family favorites.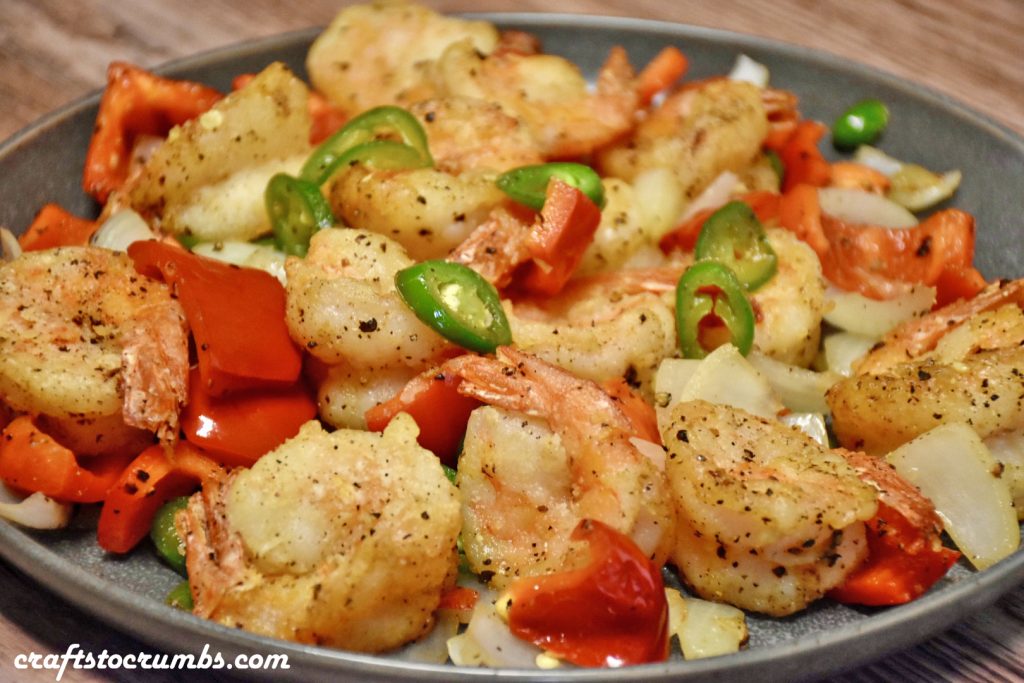 Notes:

Heat – reduce the heat of the jalapeños by removing the seeds and the pith, which contains the capsaicin and brings the heat.
Shrimp Shells – if you have smaller shrimp, you can devein and keep the shells on. They should be soft enough to eat the whole shrimp shell and all. I removed the shells in the jumbo shrimp.
Crispiness – Make sure your oil is hot when you shallow fry the shrimp otherwise the cornstarch crust will not be crispy.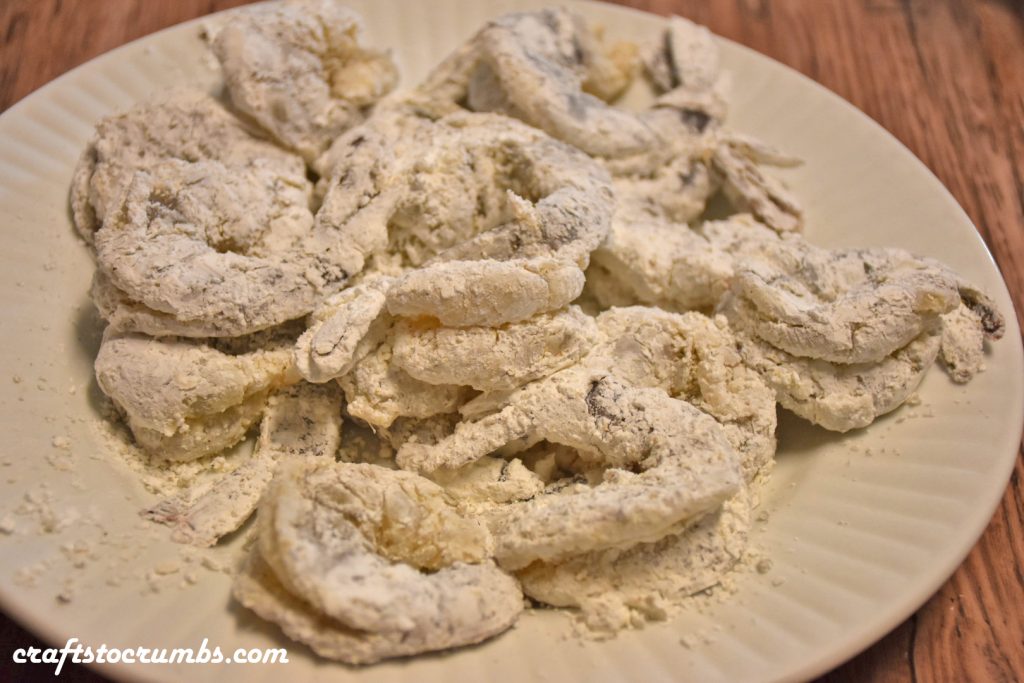 Salt and Pepper Shrimp

Time: 20 minutes
Serves: 4
1 lb shrimp (cleaned, deveined, tail-on)**
1 teaspoon salt (divided)
2 teaspoons peppercorn (freshly cracked)
½ teaspoon garlic powder
½ cup cornstarch/ potato starch
2-3 cloves of garlic (minced – optional)
1 small onion (chopped)
1 bell pepper (chopped)
1-2 jalapeños
¼ cup + 1 tablespoon oil
• Pat the cleaned shrimp dry.
• In a medium bowl, mix cornstarch, ½ teaspoon salt, ½ teaspoon cracked peppercorns, garlic powder.
• Dredge the shrimp in the cornstarch mixture and shake off any excess.
• Heat ¼ cup of oil in a wok or pan over medium-high heat. Add the shrimp to the hot pan and shallow dry the shrimp until cook.
• Remove the fried shrimp and place on plate lined with paper towel.
• Clean the wok and heat another 1 tablespoon of oil over medium heat. Add onion, bell pepper, jalapeños and diced garlic if using. Let cook for about 30 seconds or so.
• Add the fried shrimp back into the wok, sprinkle with the other ½ teaspoon of salt and 1 ½ teaspoon of cracked peppercorn. Toss well. Serve warm.