Fried Fish with Tamarind Chili Sauce
Salty, sweet, tart and a little spicy…this recipe has it all. It features a sweet and sour and umami sauce over fried mild white fish. Typically served family style so it's always a crowd pleaser.
The fact that the fish is cooked whole can be impressive and would be great for dinner parties. Unless you're cooking for some of my co-workers who would give me that confused scrunched up face when I talk about eating fish eyeballs. :)These are also the co-workers that I purposefully bring up khai luk (balut ), fertilized egg, just to get a reaction. Hey, sometimes I enjoy spurring up a discussion about international delicacies. It's an interesting topic.
Any rate back to this fried fish dish. It is so easy that I was able to make this dish during a lunch hour. With everything that I have going on right now, that's part of my little bit of free time.
Aside from being an easy recipe, the sauce brings a flavor explosion in every bite. But it is also very nicely balanced.
Notes:
You can use any mild white fish. You can get them at a local fishmonger or seafood store. I called my dad up and asked if he had any fish. Dad loves to go fishing and there's always fish at his house.
Make sure your oil is hot. You can test it with a flick of water into the pan (be careful) to see if it pops out. You want a crispy skin so the sauce doesn't sog up the fish.
If your tamarind pulp doesn't seem to yield much tamarind paste after straining, just add a little bit more hot water to the paste and strain some more. You want to get about 2/3 cup of strained tamarind paste.
For days when you don't want to deal with a whole fish use fish filets and top with the tamarind chili sauce.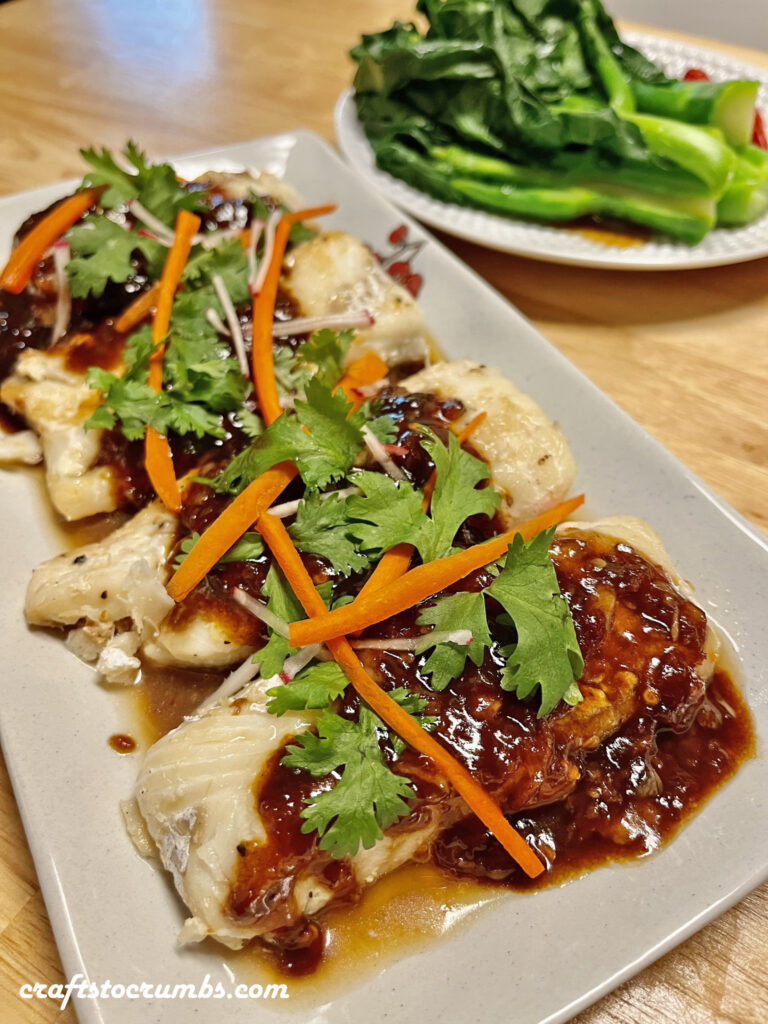 Fried Fish with Tamarind Chili Sauce
1 whole tilapia or any white fish (1.5 – 2 lbs.) – cleaned, gutted and descaled
2 teaspoons salt
1 ½ cup oil for frying
Sauce
½ cup tamarind pulp
¾ cup hot water
1 head of garlic (peeled)
6-8 Thai chilis
1/3 cup light brown sugar (lightly packed)
3 Tablespoons fish sauce
1/8 cup shredded carrots and a few sprigs of cilantro for garnish
Soak tamarind pulp in hot water for 20-30 minutes. Strained the pulp from tamarind paste and set the paste aside.
Using a mortar and pestle, pound garlic and chilis until you a semi-fine paste. Set aside.
Score the fish diagonally on both sides. Rub with salt. Fry in a wok over medium high heat for 5-7 minutes or until crispy on both sides. You may need to scoop some of the hot oil onto parts of the fish that are outside of the oil.
Remove the fish from the wok. Also remove most of the oil, leaving only a couple of tablespoons. Add the garlic and chili paste. Cook until the garlic is fragrant. This tends to be fairly quickly. Then add the strained tamarind paste, brown sugar and fish sauce.
Let cook for another couple minutes until the sauce has reduced slightly.
Pour sauce over the fried fish and garnish with shredded carrots and cilantro. Enjoy.