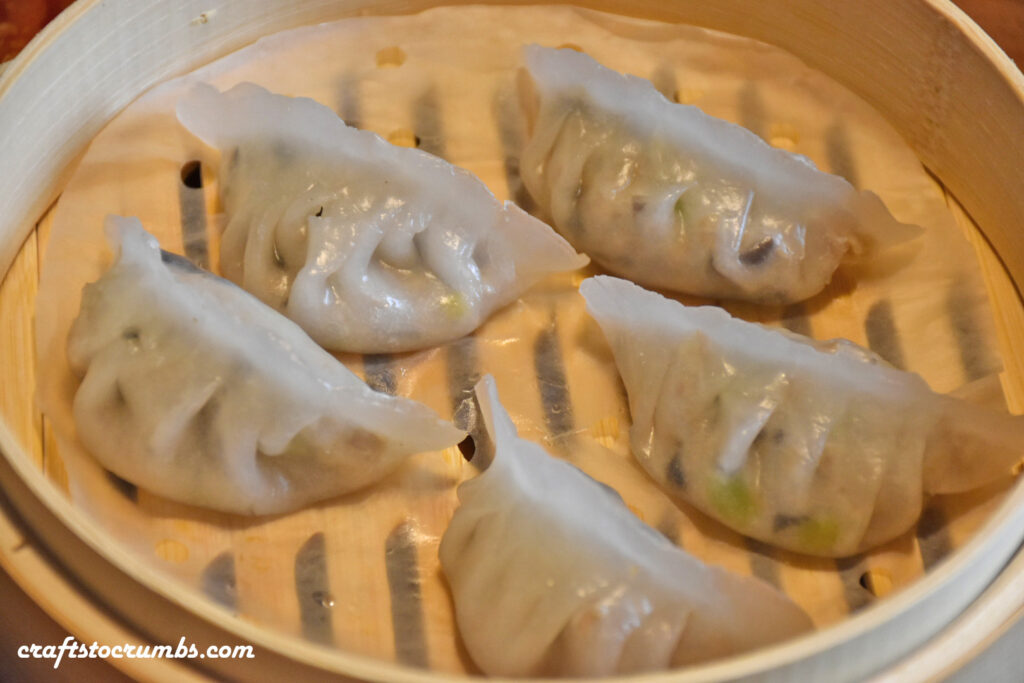 A couple of weeks ago, I made some Kala pao, Lao steam buns, and had this idea of putting a pork filling similar to the kala pao filling or a banh cuon filling inside a thinner dough like ones used in haw gow. The best part about food ideas is that they are easy to come to fruition.
I like these served with the sweet dipping sauce, jeow wan sauce. I'm not going to lie. I ate about a dozen of these in one sitting. The batch does make a few dozen so you can make to share or freeze them uncooked. You can steam them straight from the frozen state and add a minute or two to the cooking time.
Notes: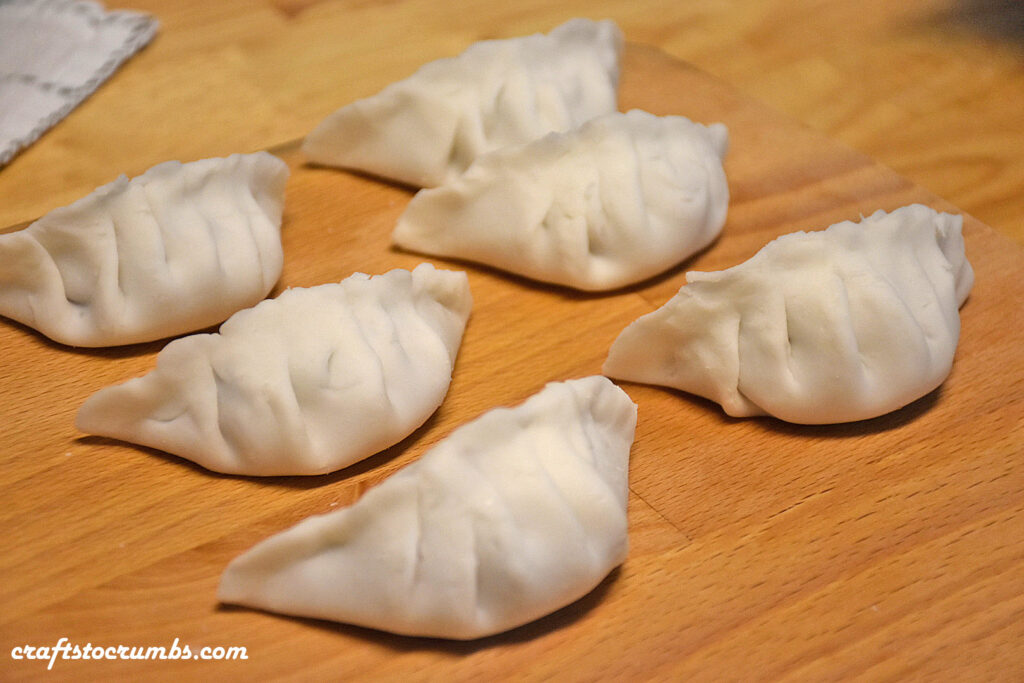 Wheat starch – you have to use the wheat starch. It is not the same as wheat flour or all-purpose flour. It is processed endosperm of the wheat grain and is similar to tapioca starch or cornstarch. Regular wheat flour like all-purpose will have different results.
Dough – The hot boiling water is essential. Just like making khao piak sen, you have to work that dough while it's still warm/hot otherwise it may not come together. As an alternative to pouring the boiling water onto the starch mixture. You can mix the starches and salt and set it aside. Bring the water to a boil in a small sauce pan with the lid on (as the amount of liquid is crucial as well). Once the water boils, add the starch mixture and stir to combine with the water. Cover with the lid and let it rest for a couple of minutes before turning onto an un-floured surface and kneading.
Kneading – speaking of kneading, knead and roll on an un-floured surface. You can grease the surface, but be careful not to over grease because it will cause the dough to fall apart. If this happens, work quickly to knead on an ungreased and un-floured surface until the dough is smooth and stretchy texture once more.
Freeze – to make ahead and freeze the dumplings, place prepared, but un-steamed dumplings on a baking sheet. Make sure they are not touching. Place in the freeze for 30 minutes or so. Once they are hard, place in a zip-top bag and freeze for up to one month.
Pork Dumplings

Yields: 32 dumplings
Time: 45 minutes
Filling
½ lb (8 oz) ground pork
½ medium onion, diced
3 cloves garlic, 1 tablespoon – minced
1 tablespoon fish sauce
2 tablespoons oyster sauce
1/2 teaspoon sugar
1 teaspoon ground black/white pepper
¼ cup wood-ear mushroom, rehydrated and chopped
1-2 scallions, chopped
1-2 tablespoons vegetable oil
Dough
1 ¼ cup (175g) wheat starch
½ cup (67g) tapioca starch or cornstarch
Pinch of salt
1 cup boiling hot water
2 teaspoon oil or lard
• To make the filling. In a wok over medium heat. Add 1-2 tablespoons oil.
• Then add onions and cook until translucent before adding the garlic. Let the garlic cook until fragrant about 30 seconds or so.
• Next add in the ground pork, fish sauce, oyster sauce, sugar, black/white pepper, and wood-ear mushroom.
• Cook until the pork is done and no longer pink. Finish off with the scallions in the residual heat.
• Strain and set aside to cool.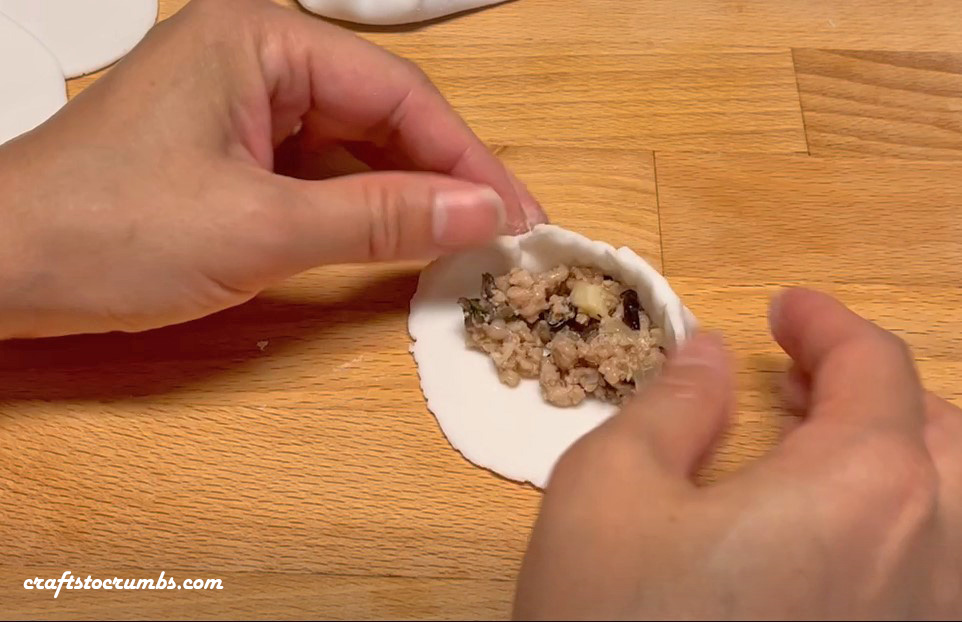 • To make the dough. In a large bowl, mix the wheat starch, tapioca/corn starch and pinch of salt. You can sift to ensure the mixture is evenly combined.
• Pour in the boiling hot water. Use a wooden spoon or chopsticks to incorporate the water. Carefully use your hands to knead to form a ball.
• Cover the dough and let it rest for 1-2 minutes.
• After resting, knead quickly on an un-floured board. Add 2 teaspoons of oil to the dough and knead until it is smooth and stretchy.
• Cut the dough into quarters, roll them out into logs and flatten into discs. Use a rolling pin or a pastry knife to flatten the discs as thin as possible. Make sure to keep the dough that you are not working with covered so they do not dry out. Continue to roll until you have used up all of the dough.
• Place a spoonful of dough in the center of the dough rounds. Crimp one side of the round and then tightly press the two sides of the rounds together.
• Grease the steamer trays. Place dumplings on the steamer tray, making sure they do not touch. Otherwise they may stick together.
• Steam over boiling water for 6-8 minutes.
• Serve with sweet dipping sauce or jeow wan.
• Enjoy!