Curry puffs are a Southeast Asian appetizer similar to a savory hand-pie. The filling is typically seasoned with curry spice, hence the name. There are slight variations in the pastry and the filling.
This recipe is great for the gathering and sharing season. With a grocery store short-cut like premade pie crust, makes it that much easier. I've made a batch recently and we've been snacking on them for days and was asked when I was going to make them again. The spices and buttery crust are just addictingly good.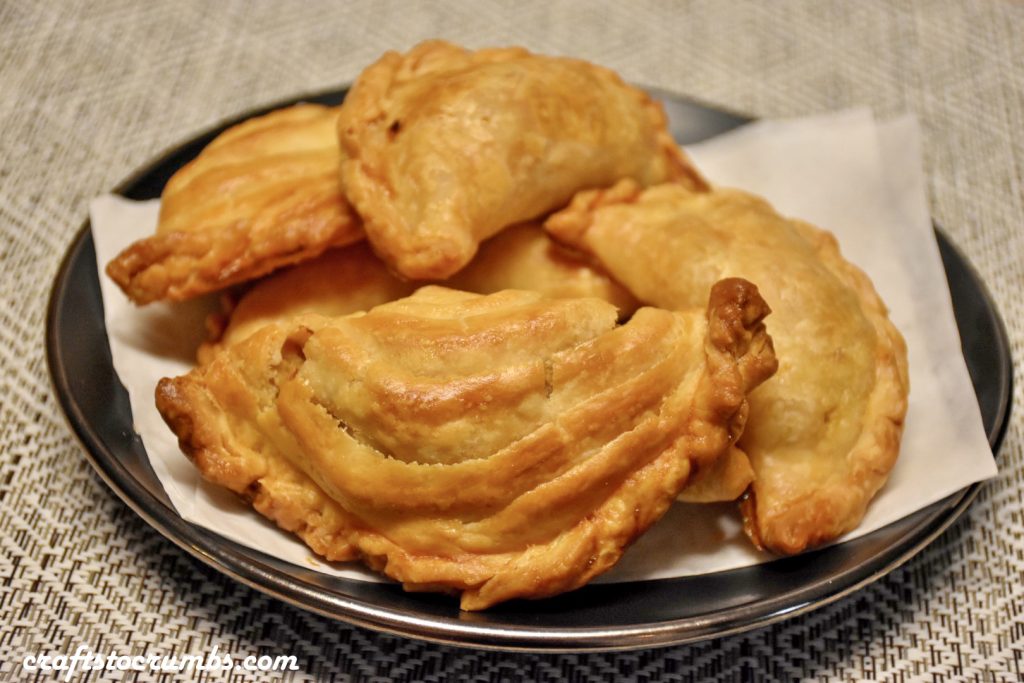 Notes:
Curry paste vs curry powder – traditionally the curry powder is used. However, I prefer the vibrancy of the paste. Use whichever you prefer. I've included measurements for both in the ingredients list. Also, any flavor works. Use your favorite one. They were out of red curry and I ended up using the Curry Par (jungle curry), which turned out great.
Baked or fried – in my opinion you can't beat the glossy sheen and flakiness of a baked curry puff, but again, they are traditionally fried. So, either method is a matter of personal preference. One note here, if frying, you may want to stick with the regular hand pie rather than the layered method that I played with here or turn the heat up fairly high and so that the oil cooking process is quick otherwise the layers will come apart.
Pie crust dough – get the recipe for my homemade pie crust here. Or use store bought pie crusts. You can ball them up and roll them out. Works just the same. It's busy season, nothing wrong with time savings. I've tried other layered doughs and some were so tough, you really needed a knife to cut through. You just can't beat good ole pie crust for a hand pie equivalent.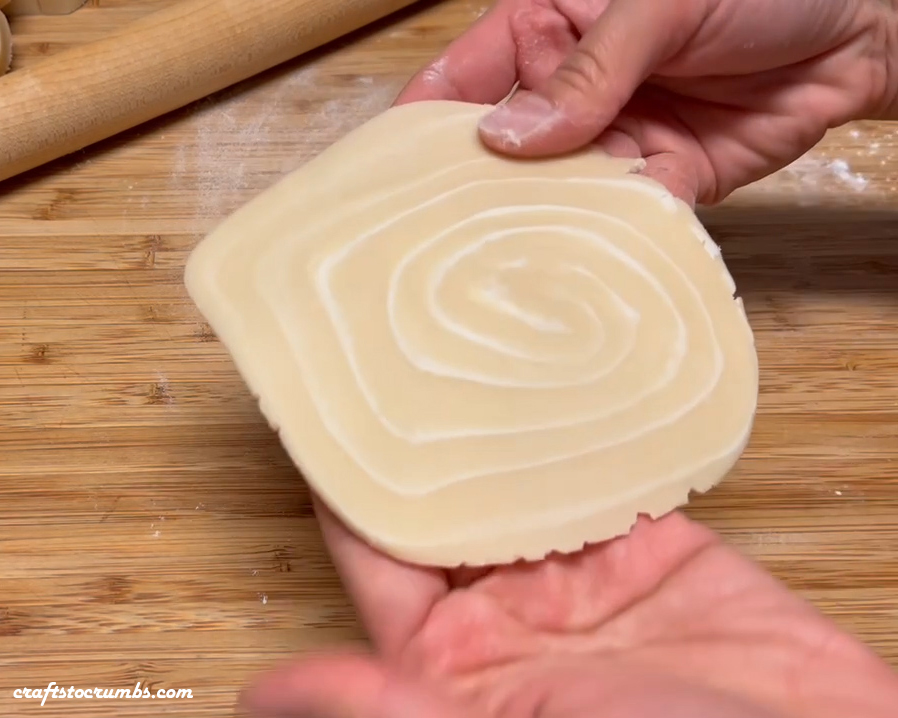 Curry Puffs
Yields: 24-26
Time: 2 hours including inactive time

Double my homemade pie crust
Or 2 x 15 oz premade pie crust (for four 9- inch pies total)
Filling
1 lb. (450g) ground chicken or meat of choice
1 russet potato (350g), cooked and diced
1 small onion, diced
1 garlic clove, minced
1 tablespoon curry paste or 1 ½ tablespoon curry powder
1 teaspoon sugar
½ teaspoon salt
1 cup frozen peas and carrots, thawed
1 tablespoon cornstarch
1-2 tablespoon water
Oil (1 Tablespoon for filling and the rest for frying if frying the puffs)
4 tablespoons softened butter (if making layered dough)
Egg wash (if baking)
1 egg
water
Make the filling in a wok or frying pan over medium heat. Heat 1 tablespoon of oil. Add the onion and let it cook for a minute until it's translucent. Then add garlic and curry paste/powder. Let it cooking until fragrant. Add the ground meat, sugar, and salt. Let the filling cooking until the chicken has cooked all the way through. Add the cooked potato, peas and carrots. Finally make a slurry with the cornstarch and water to add to the filling. Allow this to cook for another minute until it has thickened. Set the filling aside to cool.
Divide the pie crust dough in half and roll the pie crust dough out as thin as possible.
If making the layered puffs, spread 1 tablespoon of butter between two layers of pie crust. Spread another tablespoon of butter on the top layer and roll the crust as tightly as possible. Wrap with plastic wrap and chill for at least 30 minutes in the freezer or 1 hour in the fridge. After it has chilled. Cut the log into 1-centimeter pieces. Then flattened the circles and roll out as thing as possible.
If you're making regular puffs, use a 4-inch biscuit/cookie cutter and cut out the circles.
Fill the circles with a tablespoon and a half of filling. Fold the circle in half to enclose the filling and pinch or crimp to close the puffs.
If baking, preheat the oven to 400F. Brush the tops of the curry puffs with a egg wash made with the egg and water. Bake for 25-30 minutes until golden brown.
If frying, heat the oil to 375F. Fry in batches for 4-5 minutes or until golden brown.