This is a dressing recipe that is little tangy with a heat from the fresh ginger. The best part is, since I'm making it at home, I can control the sweetness. Restaurants tend to serve this dressing on the sweeter side, which I'm not in love with and I absolutely love this dressing made at home.
You typically find this dressing at Japanese or Thai restaurants. With this easy recipe, you can serve up a healthy and fresh salad with a restaurant style dressing at home. It's a simple vinaigrette with some fresh vegetables thrown in. No fuss. Just throw it in the food processor. If you don't have a food processor, use a blender.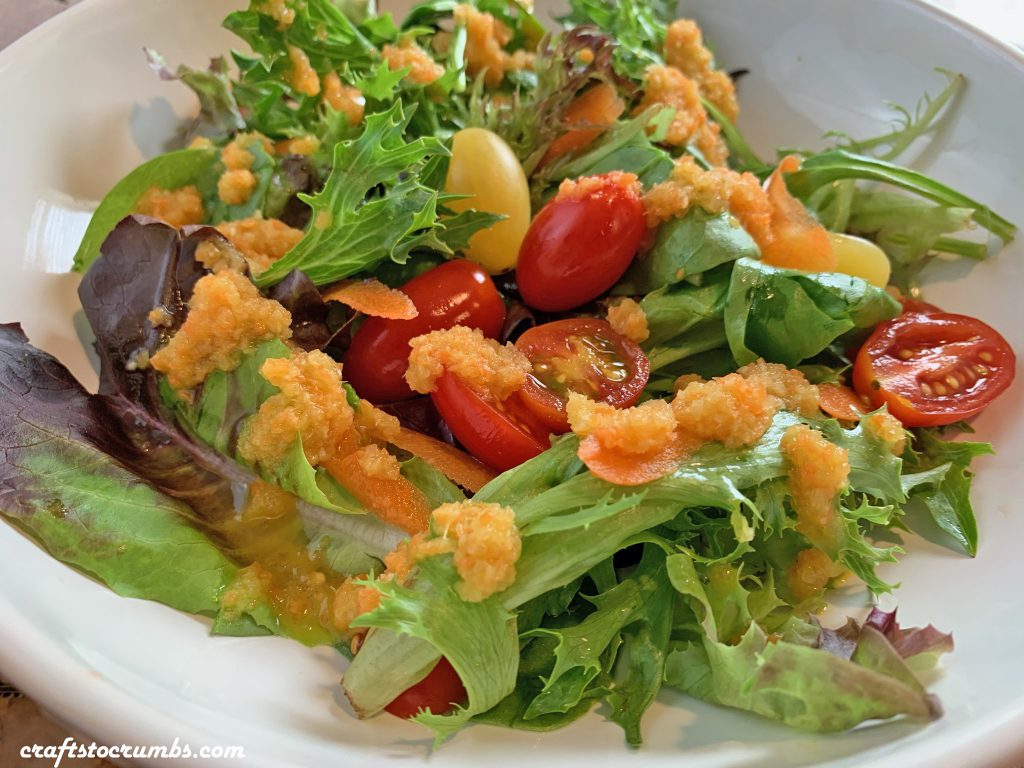 Notes:
• The apple – use any variety that you may have at home. I used gala because that's what I had at home.
• Sweetness – the amount of sweetness that I used in the recipe is preferred by me. If you like the super sweet dressing, by all means, add more sugar. However, I would start with less sugar and add more as you go and until you get the level you like. Also, you can use honey or any other sweetener that you prefer.
• Size doesn't matter – it's all going to get processed anyway. A rough chop of all your carrot, onion, apple, and ginger is fine. Don't stress it.
• Ginger – a easy way to peel the ginger is by using a spoon to scrape of the skin.
Ginger Dressing
Time: 10 minutes (including prep time)
Yields: slightly more than 1 ½ cup of dressing
½ cup carrot, peeled and chopped
½ cup apple, peeled and cubed – granny smith or any sweet tart apple
1/3 cup onion, chopped – sweet onion like Vidalia
2 Tablespoons ginger, peeled and diced
¼ cup vegetable oil
¼ cup rice vinegar
2 ½ Tablespoons sugar
2 Tablespoons soy sauce, (regular or thin soy sauce)
• In a food processor, add carrots, apples, ginger, and diced onions. Pulse a few times.
• Then add sugar and rice vinegar.
• Turn the food processor on and let it run while you drizzle in vegetable oil and vinegar. Process until smooth.
• Taste the dressing and adjust seasoning.
Enjoy!