This recipe is for basic egg noodles. These noodles can be used in soups, stir-fries or any dish that calls for noodles.
I miss traveling and miss all the good eating that goes along with it. I craved those from scratch noodle dishes now and again. Though, I could have tried a hand-pulled noodle, I wanted something more versatile. Side note, hand-pulled noodles have fewer ingredients than egg noodles, but there is a lot of oil involved!
These noodles are so easy to make especially with a stand mixer and a pasta maker. I was quite surprised, and the results were so good. It made me wonder why I haven't made fresh noodles and pastas sooner. I can't wait to play around with various noodle dishes using fresh noodles.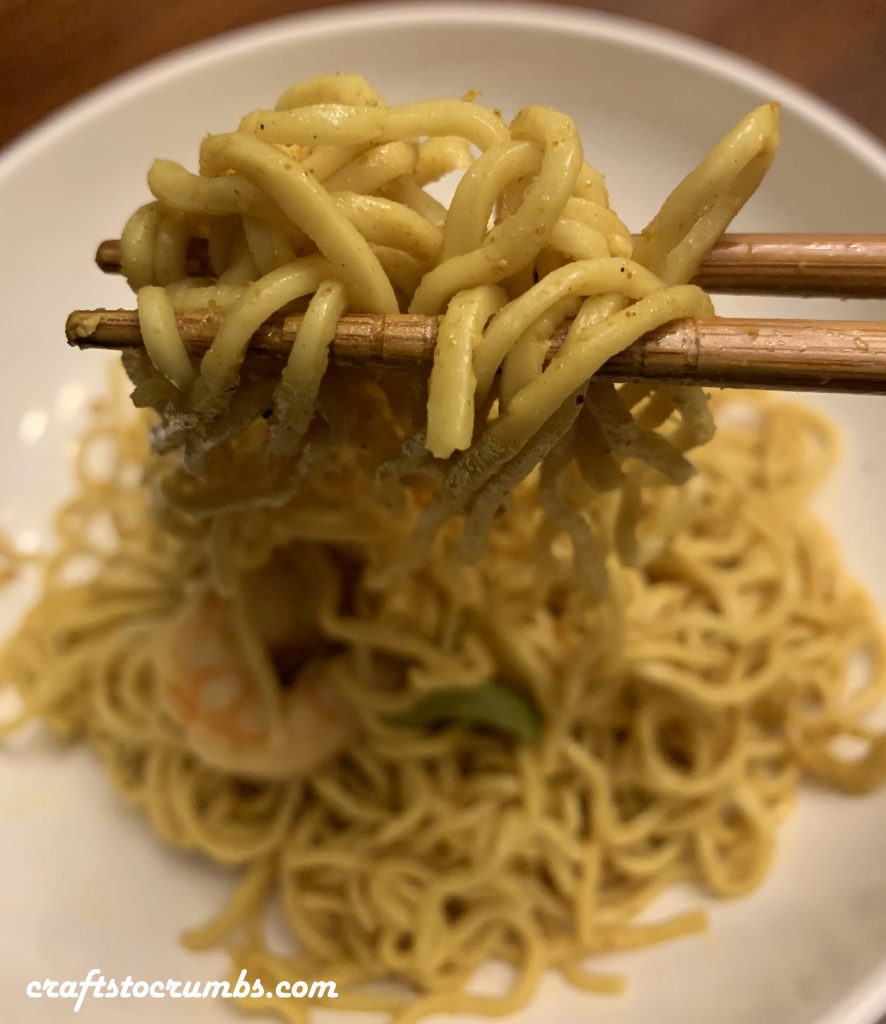 Although, it is a very basic and very easy recipe, below are a few of my notes.
Notes:
Water or egg yolk – where the recipe calls for water, you can use egg yolks in its place. The egg yolks will help produce a richer dough and richer noodles.
If you are not cooking the noodles right away, portion it out and let it air dry for about 30-45 minutes. Let it crust over to help combat the moisture in your fridge or freezer. You can store in an airtight container for 1-2 days in the fridge or 1-2 months in the freezer. Make sure you dust liberally with flour if you plan on sticking them in the fridge or freezer. The first time I stuck it in the fridge, it just melded back into a ball again, which was only a minor setback because I ran that thing through the roller and cut it again. I tried again with a liberal amount of flour and allowed it to dry and crust over like certain homemade pasta and presto! That does the trick.
Alternatively, you can air dry on a wire rack or a pasta rack until it has completely dry and store in an airtight container for up to a month.
Egg Noodles
Yields: 1 lb (16 oz)
Time: 30-40 minutes (including resting time)
2 ¼ cup (270 g) all-purpose flour (plus more for dusting)
¼ teaspoon salt
3 large eggs
1-2 tablespoons water (or egg yolks for richer flavor)
In a large bowl or on a clean surface, add the flour and salt. Mix ingredients and make a well in the middle of the flour mixture. Add eggs and incorporate well. Then add 1 tablespoon of water or one egg yolk. Knead for 5 minutes or until dough comes together and softens. If the dough seems too dry, add a tablespoon of water at a time and knead well after each addition.
Alternatively, you can use a stand mixer with a dough hook attachment and knead until ball forms and soften, about 3-5 minutes.
Wrap the dough in plastic wrap and let rest for 15-20 minutes.
Cut a piece of dough from the ball and keep the rest wrapped in the plastic wrap. Sprinkle flour on a clean counter or cutting board. Knead the dough a couple of times. Use a rolling pin to roll the dough to desired thickness. Cut the noodles into desired width. Sprinkle a little more flour on the noodles to keep them from sticking to each other.
To cook, place noodles in boiling water and cook for 90 seconds to 2 minutes.
If you are not cooking immediately, you can form the nests and let the noodles dry for about 30 minutes and store in an airtight container for a day or two in the fridge or in the freeze for a month or two.