This is one of my favorite desserts. It's  made of caramelized coconut stuffed in glutinous rice dough wrapped in banana leaves and steamed. You can find these in markets all over Southeast Asia, but here they usually make appearances on special occasions and celebratory events. Typically, they are a favorite offering during Alms Givings. Perhaps because we're told that we give what we want to have in our next lifetimes. Who wouldn't want these? Just saying.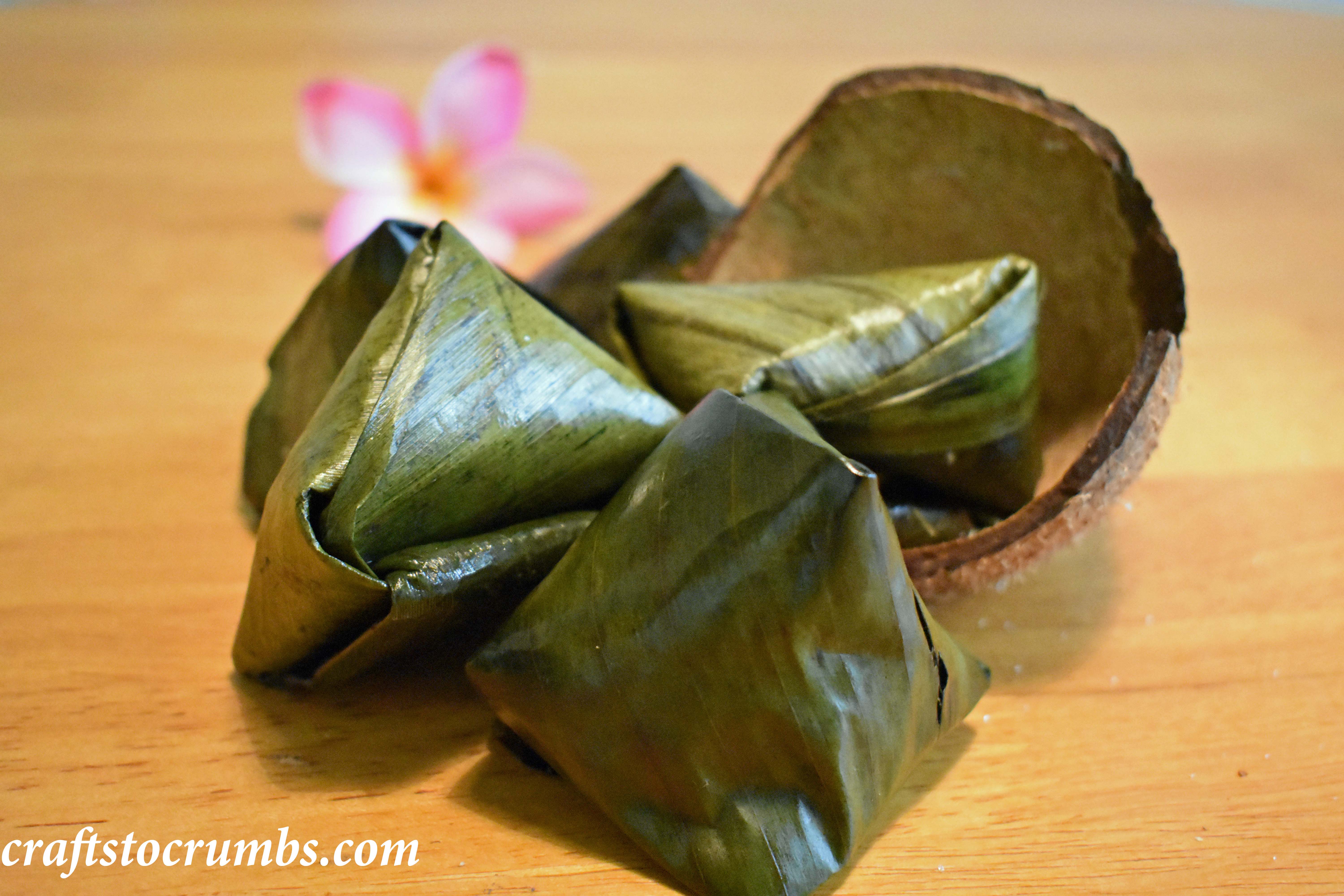 Not sure if anyone noticed, but it has taken a while for me to get this recipe up. I've been working on it for a while. It's uses simple methods with simple ingredients, but I had to try a few things. Plus, the Asian market, which I normally visit, was out of banana leaves for weeks. Seriously. 🙂
So, why did I feel the need to  try this recipe a few ways? I thought this recipe only used glutinous rice flour and saw many recipes that used only glutinous rice flour. There are some that use black glutinous rice flour, which we don't have available in our markets. I tried the recipe few times with only glutinous rice flour and it was so chewy and sticky, I almost couldn't eat it. They got stuck in my braces and I almost choked.  After that, I knew it had to change.  Of course it had to change with ingredients, which are readily available here. Black glutinous rice flour is not an option. Looking back at my pandan steamed layer cake (khao pard xun) recipe, I used a combination of glutinous rice flour (green bag) and rice flour (red bag) and it worked really well. So I decided to do the same here, but I know that it has to be mostly glutinous rice, otherwise it would change the dessert.
While we are discussing the dough, I would like to address one other thing. Whether or not to use pandan juice instead of water? I tried it both ways and I didn't think it was worth the effort of blending and juicing pandan leaves. It didn't add much more to the dessert and the banana leaves themselves already add a little flavor to the dough. There isn't a need for the pandan here. I love you pandan, but not here and not now.
With the dough issue resolved, let's moved onto the filling, a.k.a., the good stuff. There wasn't so much an issue here. There are alternatives though.  Freshly grated coconut vs. frozen grated coconut? Easy answer, fresh is best for the coconuts. I tried both ways and the fresh one is better. The frozen ones probably lose their flavor and freshness over time. If you buy them frozen from the grocers, you really don't know how long they've been in the freezer. With that said, I did freeze some of the freshly grated coconut because I had too much for one recipe and used it within a month. That was still as good as fresh.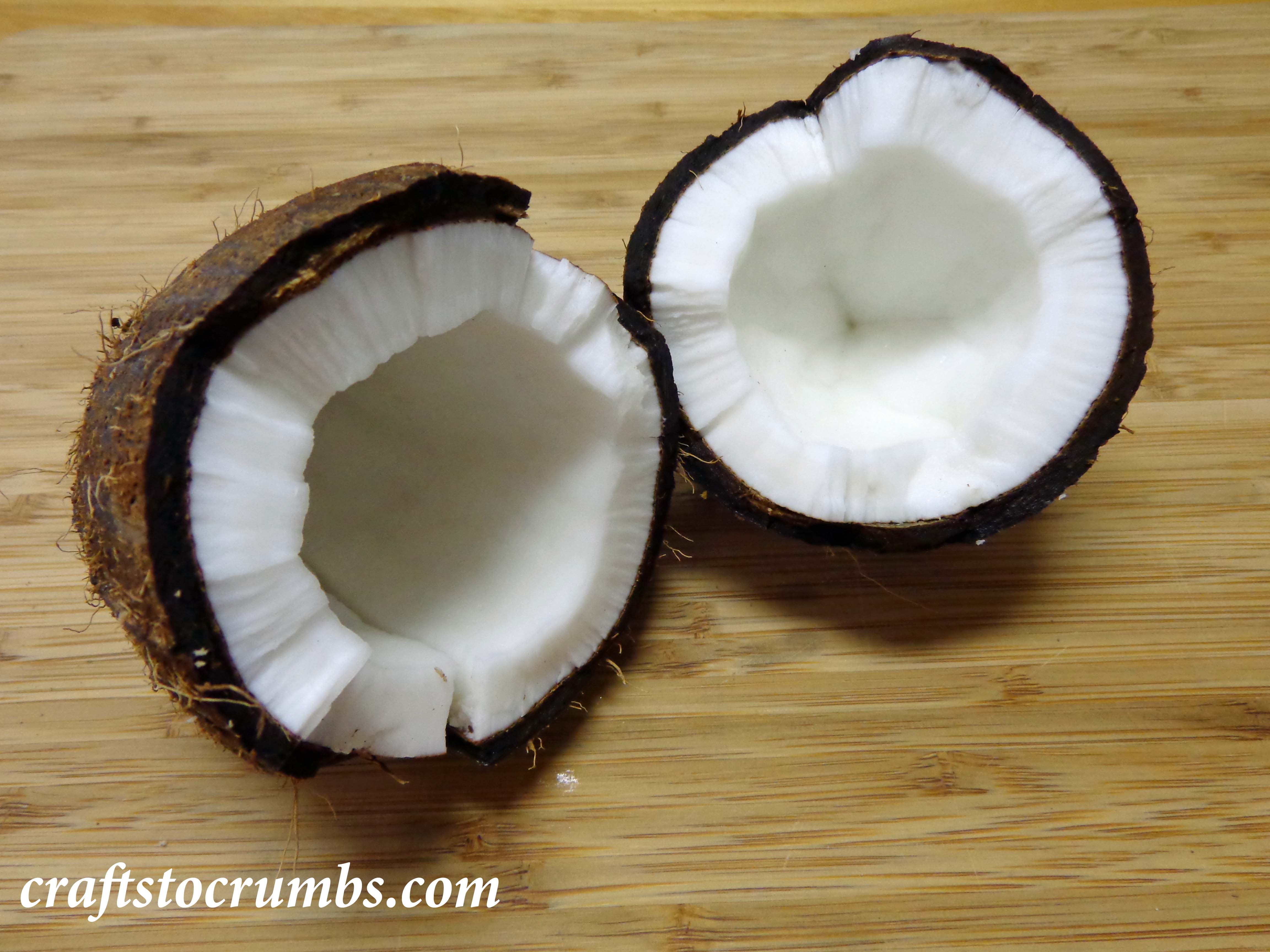 For the other big component in the filling, palm sugar vs. brown sugar? There are slight differences here. Palm sugar is not quite as sweet nor deeply sweet as brown sugar, which has a nice molasses undertone. The brown sugar also produces a darker caramel colored filling. You can see in my video, when I am filling the dough,  I was using a lighter colored filling made with palm sugar. The footage of me making the filling in the beginning was brown sugar, of course. But if I were to choose based on taste, I think either works fine as long as they are well balanced with salt.  And having tried both, I am inclined to say that the versions we have here in the States, most likely use brown sugar. And just between you and me, brown sugar is also more economical. If that wasn't obvious already.
So from all my experiments, I've learnt, to use glutinous rice flour with a touch of rice flour, no pandan, freshly grated coconut and brown sugar. At least that's the winning combo for me.
Below are some more notes and the recipe. I hope you enjoy it.
Notes:
You can use fresh or frozen banana leaves. However, if you do use fresh leaves, you may have to steam or toast the leaves to make it more pliable. I have distinct memories of my mother using an iron to iron fresh banana leaves.  That's no joke and I think it's pretty clever. Just place a thin kitchen towel over the clean banana leaves and iron away. Prepping the banana leaves is the longest part of the process.
When you're making your filling and it starts to thicken and you think it's done, just continue to cook it until you smell that toasted coconut smell. It smells just like kanom nab when you are about to bite into. It smells so right, then it's done.
When folding your banana leaves  to make the flap, make sure to fold in the crease side (side where you have 2 creases from the pocket fold) first. Reinforcing the two folds helps to reinforce the package from falling apart in the steamer. In the video I did it backwards, but it only took a few dozen times to figure it out. It doesn't have to take you that many. 🙂
Also, the steamed glutinous rice dough does expand quite a bit in the steamer. The more room you give it, the more it expands and the more busted banana leaves you have. They will tear right through the banana leaves. Pack them in fairly close and they will stay pretty much in tack.
If using palm sugar reduce the amount of salt to 1/2 teaspoon. Use 3/4 teaspoon for brown sugar.
Kanom Nab
Yields: 20
Time: 1.5 hour including prep
For Filling:
2 cups of grated coconut (fresh or frozen)
1 cup (220g) packed brown sugar or palm sugar
¾ teaspoon salt
¼ cup (59 mL) water
1 tablespoon cornstarch
Grate the coconut if using fresh coconut. In a medium pan over medium heat, bring brown sugar, salt and water to a boil, about 2-3 minutes. Add grated coconut and stir frequently. While there is still liquid left in the pan, add cornstarch. Continue to stir until the liquid has dried up and filling has thickened. This takes another 3-5 minutes. It will have a toasted coconut smell when done. Set aside to cool.
Banana leaves:
1 (1lbs) package frozen banana leaves or fresh banana leaves
2 tablespoons vegetable oil
If using frozen leaves, thaw and clean the leaves. If you are using fresh leaves, you may have to steam or toast the leaves over fire to make them more pliable.
Cut into 6-inch x 8-inch pieces. Fold banana leaves in half, long ways, and trim off the edges. Grease the banana leaves by taking a kitchen rag or paper towel, dipping it in vegetable oil and wiping down the dull side of the banana leaves. This will be the inside and will keep the dough from sticking to the leaves.
Set greased leaves aside.
Dough:
2 ½ cups (300g) glutinous rice flour
½ cup (60g) rice flour
1 ¼ cup (298 ml) warm water
Combine the flours in a large bowl. Slowly add the warm water. Stir with a spatula to incorporate. Once it's well incorporated and cooled slightly, knead by hand until the dough is smooth.
Pinch pieces of dough out and form twenty 1-inch dough balls.
To assemble:
Flatten the dough balls to about ¼ inch thick, 2-inch round discs. Scoop about a tablespoon of filling into the ball and roll it back up again. Fill all the dough balls prior to wrapping.
To wrap, with the banana leaves facing long ways vertically, fold the bottom into a triangle forming a pocket. Place a filled dough ball into the pocket and fold the top of the pocket over to cover the top of dough ball. Then fold the sides of the banana leaves in so the edges meet or overlap and form a flap. Fold this flap down and tuck it into the bottom. The finish wrapped dough should appear like a pyramid.
Place the pyramids closely on a steamer tray and steam for 30-35 minutes.
Enjoy!