Pandan Steamed Layer Cake (Khao Pard Xun)
This week I wanted to try something more traditional. What's better than a traditional dessert? Desserts are special because they can be time consuming, but they are always worth the effort. And it's usually someone's grandma, who makes the best this or that dessert.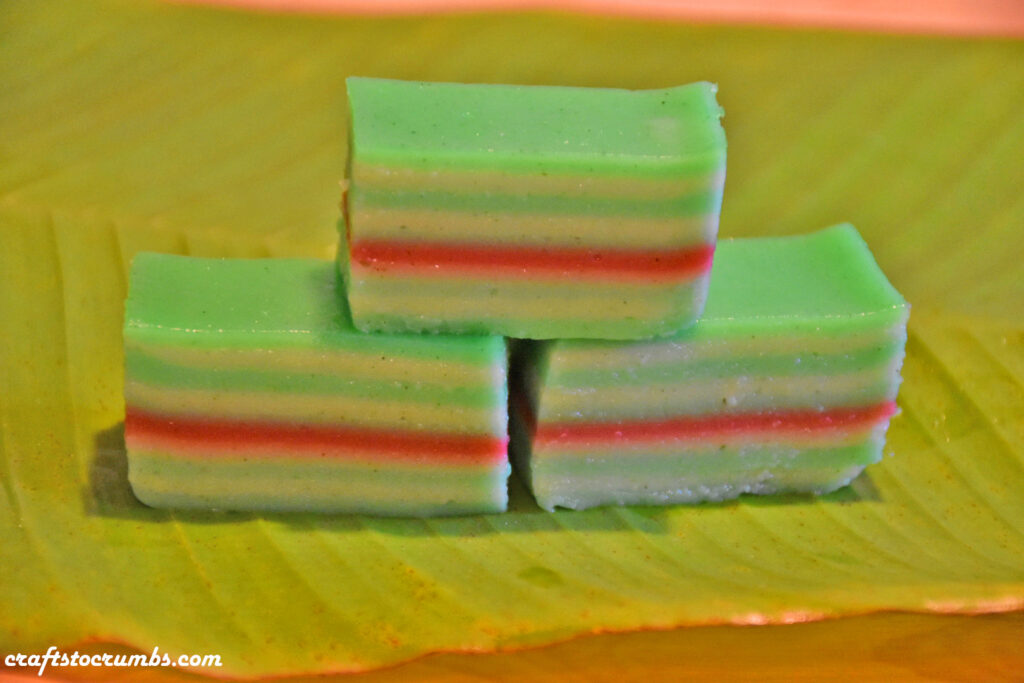 This dessert, I enjoy quite a bit. It melts in your mouth and showcases the dynamic duo of flavors, pandan and coconut, which is popular in Southeast Asian desserts. The pandan steamed layer cake or khao pard xun is aromatic and sweet. You can savor it, layer by layer. Or just shove the whole piece into your mouth in one bite. I'm sure we can go into an analysis of what type of personality you have by how you eat it, but there's no wrong way to eat it (in my humble opinion).
I've tried khao pard xun recipes in the past that have different tapioca to rice flour ratio and wasn't too happy with the results. Those produced a gummy result. Based on other recipes using this combination of flours like the noodles for khao piek sien (chicken noodle soup), I figured a 1:1 ratio was a good start. I tweaked this recipe a couple times based on mom's feedback and the result received good reviews from friends and family.
Also, using the fresh/frozen pandan makes a huge difference in flavor as oppose to using an extract or paste.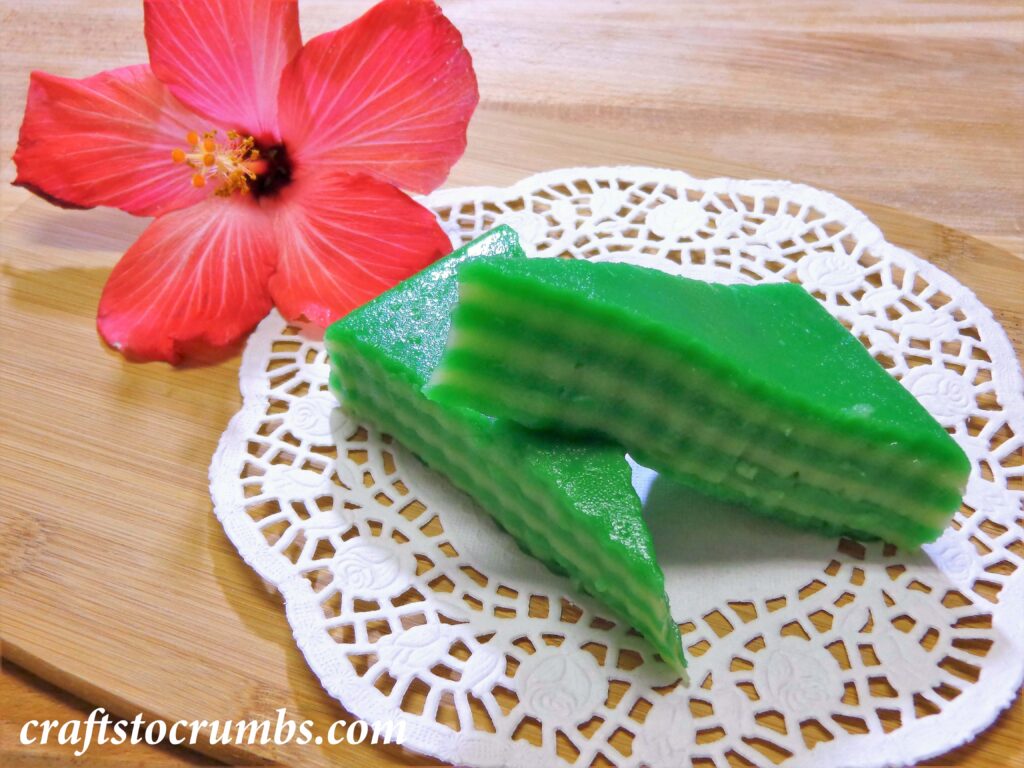 Khao Pard Xun
Serves: 4
Prep time: 10 minutes
Cook time: 45-50 minutes
Special Equipment: Steamer, blender and 4-inch loaf pan
For pandan simple syrup
4-5 pandan leaves (fresh or frozen)
½ cup (4oz) water
½ cup (115g) granulated sugar
Cut the pandan leaves and place in blender with ½ cup of water.
Blend for several seconds.
Strain the blended pandan juice over a small sauce pan with the ½ cup of sugar.
Place the sauce pan over medium heat and heat until the sugar is completely dissolved, about 4-5 minutes.
Remove from heat and allow to cool slightly.
For Batters:
½ cup (60g) tapioca flour
½ cup (60g) rice flour
1 (13.5 oz.) can of coconut milk
Pandan simple syrup (from above)
Pinch of salt
Food coloring (any color of choice, I'm using the traditional green)
2 tablespoons vegetable oil (for brushing pans)
In a large bowl, combine the tapioca and rice flours together.
Add the pinch of salt.
Then whisk in the pandan simple syrup.
Once incorporated, slowly whisk in the coconut milk until batter is smooth.
Split the batter into two bowls (or more if you want more colors).
Add food coloring to one of the bowls (or as many as you like)
Place the loaf pan in a steamer, which has been over heat for at least 10-15 minutes. Brush the pan liberally with vegetable oil.
Pour about ½ cup of batter into the pan. Close the steamer and steam for about 6-7 minutes.
For the next layer, brush the previous layer with oil, then pour ½ cup of a different colored batter into the loaf pan. Steam for another 6-7 minutes. Continue to brush between layers and alternate between the colored batter until you have 6 or 7 layers. For your last layer, steam for 2 or 3 minutes longer (9-10 minutes).
Remove from the steamer and allow to cool completely before removing from pan. Then use a crinkle cutter or a knife to cut into pieces. Enjoy!