This is an easy mini cheesecake recipe that uses one batter to yield a variety of mini cheesecakes flavors. I like to come up with recipes like these to make things a little easier on myself, especially when I am entertaining. This takes about 5 to 10 minutes more than plain mini cheesecakes, but the results look like I've put forth more time and effort.
I recently made these for my friend's birthday get-together. And yes, it was a party of fewer than ten people. More cheesecake for each of us, right? The party goers halved the cheesecakes, tasted various ones, and chose their favorites. The cheesecakes were a hit and no one knew that they were all made with the same batter.
I'd call that a success. The six flavors that I've made are not the only flavors you can make, of course. You can add chocolate chips or chopped up candy pieces. Make caramel swirls if you have caramel topping in the pantry. You're limited only by your imagination.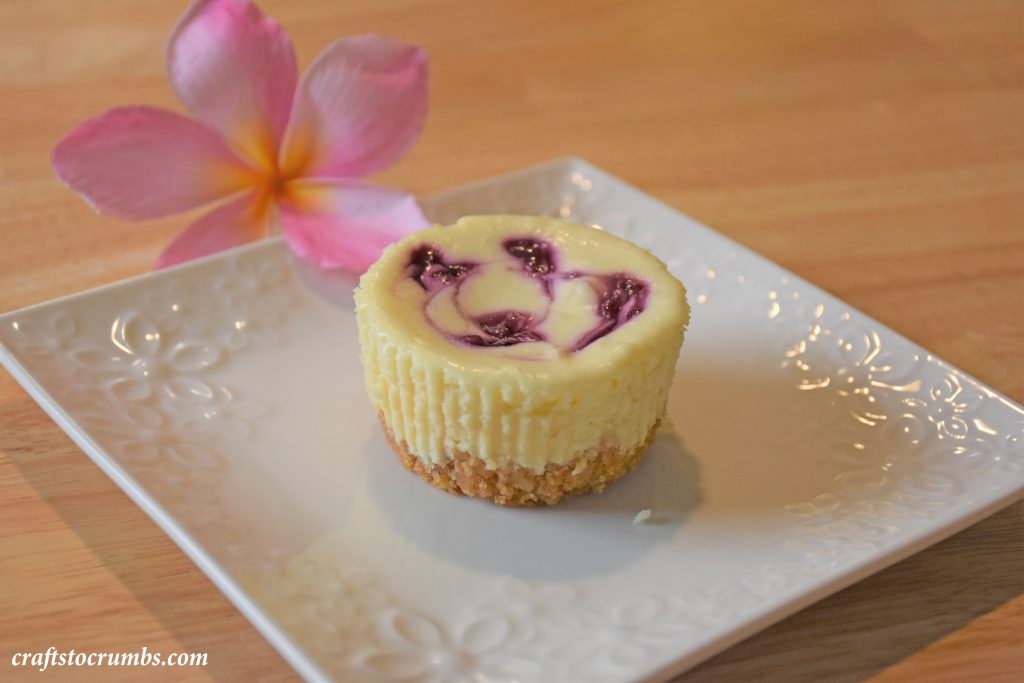 My Notes:
Crust – you can customize the crust. One way would be by using chocolate graham crackers. I wanted to make half regular graham and half chocolate graham crackers, but the chocolate ones were sold out at my grocery store. If you're allergic to nuts, omit the nuts and add a quarter cup more of graham cracker crumbs. You'd get 1 ½ cups of crumbs from about 10-11 whole crackers. Also, the size of your crumbs determines how much crumbs the whole crackers produce. You may see one recipe tell you this many crackers yield this much crumbs or that much. I've stopped sweating this long ago. If you have 8 or 9 whole crackers, start with about 4 tablespoons of melted butter and add another tablespoon or more if needed as you increase the amount of crumbs. You want the crumbs to be moistened otherwise, the crust would fall apart. If it looks too dry, it probably is. Add more butter.
Filling – if you were making mostly plain or fruit cheesecakes, I would add lemon zest and/or lemon juice in addition to the vanilla extract for added depth. I kept the lemon out because of the chocolate ones that I wanted to make.  
Topping – you can use fresh fruit instead of the frozen berry mix. I always have frozen berry mix in the freezer, so that is what I used. It doesn't have to a berry mix either. It can be any fruit you feel like putting on your cheesecakes. If you have extra topping, use it on top of your pancakes or waffles in the morning. Or even top your ice cream. Also, if you have canned pie filling or cheesecake topping and you want to use that, then use it. Save yourself more time. I prefer the fresher tastes of the homemade topping.
Cupcake liners – As I mentioned on the video, try to use white or natural paper liners for the muffin tins because the moisture from the cheesecake will cause colors to bleed from paper. I am a notorious post-holiday sale shopper and I have a ton of colored cupcake liners. That is what I used and learnt this the hard way. Next time, I will use the plain white cupcake liners. They all come off in the end anyway!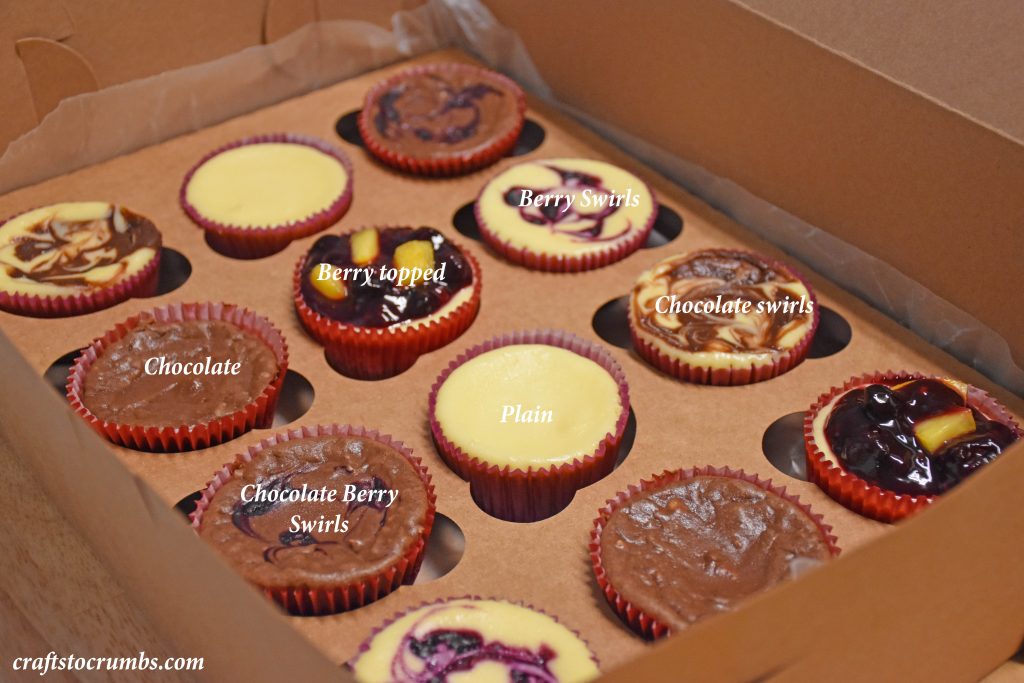 Mini Cheesecakes
Yields: 18 mini cheesecakes
Time: 45 minutes + 2 hours of inactive time
Crust
1 1/4 cup graham cracker crumbs (7-8 whole graham crackers)
¼ cup chopped walnuts
5 Tablespoons melted butter
1 tablespoon sugar
Pinch of salt
Filling
3 (8 oz) packages of cream cheese – softened
2/3 cup sugar
3 eggs
1 ½ teaspoon vanilla extract
½ cup semi-sweet chocolate chips (for chocolate cheesecakes)
Topping
1 ½ cup frozen triple berry mix
1 tablespoon lemon juice
3 tablespoons sugar
Slurry with 1 tablespoon cornstarch and 2 tablespoons water
• For topping – In a small saucepan over medium heat, cook berries, lemon juice and sugar for a couple of minutes. Add slurry and cook until cornstarch is clear and mixture has thickened. Turn off the heat and let cool.
• Preheat oven to 325F. Line muffin pan with cupcake liners.
• If using whole graham crackers, place in food processor along with walnuts and sugar. Pulse until you get fine crumbs. Add a pinch of salt and melted butter. Pulse until crust comes together. Divide amongst the lined muffin pan and press the crumbs to the bottom of the cups.
• For the filling, in a stand mixer, beat cream cheese and sugar until fluffy and smooth. Add eggs one and a time. Finally add vanilla extract. Make sure to scrape the side of the bowl occasionally. Beat until smooth. Set aside one cup of filling to make chocolate cheesecake. **See other variations below before baking. **
• Bake cheesecakes for 25-30 minutes or until the outer edges are done, but their centers have not quite set yet. Remove from pan. Let cool completely. Refrigerate for at least two hours.
• For berry swirl cheesecake – take a spoonful of the berry topping and scoop onto the crust. Cover with plain filling. Put one tablespoon of the smooth part of the topping into a small sandwich bag and cut the corner. Pipe drops of topping onto the top of the cheesecake and take a toothpick to brush through the topping to make swirls.
• For chocolate cheesecake – melt ½ cup of semisweet chocolate by microwaving at 30 second intervals on high in the microwave. Stir in between each interval. Reserve about a tablespoon of melted chocolate. Fold the rest of the melted chocolate into the 1 cup of reserved filling until well combined. Scoop chocolate filling mixture into muffin cups.
• For chocolate swirl cheesecake – take the reserved tablespoon of melted chocolate and put into a sandwich bag, cut the corner off the bag and pipe circles onto the plain cheesecake. Take a toothpick and draw swirls with the toothpick.
• For berry swirl chocolate cheesecake – take a spoon full of berry topping and drop at the bottom of the muffin cups before filling and making berry swirls as with the berry cheesecake.
• For berry topped cheesecake – top cooled cheesecake with berry topping and add fresh berries or other fruit as desired.