This is a cake recipe with for an airy, yet not too sweet chocolate chiffon cake with a light chocolate whipped cream frosting, brushed with ganache and topped with chocolate curls. So good…I ate a few slices myself.
"It's been so long since I made a friend like you." Yes, I'm trying to sing. But that song rings true for these end to end cake videos, especially that line where Zooey sings, "You test my nerves it makes me stronger."
As far as baking a cake, I think the chiffon cakes are not any more complicated than a regular butter or oil cake. Matter-of-fact, there are aspects that I love about chiffon cake baking, like not having to worry about greasing the pan and the ingredient ratios seems to be slightly more forgiving. However, when you have to whip up a meringue while whisk together a batter, I can see why some people tend to think chiffon cakes are more difficult. It's not that bad if you practice the components. As always see my notes below. I hope they help. Some are the same notes that I have for all the chiffon. I've added a few specifically for the components of this cake as well.
Notes:
Make sure your eggs are room temperature along with all your other ingredients.
Position your oven rack in the lower third of the oven. Line the bottom of your cake pans with wax or parchment paper, but do not grease them. Chiffon cakes rise by climbing up the walls of the cake pans and they don't do well if you grease them.
I ended up weighing my batters to ensure equally filling my pans and found that I get about 395-415 grams of batter in each pan.
Cocoa powder – I used a natural cocoa powder. It's what I had in my pantry. Since this recipe uses baking powder, you should be fine substituting it with Dutch processed cocoa powder, which is an alkalized powder that doesn't react to baking soda and is typically paired with baking powder. You can probably do some experimenting and try natural cocoa powder with 1 1/2 to 2 teaspoon of baking soda instead of the baking powder.
Check out my berry topping recipe used in my mini cheesecake recipe. This is typically what I make for my cake fillings when I want a berry filling. I always have triple berry mix in the freezer, partially for this reason. It's so easy and tastes fresh.
Ganache recipe can be found in my no bake Neapolitan cheesecake recipe. If you are using the ganache for the same effect I did on the frosting like a palette knife, make sure you wipe you spatula clean on the edge of the bowl before dipping it back into the ganache. Otherwise, the whole cake will get muddy. If the ganache has set too much, just stick it in the microwave for a few seconds. You can double or triple the recipe and whip the ganache to make a whipped ganache filling as well. So many options!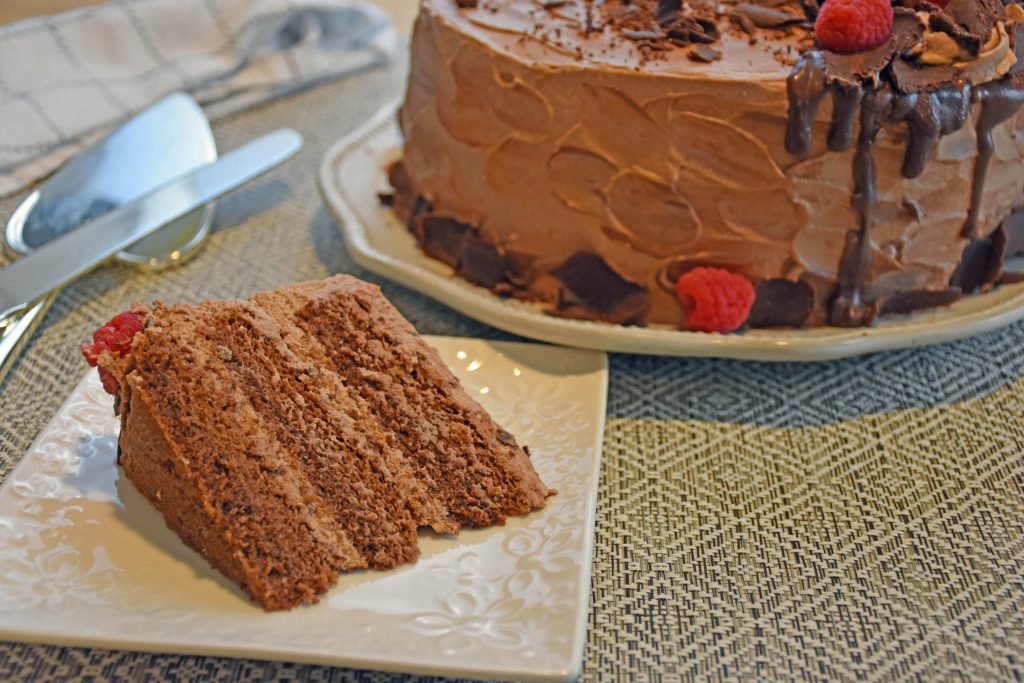 Chocolate Chiffon Cake
Serves 8-10 people
Time: 1.5 hr
Batter
7 egg yolks
¾ cup (166 g) granulated sugar
1 cup (236.6 ml) whole milk
½ cup (118.3 ml) vegetable or canola oil
2 teaspoons (9.9 ml) vanilla extract
1 ½ cup (185 g) cake flour
½ cup (49 g) cocoa powder
1 tablespoon (12 g) baking powder
½ teaspoon (3 g) salt
Meringue
7 egg whites
¼ cup (49.5 g) granulated sugar
½ teaspoon (2 g) cream of tartar
Preheat oven to 325F and position rack to lower third of the oven. Line three 9-inch cake pans with wax or parchment paper. DO NOT grease.
Separate your large eggs and get your egg whites directly into the bowl of your mixer and your yolks into a large bowl. This yolk bowl will be your batter bowl so make sure it is large.
Using a stand mixer or a hand mixer start beating your egg whites until they get frothy. Add the ¼ cup of sugar and cream of tartar. Continue to beat until you get a stiff peak. This could take several minutes. If using a stand mixer, you can let this beat while you mix the batter.
For the batter. In the bowl with the egg yolks, add ¾ cup of sugar, oil, milk, and vanilla extract. Whisk until ingredients are combined. Then sift your cake flour, cocoa powder, baking powder and salt into the batter bowl, whisk until smooth. (If you decide to mix your batter before whipping the meringue and the batter had been sitting there for a couple minutes, make sure to whisk the before again before folding in the meringue
Then fold the meringue into the batter, about 1/3 of the meringue at a time. Make sure the meringue in incorporated well into your batter but try not to over mix at this point. If using a glass bowl, you can lift your bowl up to see if there are any spots at the bottom of the bowl where the batter has not been evenly incorporated.
Pour batter evenly into the prepared pans. (I had about 415 grams of batter in each pan.) Give the pan a twirl and a tap to distribute the batter and release air bubbles. Bake for 22-25 minutes. A tester should come out clean and the top of the cake should be springy.
Allow the cake to cool in pan for 10 minutes before turn onto a cooling rack and letting it cool completely.
Chocolate Whipped Cream
4 oz cream cheese (room temperature)
2 ½ cup (591.5 ml) heavy cream
¾ cup (84.75 g) confectioner's sugar
2 Tablespoons (12.25 g) cocoa powder
1 teaspoon (4.95 ml) vanilla extract
• In the bowl of a stand mixer fitted with a whisk attachment (or a bowl with a hand mixer), beat the cream cheese, cocoa powder, and the confectioners' sugar. The sugar helps to soften the cream cheese and makes it creamier. If mixture is too dry, add a couple tablespoons of the heavy cream and whisk a little bit before adding the rest of the heavy cream.
• Add heavy creamy and start beating slowly, then increase the speed to medium.
• Reduce the speed, add the vanilla extract and whip until you see deep tracks in the frosting and stiff peaks formed
Chocolate blocks for shaving
1/2 cup of chocolate chips

• Melt chocolate chip in a glass bowl in the microwave at 30 second intervals. Pour into a glass bowl lined with parchment paper. Let the chocolate cool and set in the refrigerator.
• Make sure to bring the chocolate block out of the fridge and sit at room temperature for 15-20 minutes.
• Use a vegetable peeler to shave the chocolate. If you want bigger curls, you may have to warm the chocolate in your hand. For smaller shavings, shave the chocolate block while it's still cold.
Assemble the cake by frosting and filling the cake with the whipped cream frosting. Use the ganache on the tip of an offset spatula to brush onto the cake like a palette knife and/or drizzle on the side for a drip cake. Shave chocolate for toppings.
Enjoy!