Multicooker (Ninja Foodi) One Pot Spaghetti
This is an easy one pot meal recipe using a multicooker. We're making the spaghetti sauce and cook the pasta at the same time. IMHO, the multicookers have become the new slow cookers. With everything that goes on in our lives nowadays, it's nice to have that quick and easy meal. I love the multicookers like the Ninja Foodi and Instant Pots because they can sear, dehydrate, pressure cook, air fry/crisp, and yes, they can slow cook too! Calm down, my old fashion friends.
Speaking of friends, one of the reasons why I developed this recipe is because during my last ladies brunch, one of my friend mentioned that she was making my Ninja Foodi Jambalaya rice that day and she requested more Ninja Foodi recipes. Like most of us, she has been extremely busy and having that one pot meal is always nice.
I'd have to agree. This year has been…different. We're eating in and cooking at home more than usual. Also, when we started working from home, did we really think that would give us more work life balance?! On the contrary, some of us are working through those times which were previously commute time and eating lunch at their desk. In my case, my workstation is set up on the dining table. I literally do eat at my desk. Not to mention some of us moonlight as other things and are working on our second book and really don't mind easy recipes. The best part is that it's still made from scratch! 😊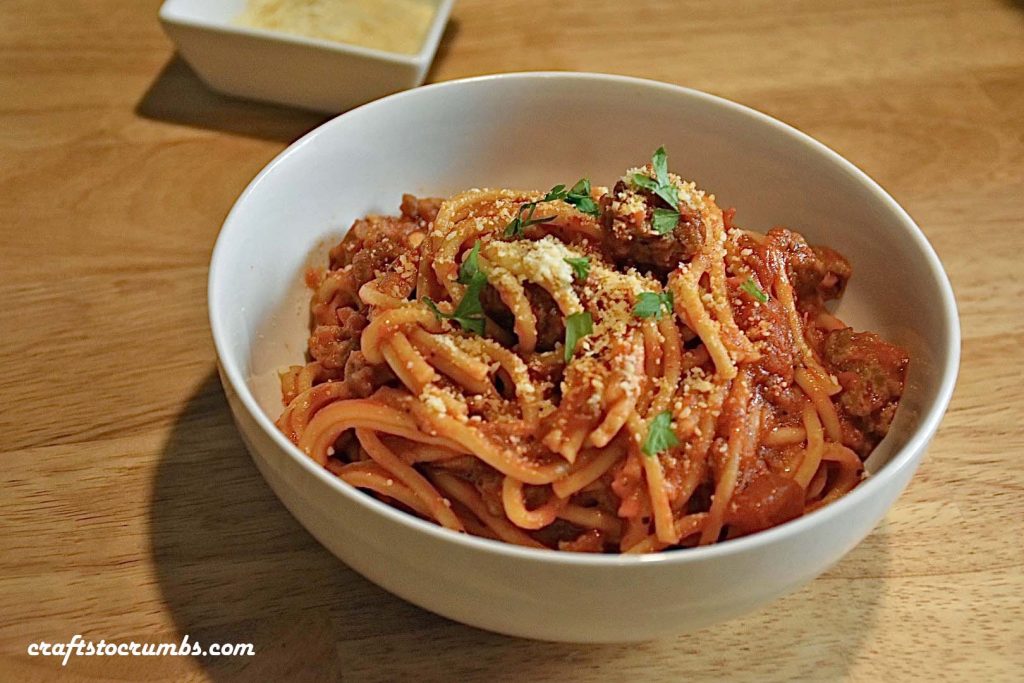 Notes:
Noodles – to help with the clumping, make sure to break the noodles up and spread them out. I like somewhat fanning them out. Make it look as chaotic and yet as purposeful as a bird nest. Otherwise you may end up with pasta noodles that have clumped together.
Make ahead – I browned the sausage with onion, and garlic. Let it cool and pour it into a freezer bag with all the other ingredients except for the pasta and water. I freeze the bag. Take the bag out of the freezer and let it thaw in the fridge overnight. Put a little bit of the pasta sauce (from the bag) mixture in the bottom of the pot. Break the noodles in there and add the rest of your pasta sauce and water. Pressure cook using the same instructions as above. Honestly though, I think it's easy enough with just browning the sausage right before cooking that you don't need to make it ahead. The browning is the hardest and most time-consuming part.    
Multi-Cooker (Ninja Foodi) One Pot Spaghetti
Cook time: 35 minutes total, Pressure Cook Time: 8-10 minutes, 15 minutes pressure build time
Serves: 8 servings
1 lb mild Italian Sausage (or ground beef)
1 (28 oz) can crushed tomatoes
1 (8 oz) can tomato sauce
1 (14.5 oz) can diced tomatoes
1 small onion, diced
2 cloves garlic, minced (~ 2 teaspoons)
1 tablespoon olive oil
1 tablespoon Italian seasoning
1 tablespoon sugar
1 (16 oz) package uncooked spaghetti
2 cups (473 ml) water
Cheese and herbs for servicing
• Select SEAR/SAUTÉ and set on HIGH. Allow to preheat for 5 minutes.
• Add olive oil and onion. Let it cook until translucent. Then add the Italian sausage and cook until brown. Drain excess fat if needed. Return pot to the cooker.
• Add garlic and cook for about 30 seconds or so, until fragrant.
• Select STOP/START to stop the SEAR/SAUTÉ. Stir in the Italian season and sugar.
• Break the spaghetti noodles in half, fan them, and separate them as you arrange them in the pot.
• On top of the spaghetti noodles, add the crushed tomatoes, tomato sauce, and diced tomatoes. Finally pour the water into the pot.
• Assemble the pressure cooker lid. Select PRESSURE and set to HIGH. Set timer to about 8-10 minutes (I did 9).
• When pressure cooking is complete, quick release the pressure by setting the pressure valve to vent. Carefully remove the lid.
• Toss the spaghetti to make sure everything is incorporated in the sauce.
• Serve with cheese and fresh herbs.