No-Bake Chocolate Cheesecake
This is an easy recipe for no bake chocolate cheesecake pie. After making this recipe I am hesitant to bake chocolate cheesecake the old way again. Or maybe that is just the late evening tiredness talking? It's hard for me to say no to baking, but recently we had some issues with our A/C. That is not a good in Florida and in the midst of Summer. So I had to put myself on a self prescribed baking hiatus. During this time, I wanted to make a dessert for a chocolate lover's birthday. Luckily, I already had it in my head when I made the No-bake Neapolitan Cheesecake, that that cheesecake would probably be even better in a chocolate only version.  It is smooth and not too sweet. Chocolate cheesecake on chocolate crust with chocolate shaved on top. Hello!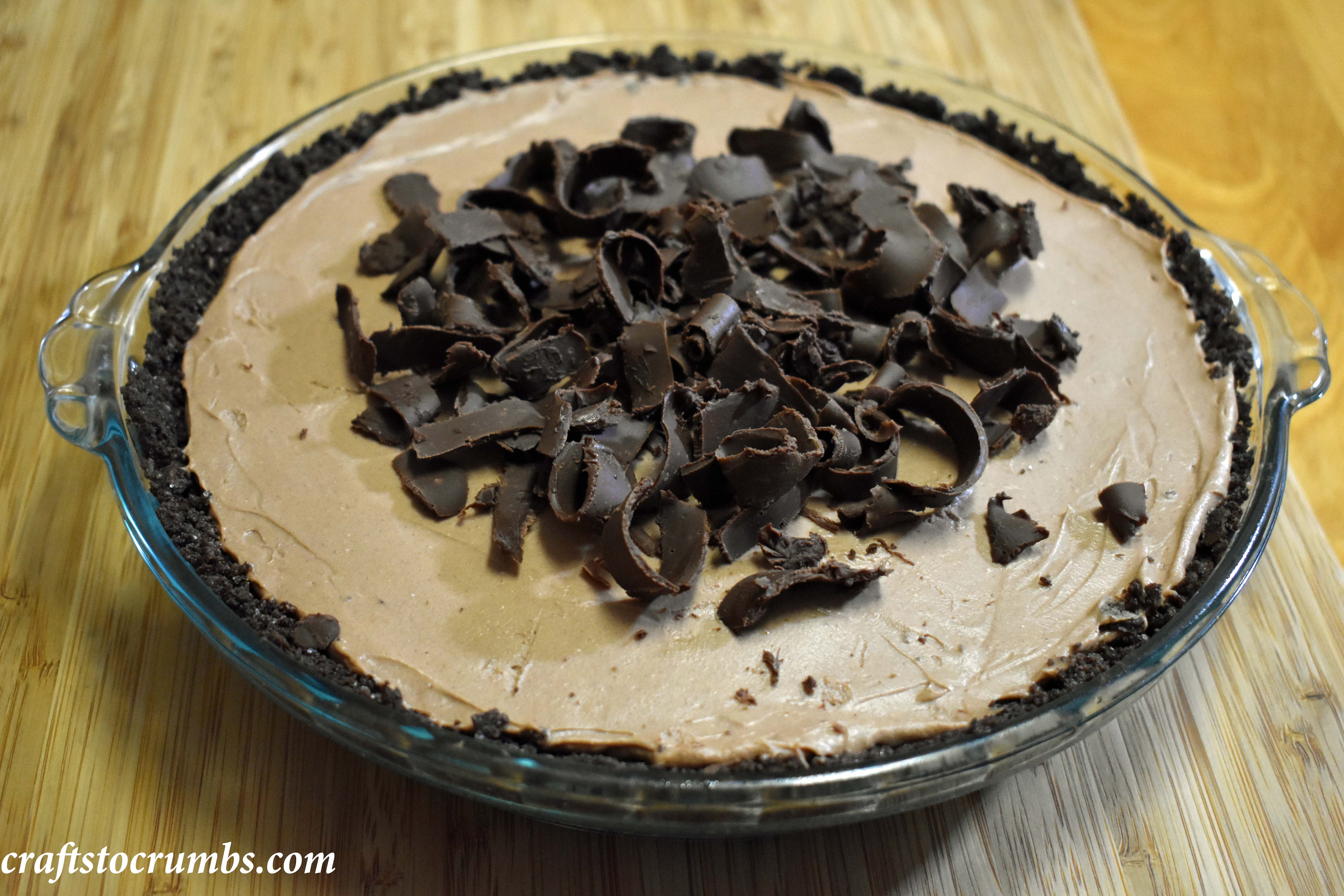 I converted that recipe. And since I didn't want to make just another cheesecake, I made a pie out of it it. This recipe is super easy. Just like the previous recipe, the hardest step is waiting for it to chill.  I hope you enjoy.
Notes:
If you don't have or don't want to buy chocolate squares, you can melt 1/2 cup chocolate chips with half teaspoon of vegetable oil, let it cool and harden and shave it. This is what I did.
To make ganache melt 1/2 chocolate chips with 1/4 cup of heavy whipping cream. Allow it to cool slightly before pouring on pie.
No Bake Chocolate Cheesecake Pie
Serves: 8
Time: 15 minutes (+ 2 hours inactive chilling time)
Crust:
9 chocolate graham crackers (1 1/3 cup crumbs)
2 Tablespoons sugar
5 Tablespoons unsalted butter (melted)
In medium bowl combine graham cracker crumbs, sugar and melted butter. Pour and spread evenly onto a 9-inch pie pan. Chill in fridge while preparing the filling.
Filling:
2 (8oz) blocks cream cheese (room temperature)
1 ½ cup confectioner's sugar
1 cup (170g) semisweet chocolate chips
1 cup heavy whipping cream
1 teaspoon vanilla extract
Garnish – shaved chocolate or ganache (optional)
In a small bowl melt chocolate chips by placing in a microwave for 30 seconds and then stir until smooth. You may have to repeat in 30 second intervals depending on your microwave power. Set the melted chocolate aside.
In bowl of a mixer fitted with whisk attachment, add cream cheese and confectioner's sugar. Whisk until smooth, about a minute or so. Then add heavy whipping cream and vanilla. Whip on low speed until cream has thicken slightly and won't splash. Increase mixer speed and whip until you get stiff peaks with deep tracks. The filling will be fluffy and creamy. Add the melted chocolate and whip until well combined. This only takes another 30 seconds to a minute. Pour filling into prepared pie pan with crust. Chill for at least 2 hours before enjoying.
You can garnish by shaving chocolate on top or making a simple ganache and pouring on top.