Pad See Ew is Thai stir-fried noodle dish that is notable for it's charred, caramelized noodles. See ew translates to soy sauce and soy sauce does make up much of the sauce used in the dish. The dark or black soy sauce, which has a higher sugar content and looks like molasses, lends the dish its color and caramelization.
This is an easy dish and can be prepped and cooked in 30 minutes especially when using a quick cooking protein like shrimp. It is definitely a good one to add to the weeknight rotation!
Notes:
Noodles – Find the widest noodle you can, but thinner noodles will work just fine. Follow the instructions of the noodle package that you are using. I had two different brands of rice stick noodles in the pantry and one required soaking in water and the other didn't. You can also make your own noodles. Check out my recipe for flat rice noodles. Try to prepare the noodles right before your fry time so there is little time for them to sit around. Some rice noodles, they tend to become more glutinous, sticky and sometimes "expand" and this can make them difficult to work with. If using the fresh noodles, make sure it is at room temperature to reduce breakage.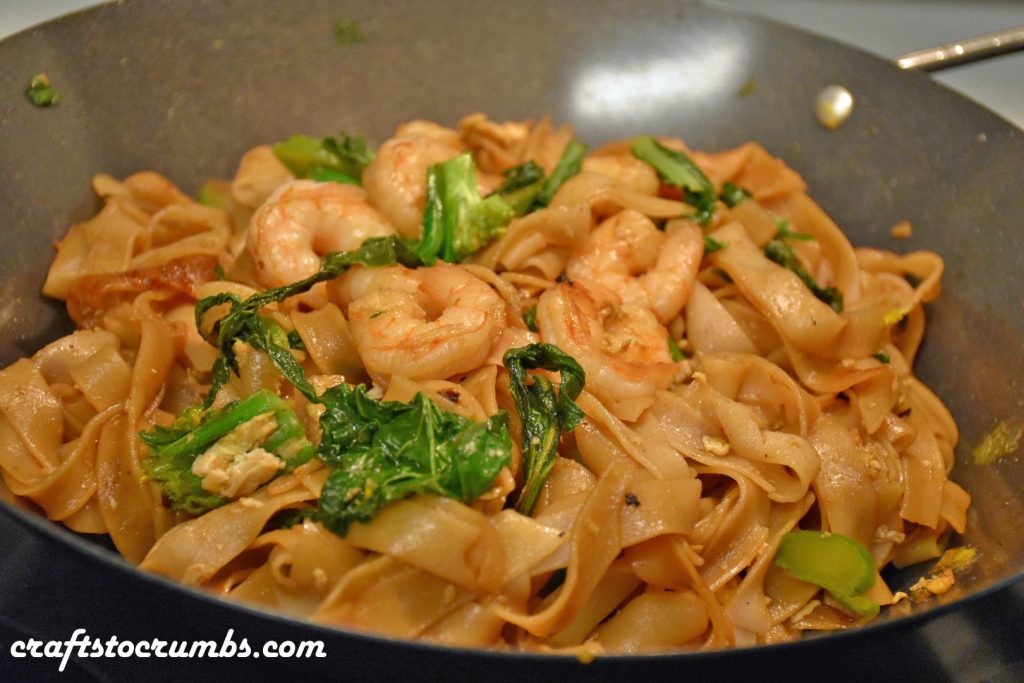 Sauce – Try to find the Thai brand sauces, especially for the black soy. Various brands will have different sugar content. Caramelization will be different. You can give your sauce a taste before adding the sugar to get the right balance of flavors. While on the sauce topic, if you feel like your noodles are a little too dry because hey you've cooked it a little earlier, they've sat around while you're documenting, and now they are a little dry and thirsty in the wok. You can add additional sauces, but make sure to add them proportionately. Add a tablespoon more of each of the sauce to keep them balanced. Or just add a little bit of water or broth. This will dilute the intensity of the soy sauce though. When using a different protein, I like to take a spoon full of the sauce and add it to the wok while the protein is cooking to add the flavor to the protein without having marinate it. I'll also save another tablespoon for the end. After I've added the sauce to the noodles and return the protein to the stir-fry, I'll add the last little bit of sauce to make sure everything gets a nice coating of sauce.
Chinese broccoli (gai lan) – Use whatever vegetable you have on hand. There are great alternatives like broccoli or broccolini (a hybrid of broccoli and gai lan) and they are typically readily available in most neighborhood grocery stores. Broccolini is one of my favorite vegetables and I can find it at my local Publix. For a dish this size, I'd normally add a whole pound of Chinese broccoli or broccolini because I enjoy them so much.
Pad See Ew
Prep time: 10
Cook time: 20 minutes
Serves: 8
1 lb (453g) Shrimp or Protein of Choice
1 (14oz) Rice Stick Noodles (or make your own fresh noodles)
3-4 Cloves Garlic (minced)
6-8 Stalks of Chinese Broccoli (chopped)
2 Eggs
4 Tablespoons (1/4 cup) Regular/Thin/ Light Soy Sauce
3 Tablespoons Dark or Black Soy Sauce
3 Tablespoons Oyster Sauce
¼ teaspoon ground white pepper
2-3 Tablespoons Vegetable Oil (divided)
• Cook noodles according to package instructions. The brand that I'm using requires soaking in cold water for 10 minutes before cooking.
• Place the noodles in boiling water and let it cook for 1-2 minutes or until soft. Do not overcook as they will continue to cook in the wok. Drain and set aside.
• Mix the thin soy sauce, black soy sauce, oyster sauce, sugar and set aside.
• In a wok over medium high heat, add about a tablespoon of vegetable oil. Heat until warm. Add the shrimp or protein of choice. The shrimp cooks fairly quickly. Remove from the wok to prevent overcooking.
• Clean the wok and return to heat. Add 1-2 tablespoons of oil to the wok. Let it heat up again. Add garlic to the wok and let it cook for a few seconds before adding the Chinese broccoli. Cook for about 30 seconds.
• Toss in the prepared noodles. Add sauces. Toss until noodles have been coated with sauces. Return the shrimp to the wok. Push the noodles to one side of the wok.
• Crack in the two eggs and scramble them for a few seconds before folding into the rest of the stir fry. Cook for another few seconds. Sprinkle on the ground white pepper. Toss.
• Turn off the heat and serve warm.