Steamed cassava cake is also known as ຂະຫນົມມັນຕົ້ນ (kanom manton) in Lao or ขนมมันสำปะหลัง (kanom man sapahlang) in Thai. However, there are variations of this cake throughout Asia and into the Pacific Islands. There are baked and steamed versions. Cassava (yuca) is a starchy root that is fairly mild in flavor and takes on the flavors that it's paired with and in this dessert, it is paired with coconut and sometimes pandan. The texture of the dessert is soft and chewy, similar to tapioca because tapioca is made out of cassava. Hence, this dessert is also called tapioca cake in some countries.
This is a classic dessert that is popular at parties and gatherings. I split the mixture up and added food coloring to make these festive and fun. Side note, making these festive or fun is optional. They are addictive and will be eaten no matter what. 😊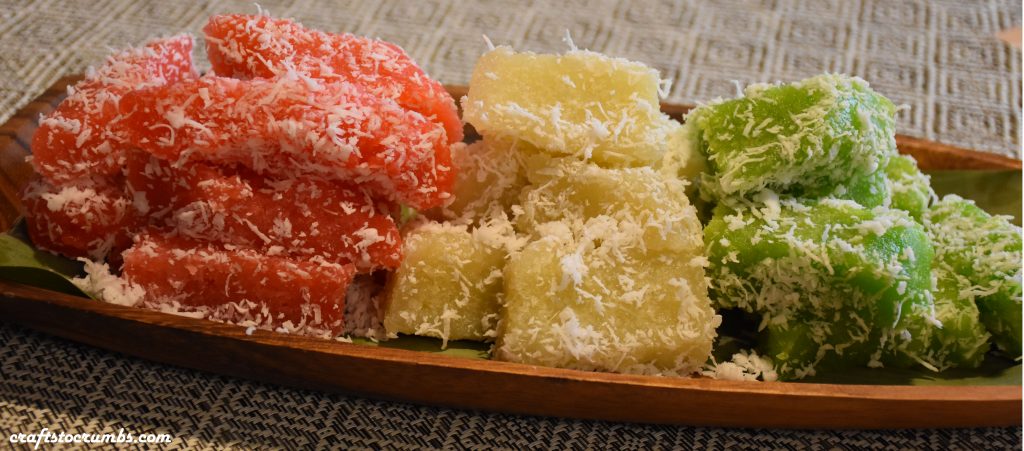 Notes:
Volume – the volume of grated will vary based on how fine the grates are. For my baked cassava cake, I used the loose, larger grates and that has a larger volume. For the steamed cassava, I'd take it a little further and put that blade in the food processor and blend/puree the grated cassava into small, almost smooth puree. In either case make sure the cassava is small and consistent as this will impact the cooking time. The smooth, puree-like grates will help it steam more evenly. The frozen cassavas are already in this state, so they work great even without straining the excess liquid! Make sure to thaw in the fridge overnight before using the frozen ones. Remember that cooking time will vary based on your steamer and pans used. It is cooked once it is translucent and sticky in the middle. If you cut into it and still see some white, it is not cooked through. If using fresh make sure to wash/rinse the root really well or soak it before grating. This and cooking it thoroughly helps to get rid of that naturally occurring trace amounts of cyanide found in the root.
Liquids – Use water, coconut milk or pandan juice, which I made by blending 6-8 pandandus leaves with water and then straining it. For one test run I used half coconut milk and half pandan juice and that worked fine. Another time I used water with a couple of drops of pandan paste and I think that's definitely a great alternative to having to blend pandan leaves and making your own juice/water. It doesn't matter what liquid you use, but rather how much liquid matters more. I like the ¼ cup liquid to 1 cup grated. Make sure to mix the liquid until it is completely incorporated. The cassava cake will be exposed to more liquids in the steamer, so you don't want to put too much water. Too much water could mean a very sticky dessert that basically falls apart.
Tapioca flour – you can add a tablespoon or two of tapioca flour into the mixture for more texture. If you watch my video, the green cassava cake in the beginning of the video does not have the tapioca flour and it's softer. Whereas the red cassava cake at the end of the video has tapioca flour and it has a little bit more structure to it. But don't add too much unless you want a tougher cake. Some of us prefer the softer, fall apart in your mouth cake.     
Steamed Cassava Cake
Prep time: 15 minutes
Time: 25-30 minutes
Serves: 12-15 servings
2 lbs (finely grated ~ 3 – 3.5 cups) cassava **
½ cup (100g) sugar (can adjust to taste)
½ teaspoon salt (plus a pinch more for coconut)
1 Tablespoon tapioca flour (optional) **
~1 cup (85g – 100g) grated coconut
¾ cup (177ml) – 1 cup (237 ml) water/coconut milk/pandan juice
Pandan extract/vanilla extract (optional)
Food coloring (optional)
• Fill the bottom of your steamer pot with water and set it over medium high heat bring the water to a rolling boil and produce steam.
• If using fresh cassava, peel, rinse really well and grate. Blend in food processor for small and uniform grates.
• Mix sugar, salt, pandan juice/water/coconut milk into the cassava.
• Sprinkle in the tapioca flour for added structure, if using.
• Add a few drops of extract and/or food color if using.
• Pour into a loaf pan or any small heatproof pan and place on the steamer tray. Let it steam for 25-30 minutes or until completely cooked through and the cake is translucent and sticky.
• Remove the pan from the steamer and let the cake cool completely in the pan. This make take an hour or two. Then cut into small pieces.
• Sprinkle a pinch of salt onto grated coconut. Give it a quick stir. Then steam the coconut for a few minutes. Let it cool.
• Toss the small pieces of cassava cake in the cooled grated coconut. Serve immediately.
• Best if served on the day it is made.