I love all the little notes from across the globe from people who have used my recipes. I appreciate you all taking the time to let me know.
The ube cake or cupcakes have been on my list for a while. I've had a couple of requests for ube recipes. I haven't baked for others as often as I normally do as I have many projects going right. But I'm keeping true to my word on this one.

When I thought about ube, I knew immediately that I wanted to develop an oil cake recipe. Ube is a purple yam is common in the Philippines and Southeast Asia. Here in the Americas, our closest substitute is probably the purple sweet potatoes. I can find the purple sweet potatoes at my local grocer from time to time, but it's not readily available all the time.

Like baking with pumpkin purée or sweet potatoes, I figured ube would be best as an oil cake. And I know I'm probably going to get a few more requests for chiffon cake but trust me on this one. Try these ube cupcakes. They are moist, have subtle ube flavors, with a not so sweet, whipped cream frosting.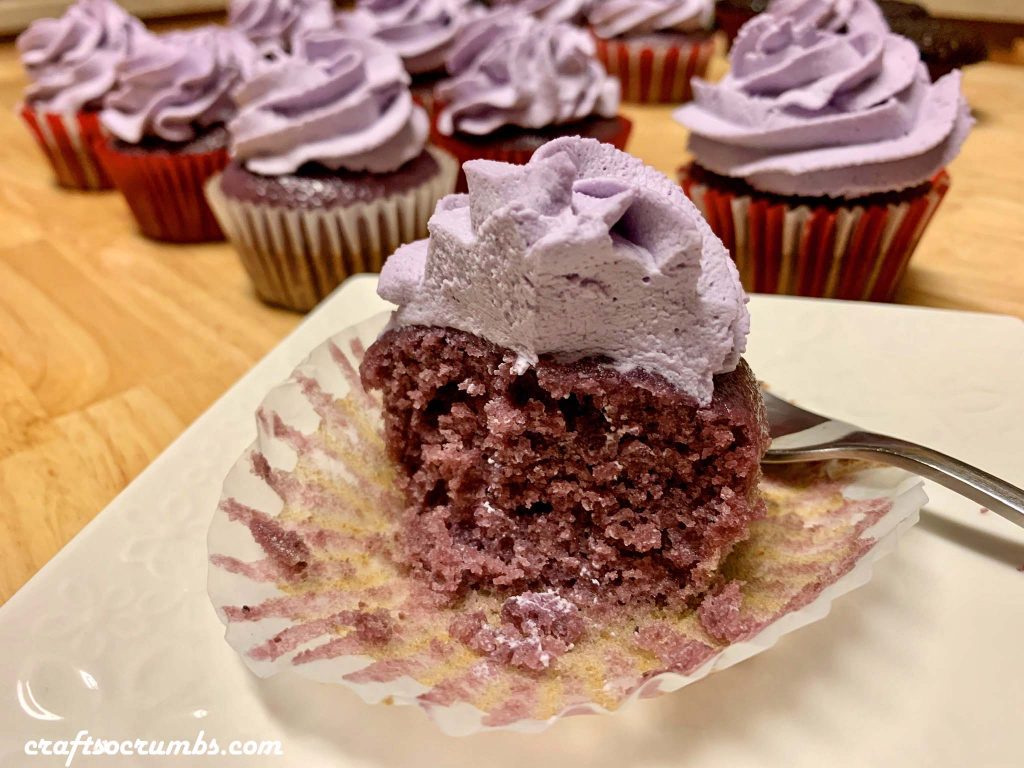 Notes:
• Ube – if you have access to fresh ube, you can peel, steam, or boil them. Then mash them to get the ube purée. The Giron Foods brand Ube powder is pretty much the only one available in our market without spending an arm and a leg for ube powder.
• Primary colors – remember that red and blue makes purple. If your batter comes out more…blue than purple because of the brand of ube powder, add a little bit of red food coloring. I probably could have used a little bit more red food coloring for this batch and in some lighting it looks almost chocolate but the deed is done and I had no complaints from anyone about how it tasted. 🙂
Ube Cupcakes

Yields: 24 cupcakes
Time: 45 minutes
2 ¼ cups (270g) All-purpose flour
2 teaspoons (8g) baking powder
½ teaspoon (3g) baking soda
1 teaspoon (6g) salt
1 1/3 cup (263g) sugar
¾ cup (177.4 ml) whole milk
1 cup ube purée(rehydrated**)
2 large eggs
1 teaspoon ube extract
½ cup (118.3ml) vegetable oil
Food coloring if need
**To rehydrate the dried ube powder, add 4 tablespoons (42g) ube powder with 2 cups (473 ml) of water into a small saucepan. Let it cook until it has thickened, rehydrated, and allow excess liquid to cook off. You should render about 1 cup of ube.
• Preheat the oven to 350F.
• In a small bowl, sift together flour, baking powder, baking soda, and salt. Set aside.
• In a large bowl, whisk together the sugar, oil vegetable oil, ube, milk, eggs and ube extract. If the batter looks a little gray or bluish gray, add red food coloring to making it purple.
• Slowly whisk in the flour mixture until combined. Whisk until smooth.
• Scoop into lined cupcake pans. Fill about 2/3 of the way.
• Bake for 14-16 minutes or until tester comes out clean.
• Remove from the pan and let cool on a wire rack.
Ube Frosting

¼ teaspoon agar agar (to stabilize the whipped cream)
2 cups (473 ml) heavy whipping cream
½ cup confectioner's sugar
½ teaspoon ube extract
Add the agar agar to the heavy whipping cream. Pour into the bowl of a stand mixer and whip using a whisk attachment. Slowly add in the confectioner's sugar and then add the extract. Whip until you get stiff peaks.
Pipe onto cooled cupcakes.